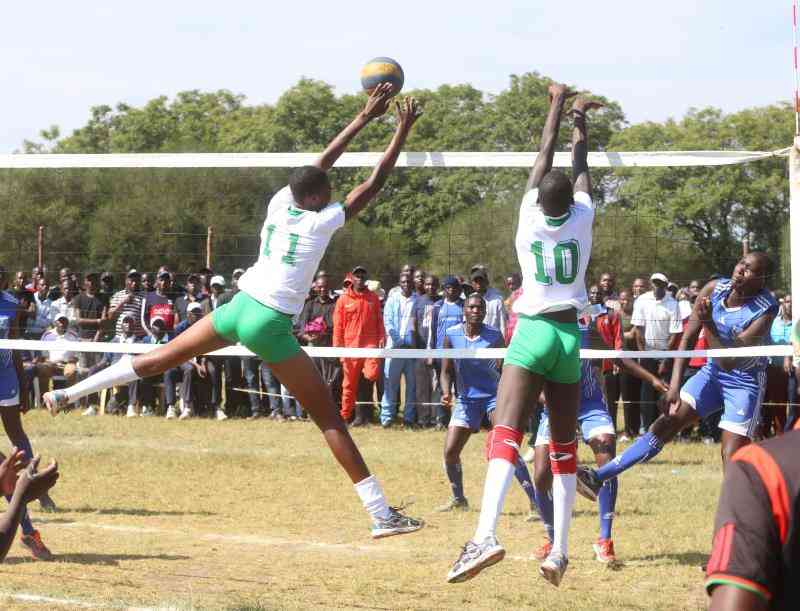 It will take something special to dethrone Kwanthanze from girls' volleyball title.
For the past three years, the school from Machakos has been calling the shots on volleyball courts and with every national final, they have remained steady.
Their focus has been steady, their strength enviable and their aptitude second to none as they lifted their fourth national title on the final day of this year's national school games at Nakuru High School. yesterday.
Kwanthanze will represent Kenya in the East Africa school games in Arusha, Tanzania that begin tomorrow.
Kwanthanze defeated Rift Valley champions Kesogon 3-1 in the final. Kwanthanze lost the first set 20-25 before making a comeback and triumph in three straight sets 25-17, 25-13 and 25-19.
Kwanthanze's head coach Justin Kigwari said their victory was due to cohesion of the playing unit who have been together for the past three years.
"Cohesion among players played a big role in our victory against Kesogon, who I must admit was a polished side who can as well upset us in the regional championships," Kigwari said.
Despite the loss, Kesogon (from Trans Nzoia) have also booked their ticket to the regional games in Arusha and head coach John Marana said they still have a realistic chance of performing better in Tanzania.
He praised his side for a job well done having qualified for the regional games in their first attempt.
"It has not been an easy journey from the zonals to the national level, but I'm happy to have finished in a respectable position as we focus our energies to the Arusha championships," said Marana.
In the boys' category, Rift Valley champions Cheptil have bounced back to national limelight with a hard fought 3-2 win over Namwela of Western region.
And after a gruelling contest, first-timers and Nairobi champions Hospital Hill claimed boys' handball title after defeating Kimito of Rift Valley 30-25.
On their way to the final, Hospital Hill silenced Manyatta from Nyanza 25-16 with Phillip Kiptum being voted the Most Valuable Player.
On their part, Kamito narrowly beat St Luke's Kimilili of Western 27-25 in the other semi-final.
Friends School Kamusinga defeated St Joseph's of Kitale 17-11 in girls' handball final to be crowned the national champions.
On their part, St Joseph's easily overcame Simisi 36-15 in the semi-final. [Ben Ahenda]
Related Topics