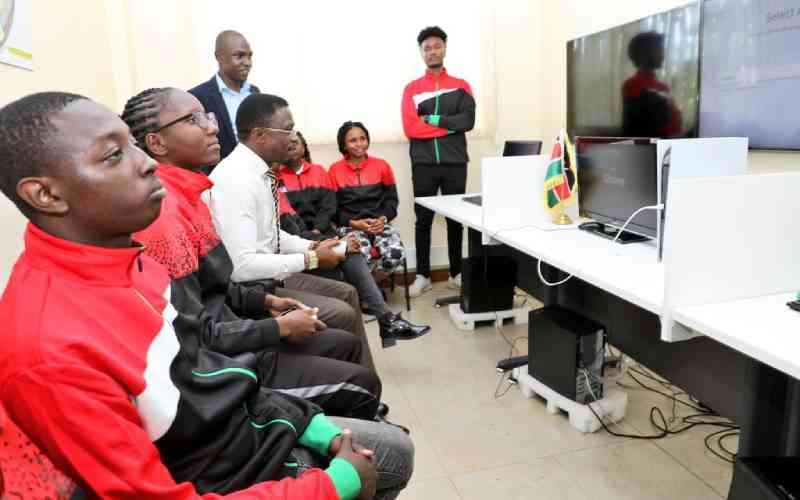 The local esports scene is set to be treated with mouthwatering clashes as top FIFA23 gamers go head to head on Sunday at the first round of the eLigue 1 Tour competition to be hosted at the Alliance Francaise, Nairobi.
E Ligue 1 Tour is an esports competition bringing together top gamers and football fans from across the globe.
It has been organised by the Ligue 1 Uber Easts in partnership with EA SPORTS.
The showpiece which sees gamers compete for a chance to represent Kenya in France, is the first major esports competition of the year, and has attracted a total of 586 gamers according to hosts IndexG Esports who were forced to end the registration process due to the swelling numbers.
In a statement released last week, the C.E.O Ronny Lusigi termed the move as a measure to "ensure proper gamer to console ratio for the purposes of having a competition that meets international standards."
Last year's champion Luony "Fox" Teat will be facing stiff competition this time round as experienced gamers and challenging rookies seek to dislodge him.
Shantel "Starlight" Wanjiru and Elias "Stylz" Onchari, who represented Kenya at the Commonwealth Esports Championship in Birmingham have confirmed participation, so has Evander "Viera" Maina and Maria Kiuru who represented Kenya at the Global Esports Games in Istanbul, December 2022. Eric "Demon" Ngige who placed 8th at the gamrX African championship in Lagos, last year is also in the mix.
Upcoming teenage sensations Harry Thuku, Abdul "Milito" Razak and Makuer Matur are also some of the highly rated gamers registered for the event.
IndexG Esports CEO confirmed that all preparations are set for the competition, while thanking partners for the support,
"All is set for this competition. Being the first international esports event in our calendar this year, the turnout is expected to be high. We have put everything in place to ensure the gamers compete in a fair and conducive environment. We would like to thank our partners Alliance Francaise, the French Embassy, Vivid Gold, H4, Unplug Africa, Red Bull and the rights holder Ligue 1Uber Eats for the support this far."
The top eight players from the first round will progress to the final round where the winner will qualify for the global E Ligue 1 Tour finals on May 13 in the Freaks 4U Gaming studios in Paris. The trip to Paris will be fully paid courtesy of Ligue 1 Uber Eats.
Related Topics