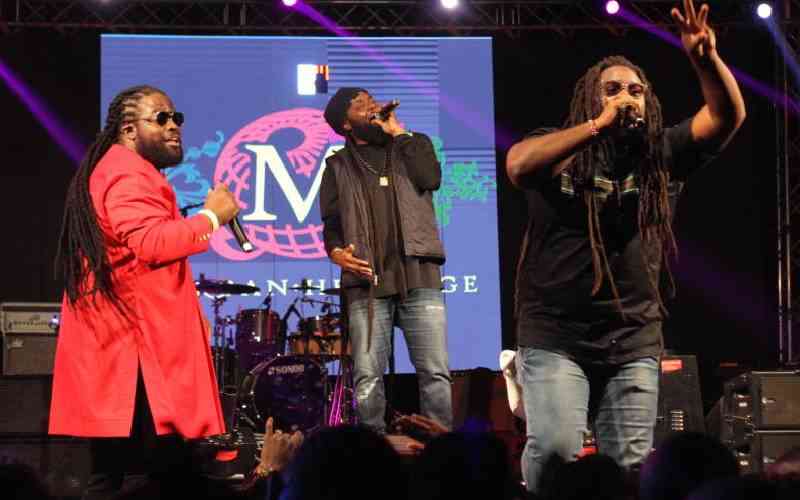 "You never forget that first hit song and album and for us that was Don't Haffi Dread."
These are the words of the Morgan Heritage trinity made up of Peter 'Peetah' Morgan (lead vocals and guitar), Roy 'Gramps' Morgan (keyboard and vocals) and Mr Mojo Morgan (percussion and vocals), speaking to The Standard.
The single – Don't Haffi Dread, was released in 1999, five years after the band was formed.
Theirs has been a three decades journey that brings them to this redefining project – The Homeland.
It is Mojo who takes most questions in this interview, seemingly having been mandated to take lead by his brothers who have been busy all week trying to get everything in order ahead of the big day.
For a band that has been here for decades, ruling the world with their music through album releases, world tours and award wins including the coveted Grammy's there is a reason why this new project means so much to them.
"After Don't Haffi Dread our second global hit was the Morgan Heritage Family and Friends compilation. That put our production skills on display to the world and was the beginning of us unifying with our peers in music," Mojo says.
Even though Morgan Heritage has worked with many reggae bands, solo artiste and deejays in the past, The Homeland, which comes after a four-year hiatus, since they released the Grammy-nominated Avrakedabra, is unique and close to their hearts.
"This album for us exemplifies the unity in the music that is needed between Africa and the diaspora. It features diverse voices and sounds from across the world. The Homeland also kicks off a busy year for Morgan Heritage," says Mojo.
Kenya's Otile Brown is among the continental and international artistes who are featured. The project has One Call singer, Eddy Kenzo, Stone Bwoy, Shatta Wale, Cham and Popcan.
The international release also features Busy Signal, Capleton, Beenie Man, Jah Prayzah, Rocky Dawuni, Youssou N'Dour, Alpha Blondy, Bounty Killer, Cleo Ice Queen and Made Kuti.
The Homeland is Morgan Heritage's first 'world' music album that combines the sounds of Africa and Jamaica.
"Our collaborations and travels across the continent over the last 13 years sparked the idea of this concept and it just grew from there and morphed into this once-in-a-lifetime project. The album is an ode to the land of our ancestors in Jamaica and Africa and we want to take fans on a journey musically and culturally by combining the sounds across Africa with the sounds of Jamaica," says Mojo.
Mojo praises Kenya's Otile Brown He notes as a good and hardworking musician. Otile was introduced to them by a friend.
He describes the other East African artistes in the album, Eddy and Chameleon, as brothers in music whom the band has known before. He says having known them made their inclusion to work on their collaborations easy and natural.
"While travelling across Africa we always asked who is the top artiste or the hottest up-and-coming artiste in each country and sought them out. Some were introduced to us by friends and colleagues.
"The music dictated who from our long list of friends we would feature, and they were all happy to join us on this mission of musical unity. Everyone was willing to work with us but the early collaborators had no clue that they would eventually become a part of this historic album," says Mojo.
He says that since the beginning, their strategy was to release a new album, do interviews and tour as much as possible to popularise themselves, their music and their music style.
The message in their songs has been consistent, one of peace, love, unity and justice for all mankind.
According to the brothers, the message of love tops their music agenda, choosing to be positive about life and humanity.
These are the sentiments echoed in most of the singles released off the album so far.
Just a Number is a call to action for future talented individuals while Who Deh Like U is the empowerment of women.
"Family groups sometimes can overcome the struggles of success and failure in this music industry a little easier than groups made up of friends," says Mojo.
"Losing our dad the late Hon Ras Denroy Morgan a year ago (he passed at the age of 76 following a long illness) provided an opportunity for us to get closer together and see all he and our mothers taught us. Their teachings continue to guide us and keep us together always."
Denroy Morgan is credited with the formation of the Black Eagles, a reggae band based in New York during the 70s, before venturing into a solo career.
He released his chart-topping hit and album I'll Do Anything for You in 1981, which earned recognition around the globe.
Before passing on Denroy released a book, From the Cross to the Throne, a novel that explores Rastafari, the religion, and Rasta 'livity'.
That is the solid rock these three brothers come from. This is what encourages them to stay on the music path. It is for this reason that they refer to the new album as a 'world' album, one that brings them closer to their fans and unites the world through the messages and the musicality presented in the different singles.
"The album is an ode to the land of our ancestors in Jamaica and Africa and we want to take fans on a journey musically and culturally by combining the sounds across Africa with the sounds of Jamaica.
"This period of our career is about displaying all that we've learned as producers, singers and musicians throughout our career. Fans should expect what they always get from Morgan Heritage. Our best effort," they say.
According to the group's official website, www.morganheritagemusic.com their world tours starts in New Orleans on May 4, taking them across the Caribbean, a project that takes them to platforms they haven't performed on in over years.
Most excitingly, Kenya, the place Morgan Heritage refers to as their second home is at the heart of this tour.
"We will be coming to Kenya, hopefully, sooner than later. We miss performing for our people in Kenya and Africa. Kenya will always be one of our homes away from home and we look forward to seeing more of the country and spending more time at home," says Mojo.
"Stay united as a people and continue to evolve as a nation. Never stop the infrastructure and technical development that made us fall in love with Kenya. As to our fellow musicians, stay focussed and, humble and be ready to sacrifice as needed. Always keep reaching for the stars and listen to other genres of music to expand your musical horizon," he says.
Related Topics