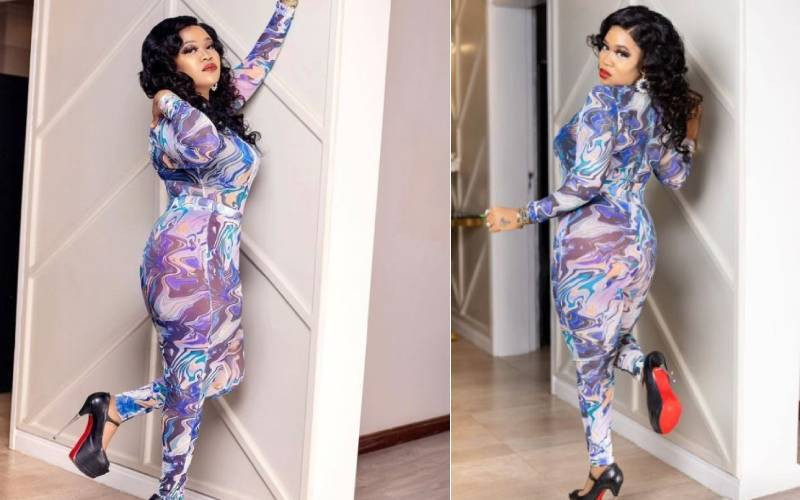 Early this week, popular social media personality Vera Sidika set the local internet circles ablaze with claims that she has lost her curvy figure after cosmetic surgery gone wrong.
The influencer left jaws dropping after she posted pictures on Instagram of herself with a "flat" behind, unlike the curvy figure we are used to. Dressed in a body-hugging jumpsuit and high heels, Vera showcased a much leaner body frame, her curves almost completely gone.
"The rebirth… this has been the hardest phase in my life. Due to health risks and complications, I have had to undergo surgery. It is still very unbelievable but I have come to terms with it and learnt to love myself regardless," she captioned the post.
Her 2.3 million followers were taken aback. In the wake of the clout-chasing phenomenon by Kenyan celebs, many questioned the influencer on whether this was true or just a stunt.
"I will be posting my surgery journey videos here, for those who have been thinking of getting booty surgery or changing anything in their bodies this might change your mind," she wrote.
As fans keep a keen eye on her updates, perhaps they might notice a trend in the influencer landscape. Many popular personalities have been transforming their bodies over the past few years. Whether it is going under the knife or adopting a healthy lifestyle, a recent craze has been changing one's body altogether.
Award-winning actress Catherine Kamau, popularly known as Kate Actress revealed in May that she had undergone a cosmetic procedure called a gastric balloon.
She said she intended to lose weight, tone up and feel more confident as she takes up new acting roles in future.
"Did you know that obesity causes more than 60 diseases according to WHO? I knew I had to make better choices for myself when I checked into a health facility, and I was declared class one obesity bordering class 2. To be honest I had let myself go. If msichana mrembo appetite ya fundi wa mjengo was a person...," Kate wrote on Instagram at the time.
A gastric balloon, also known as an intragastric balloon or belly balloon, is a soft balloon that is inserted into one's stomach through the mouth using an endoscope, non-surgically. It is an endoscopic treatment for obesity that helps one to lose weight.
And before Kate's revelation, another popular personality, content creator Murugi Munyi said she had undergone a liposuction.
The influencer, formerly known as Yummy Mummy KE said that she had the cosmetic surgery done in pursuit of a body she could feel more confident in.
"I decided to go for the lipo because I had the money and also it was my birthday treat. It was just under Sh600,000," she said in an interview with a local radio station in February.
Liposuction is a cosmetic procedure used to remove unwanted body fat.
It involves sucking out small areas of fat that are hard to lose through exercise and diet. It is carried out on areas where deposits of fat tend to collect, such as the buttocks, hips, thighs and tummy.
Way before then, Keroche Breweries' heiress and businesswoman Anerlisa Muigai was offering weight-loss inspiration to her fans after reportedly losing 60kgs.
The 34-year-old has been open about her journey, where she said that she cut the kilos by
In neighbouring Tanzania, actress and media personality Wema Sepetu is another public figure whose weight loss has raised eyebrows.
She has revealed in a past interview that she lost over 25kgs by "watching what she eats."
Sepetu noted that she changed her lifestyle in her quest for motherhood after doctors advised her to lose weight to improve fertility.
On the international front, TV stars Kim Kardashian and her sister Khloe have caused a stir for having drastically lost weight, even losing their once curvy frames and sizeable derrieres.
CNN questioned the idea that a "smaller body must be healthier" in its August report, Is losing weight an important health goal?
"...even doctors talk about health and weight as if they are the same: smaller bodies are healthier, and larger bodies must be unhealthy. But neither health nor bodies are that simple and uniform, and health can vary from person to person."
Related Topics