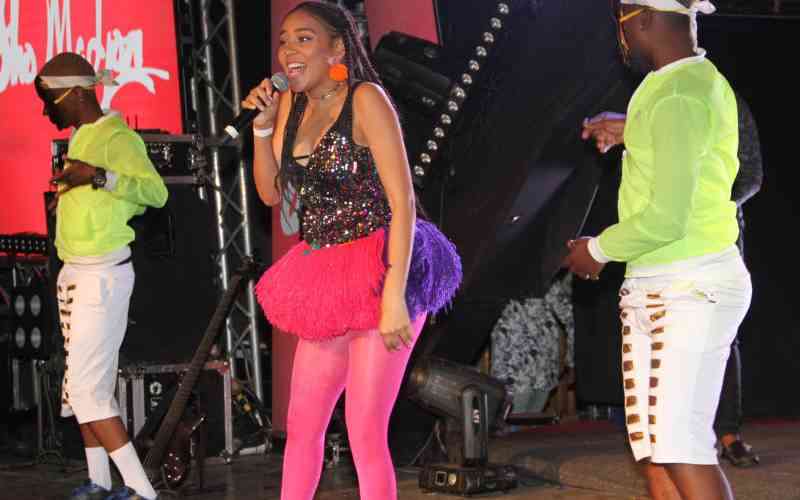 You can almost see the heat shimmer and the air get distorted around Sho Madjozi due to the sheer level of energy she radiates even in person during one-on-one interactions.
She brought that energy to a last dinner that was to bring an epic week of adventure for people from different countries visiting South Africa to a close.
A literal showstopper, when she stood up to speak at the dinner hosted by South African Tourism, everything stopped for the moment, with everyone in rapt attention, enamoured by her personality, beauty and bottomless energy. She was welcomed to the front with people singing, Chi chi chi from the famous refrain in her song, John Cena.
Madjozi is the perfect example of an African artiste who has managed to not only have the music of her people transcend borders but as one of South Africa's most recognisable musicians.
She has also gotten people from all over the world interested in South African culture, as she uses every opportunity to showcase her Tsonga and South African heritage, and that of Africa in general.
That trait inspired South African Tourism enough that she is now their cultural ambassador. "There is no other perfect combination of both natural beauty and culture. South Africa is renowned for its dance culture, for music culture, and on top of that, we have these beautiful landscapes. So I think that speaks for itself," she told the travellers.
Africa could not have found a better representative, as Madjozi also speaks eight languages, as evidenced by one of her clips on TikTok that went viral. In it, she impressed by saying different things in the languages, and the comments were rife with people astounded that she had nailed their language.
Having travelled widely on the African continent, Madjozi speaks her mother tongue Tsonga, and in addition, she speaks Kiswahili, Zulu, Sepedi, English, Tshivenda, Sipitori and French. It makes her a true-blooded citizen of Africa.
"I love honouring where I am from. I am an African in general, like I have lived in Tanzania, I have partied in Kenya, and I have partied a lot in Uganda as well, so I feel very much an African in many regards. I always like to express where I am from," she said.
"Ultimately, I am South African. I represent the whole country. I love showing people this country. I love talking in the languages that we speak. I love the beats that we represent, the energy that we bring, and that is everything."
Madjozi has a soft spot for the East African region as she lived in and went to high school in Tanzania. Her star was already on the rise when she blew up in East Africa with her mega-hit song, John Cena, in which she sang in Kiswahili, impressing the East African region with her mastery of the language, and with how she expertly and effortlessly fused Kiswahili with Gqom beats, something that had hardly been seen before.
The song would go on to be her biggest one to date, reaching the wrestler, John Cena, and she would end up meeting him as a surprise on the Kelly Clarkson show when the song was at its height. She is currently working on another project, which she said would be translated into Kiswahili.
Speaking to the Sunday Standard at the dinner, which was also celebrating her campaign with South African tourism, Madjozi said that Kenya was one of her favourite countries, dropping a 'niaje' for the sake of her Kenyan fans.
She added that she is eagerly waiting to see the unique sound that Kenya will come up with, akin to what South Africa has done with Amapiano and Nigeria with Afrobeats.
"I am always very excited to see what Kenya will bring in terms of sound. There was this Gengetone movement and at the moment I feel like there is a wide open space for a new sound to be designed and developed, which is not just Afrobeats or just Amapiano, but something very Kenyan because I love the spirit and feeling of Kenya. If the people can just take that and make that into a sound, I would be so excited," she said.
Madjozi collaborated with the Kenyan band, Sauti Sol, on the song Disco Matanga, which she told the Sunday Standard was one of her favourite songs.
"I hope to collaborate na wakenya wengine (with other Kenyans). I have done a song with Sauti Sol as a lot of you know, Disco Matanga, which is one of my favourite songs. I love that song so much. I cannot wait to come to Kenya to perform again," she said.
She also asked for input from Kenyans themselves on the direction she should take regarding that.
"I want you people to let me know which Kenyans are rocking right now, especially on new sound, new waves... But yeah, I am super excited. I hope I can work with more Kenyan artistes coming up, but si mnajua!" she said with a playful wave of her hand.
Some of the guests at the party were winners of her #XibelaniMoves dance challenge, including Kenyans, who were there on an all-expenses-paid trip to South Africa for seven days, courtesy of South African Tourism.
On the trip, they had also taken part in the final Xibelani Moves challenge to determine the ultimate winner, who turned out to be Saara Ngolo from Namibia.
The Xibelani dance is an indigenous dance of the Tsonga women of the Limpopo province in northern South Africa, which Madjozi has promoted and featured heavily in her music.
Her life is one big party, and she makes Africa look like the place to be, as she even used the celebration of her thirtieth birthday in May this year to introduce people to her family and village. She also used the opportunity to showcase talents from Limpopo, such as Makhadzi, a fast-rising South African singer.
The next big thing in Madjozi's life might be huge music festivals and carnivals in Africa that she is planning to hold, which would be like the huge carnivals that are held in the Caribbean, with colourful parades and celebratory music on the streets.
African music would rend the air in the kinds of festivals she is planning, which would bring out the spirit of Africa in song and dance.
Related Topics