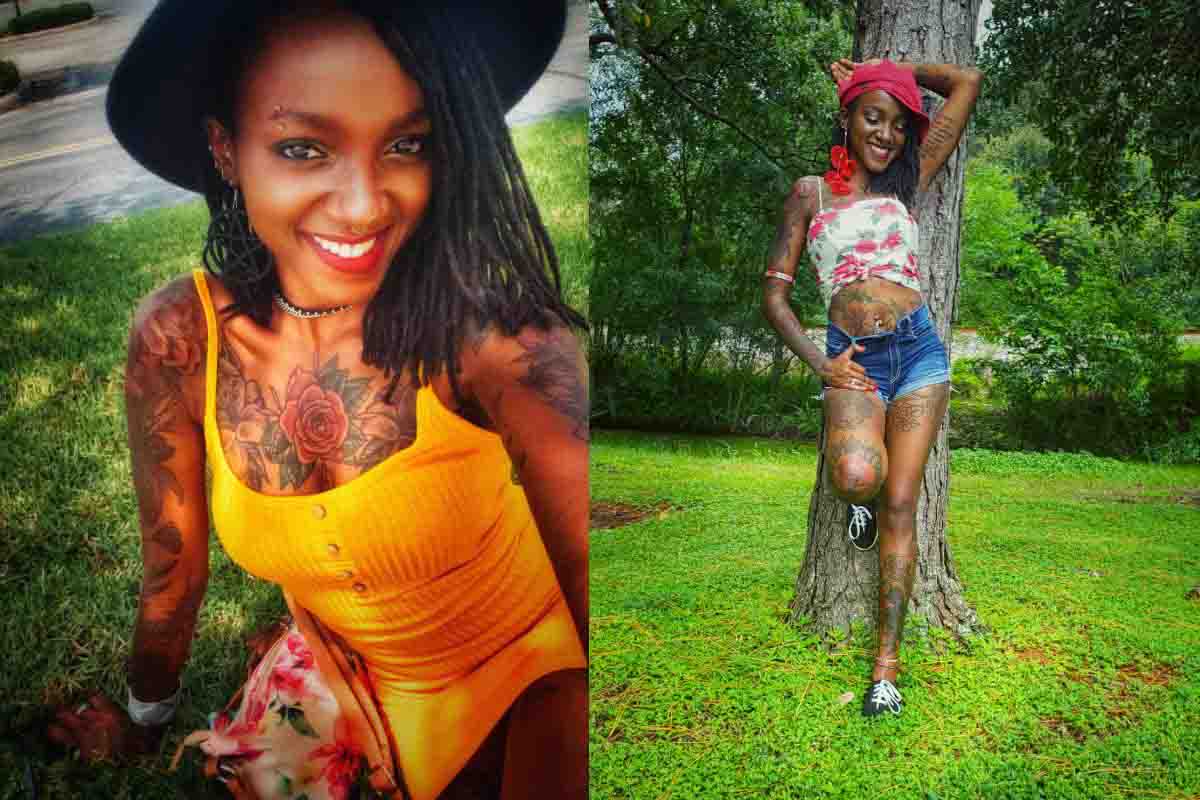 She believes in Neopaganism after converting from Islam. She was originally a Christian. A tattooed model, her entire body is inked.
To many, poet and singer Njoki Wakenya, a popular TikTok influencer with more than 200,000 followers, is controversial.
But the Florida-based Kenyan model believes she simply has a different way of looking at life.
About a month ago, Ms Wakenya, commonly known as the Kenyan Hippie in showbiz circles, landed back in Kenya after many years abroad. She was accompanied by her American fiancé, Scott. Scott was meeting his expectant fiancée's parents.
The Standard attended their traditional wedding. But unlike cultural norms that would have had it held at the girl's home, the ceremony was held in Shanzu, Mombasa, on Christmas Day.
"You may ask why we didn't have it in Kikuyu land. Well, my parents reside at the Coast, so this is home. We made this affair a ceremony for family and close friends as you witnessed," Wakenya said.
"I met Scott on TikTok about a year ago. We are both outspoken content creators, especially in social political contests, which makes us a target by certain audiences," she said.
The Kenyan Hippie has lived in America for the better part of her adult life. She works and lives in Florida.
She is an activist, entrepreneur, singer, and painter.
Religiously, she identifies as a neopagan. Neopaganism is a modern religious movement that incorporates beliefs and practices from outside the main world religions. It is biased towards worshiping nature.
She says she draws healing and inspiration from nature.
Born and raised in a Christian family, Wakenya converted to Islam after completing her undergraduate studies at Daystar University. A year later, she took a 360-degree turn to paganism.
Wakenya says there is less judgment and confusion outside the world of religion.
She felt attracted to this way of life after watching The Secret Law of Attraction; a 2006 documentary by Rhonda Byrne and Paul Harrington. The film talks about the secrets to leading a happy and successful life.
She believes in God, but does not pray to him nor go to church. Being a mother and also expectant, the Kenyan Hippie states that she will respect her children's choice of worship just as her partner has.
"My fiancé is Christian and supportive. We understand each other and have no problem with the other's choice of religion. He understands my stand and my freedom of worship," she says.
She ascribes to neopaganism, draws healing and inspiration from nature, and her tattoos fill her with contentment from the shell she felt was her un-inked body.
The Kenyan singer and social influencer has both friends and strangers intrigued by her controversial lifestyle.
She became a critic of the Black Lives Matter (BLM) movement and supported former US President Donald Trump last year. She says she believes most black Americans are racist than whites.
Branded a rebel by her own, the non-conformist says her life has been under constant threat and she has become a licensed gun owner to defend herself should the hate turn physical.
"As I challenged their perspective on BLM, they called me an outcast and threatened to revoke my black card. They called me out for being in an interracial relationship. That is when I discovered that there is oppression and racism among blacks. My life has been in danger and that is why I started acquiring defensive skills. I have been training on gun use and right now I have a number of registered firearms. I am a sharpshooter," she says.
Wakenya, came into the public limelight in March last year when she tried to become the cover girl for Inked Magazine. She says she lost her tattoo body count at 60. Her inked skin, she says, is not just an artistic expression of what she feels about life. It is her connection with nature, a form of spirituality.
Each of her tattoos costs between Sh20,000 and Sh60,000 – a price she says is an investment that will last as long as she lives.
"Right now I am finishing inking my arms and back. Then I move back to the legs. Some people judge me while others compliment (me) on TikTok where I show most of my body art. At the end of the day, I feel bada**. This is my life," she says.
Wakenya moved to the US in 2013 and acquired dual citizenship in 2019.
Related Topics