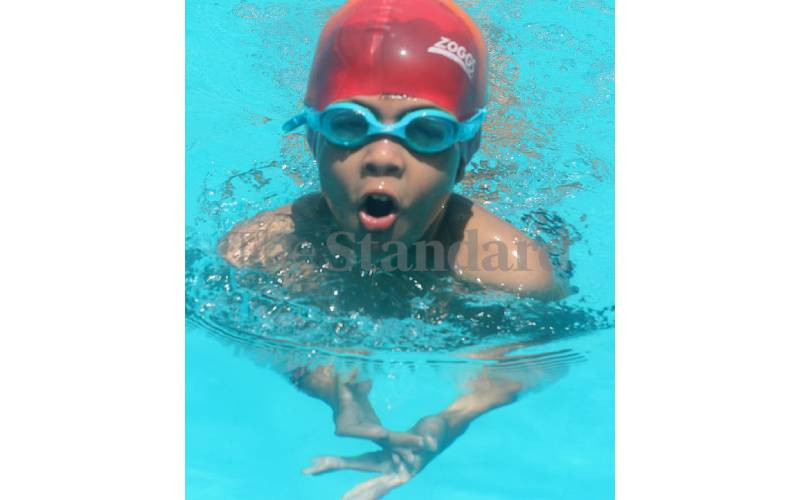 Katja Kimani from Watamu Swimming Club in Kilifi County kicked her way to shine in her races during the Coast junior swimming championship.
The two-day gala, which attracted swimmers from Mombasa and Kilifi counties, was held at the Aga Khan Academy, Mombasa.
In the girls' eight years 100m butterfly, Kimani navigated the waters to easily touch the finish line with a time of 1.53.41.
Having the ability to use a scissor kick or frog kick, the girl did not disappoint in the eight years 100m Individual Medley (IM) after she manoeuvred without expending much energy to return in a time of 1.46.85.
Gioia Cannas, also from Watamu Swimming Club clocked, 1.52.46 to settle for the second spot.
In girls' 10 years 100m butterfly, Luisa Kimani from Watamu Swim Club emerged victorious in a time of 1.55.12 with unattached Daniella Amdersen clocking 2.01.06 for the second slot.
In girls' 11 years 100m butterfly, Elliana Maina, swimming for Mombasa Aquatic, was the winner with a time of 1.36.61, while Khatija Pasta of Blue Ocean Swim Club was second in a time of 1.56.31.
In boys' nine years 100m butterfly, Alagmar Hamid of Blue Ocean and Kahindo Jedidah from Mombasa Aquatic clocked 2.02.20 and 2.14.53 for the first and second positions respectively.
Abdulkadir Abdulkadir from Mombasa Aquatic was comfortable and safe in the water as he won boys' 10 years 100m butterfly race in a time of 1.41.56. Ethen Vavi of Bandari Swim Club was second with a time of 1.52.70.
In boys' 10/11 years 400m medley relays, Mombasa Aquatic team of Kahindo Jedidah, Harith Muses, Abdulkadir Abdulkadir and Clement Makokha were winners after registering a time of 7.19.29.
Bandari's crew of Abubakar Omar, Kosen Leiyan, Ethen Vavi and Hitansh Shah were second with a time of 7.40.71.
In girls' 10/11 years 400m medley relay race, Bandari's team of Amara Doshi, Yusra Awadh, Khadija Khuweylid and Ajab Mukarram won with a time of 8.06.10.
Related Topics