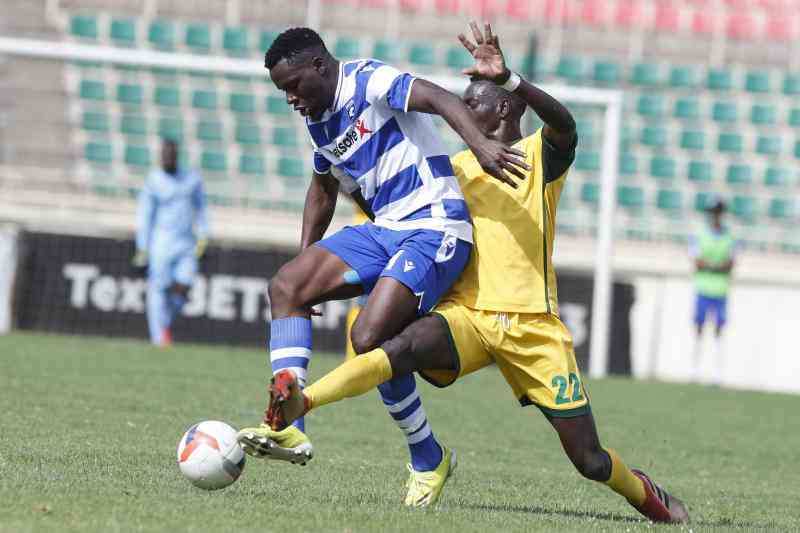 There are players — and then there are players who captain the team.
School boys playing football along dusty streets of some 'mtaa' have the owner of the ball as the captain, while in school, it is the sports master who picks the captain.
But for a serious club or national team, the captain is the player who shows leadership skills, works hard, and is ready to snatch victory from the jaws of defeat. Often identified by the armband, sometimes the role is given to the more experienced or oldest player. Sometimes called the skipper, the duties of the captain include receiving a brief from the technical bench, and having that pep talk with 'annoying' referees.
More importantly, the captain is the team's chief motivator, who encourages the team when they are a goal down and with 10 minutes to the whistle. Being a contact sport, the soccer captain also is there to solve on-field spats between players besides leading the team from the dressing room and receiving the trophy after a win.
But there are times the senior most player can act like the captain — but without a portfolio. Like Gor Mahia defender Bobby Ogolla when Gor met AFC
Leopards at the 1985 Cecafa Club Finals in Khartoum, Sudan. Gor had gone to Sudan as underdogs after losing many key players to a CAF suspension after the 1984 Zamalek fiasco in Egypt when they were banned from continental football. Their only qualification was having won the Kenyan league in 1984. Six of their key players had also been suspended: Abbas Magongo 'Zamalek,' Abdallah Shebe, Abbey Nassur, Peter Otieno Bassanga, 'Solo' Otieno and George Onyango.
'Ingwe' were obviously the real and undisputed favorites. After all, Ingwe had won it back to back in 1982, 1983 and 1984 — when they beat Gor 2-1.
They were the defending champions with the formidable JJ Masiga, Francis Kadenge, Mulamba, Zimbo Owade, Murila, Weche and Keffa Tasso.Minutes before kickoff, Bobby instructed kit man Andrew 'Kamukunji' Ochido, the team doctor and unofficial 'researcher' to place all the uniforms in one heap. Bobby then asked all players to stand around the heap as acting coach Maurice 'Sonyi' Ochieng read out the line-up. It comprised; Tairus Omondi,
Austin Oduor, Swaleh Ochieng, Isaiah Omondi, Nyangi Odembo, Okello Zangi, Gideon Hamisi, Ben 'Breakdance' Oloo, Gor Oronge, Enock Obwaka and his brother, William Obwaka, then a medical student at the University of Nairobi.
Although Hesbon Omollo was Gor captain, he was only 24. Bobby, at 27, was a senior and thus stepped in and as their names were being red out asked each, not to pick the jersey unless he was sure of playing his heart out to ensure victory. He repeated the same to the reserve bench of among others David 'Kamoga' Ochieng and Sammy Onyango 'Jogoo'.
After the players were all dressed up he still gave room for those who freaked out to do so early enough. None did.Without live television recording, Kenyans followed the match through the sombre voice of radio broadcaster, Ali Salim Manga. Gor's temperamental coach Len Julians had been suspended and banned from traveling to Sudan, and didn't understand Swahili to follow the matches on radio!
The rest is history. With 'carpet soccer' at its best, a labyrinth of passes, overlapping wing runs and an air-tight defence "an ant couldn't pass through", Gor won 2-0 in the all-Kenyan final. William Obwaka scored two goals, dribbling past six AFC players and roofing the ball past a shaken goalie Francis
Lubembe in the 89th minute. Obwaka destroyed the team that had thumbed its nose at him for being "too skinny".When chips were down, Bobby, as 'captain without title', hewed out a stone of hope from a mountain of despair about to be unleashed by AFC Leopards.
Two years later, Gor Mahia scaled the highest peak in continental football by winning the Nelson Mandela Cup with Austin Oduor as captain. Austin was an inspirational skipper for both club and country with his demeanor on and off the pitch being an added advantage besides being a disciplined teetotaller and role model.
In Luo Union, the mercurial William Chege Ouma was the captain for many years deputized by Agonda Lukio. Chege was forceful, ambitious on the pitch and with an innate winning mentality that delivered results from impossible situations. He never entertained cowards and thus even influenced the choice of the line-up.
Mahmoud Abbas was captain for both Harambee Stars and AFC Leopards and was known for tongue-lashing against lazy defenders. Armed with a mouthful of Swahili swear words, he could organize the defence to his advantage. He was actually the invisible coach on the pitch. His saving heroics and mocking gestures to his opponents helped to motivate his teammates.
At Ruaraka, the base of Kenya Breweries later Tusker FC, Apollo Okech was captain before handing over to Boniface Oduor. Other notable captains were, Sammy Omollo, Musa Otieno (Tusker FC), Tom Juma (AFC Leopards), Zedekiah Otieno, Julius 'Awilo' Owino (Gor), Macdonald Mariga, Dennis Oliech, Robert Mambo and Victor Wanyama (Harambee Stars).
From the above, it is clear that besides experience, a captain must command respect despite scoring regularly. No wonder, nowadays, players vote for the team's skipper. But there are times when players pick a captain at variance with the coach. William Chege Ouma was popular, with an on and off-the-pitch camaraderie with players, but not coaches who considered him lazy and apathetic to training. Chege believed he was talented and too good for running and lifting weights. He thus skipped training sessions.
To prove coaches wrong, he played for 90 minutes, scored crucial goals and still had reserve gas for ensuing matches. At 1975, Senior CECAFA tournament in Zambia, Chege Ouma was the top scorer. He did this for Gor Mahia and Harambee Stars between 1963 and 1976. Who can beat that?
Clubs are required to pick a captain and a deputy annually or every season. This is important as the captain can be substituted during a match. If both the captain and deputy are injured or substituted, the coach has the prerogative to pick any other player on the pitch to wear the armband. Although it rarely happens, during the 1986 Mexico World Cup England's Bryan Robson was injured and his deputy, Ray Wilkins, earned a red card so, goalkeeper Peter Shilton was appointed captain.
Related Topics