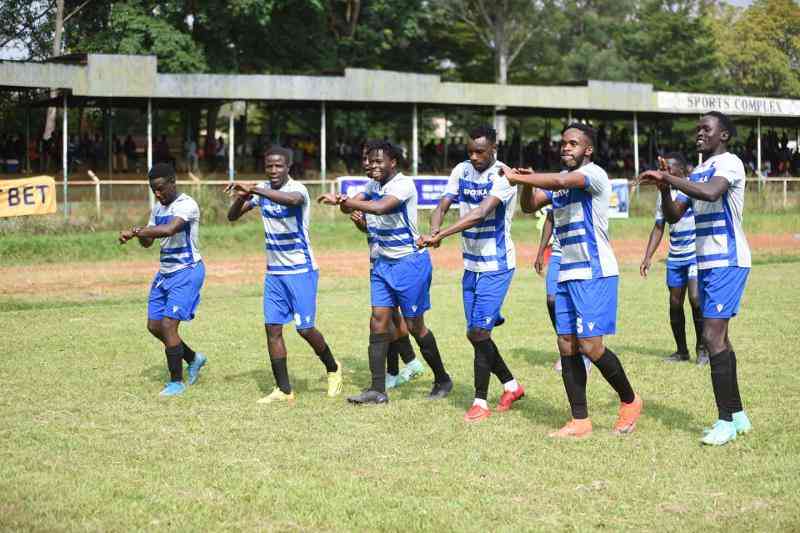 Love relationships and sports are no known enemies. 'A goat eats where it is tethered' - this one says it all.
Take the local football scene of old; where potential suitors often 'free-kicked' love relationships in what can be described as 'love brewed in Kenyan soccer.' Most ended in marriages and blossoming families.
These affairs germinated in varying encounters - when women were either players, spectators, or relatives, which would ensure soccer genes remained in the family. Take football legend Shem Chimoto from Luanda in Western Kenya for instance, and whose family might be considered pioneers of marriage across the beautiful pitch. His daughter is the mother to Dr. Dan Shikanda, the former AFC Leopards player from the famous Shikanda football family.
Samson Odore, a member of Kenya's 1972 Africa Cup of Nations team married Anne Odore, the daughter of Sila Gwada and a longtime member of the
Kenya Netball Association. Their son, the famous Nick Odore, represented Kenya in various Olympic boxing bouts in the 1980s. Sila was brother to the famous Daniel Nicodemus Arudhi and grandfather to the late Zablon 'Pro' Otieno and Kevin 'Ade' Omondi.
Soccer coach Tom Olaba who played for Kenya Prisons, Bata Bullets, and Harambee Stars married Elizabeth Olaba, for many years Kenya's undisputed shot put champion and sports administrator. Elizabeth was Kenya's foremost thrower in the field events, and even in retirement from competitive sports, she has no equal in the current crop of javelin, shot put, and discus hurlers.
The burly Prisons officer's talent was discovered by a priest while still a primary school pupil in the lakeside town of Kisumu, and she represented Kenya at various Commonwealth and Olympic games.
Liz set a new African record of 15.38m in the shot put during 1987 All Africa Games held in Nairobi. The record stood for eight years until it was broken by a Nigerian thrower in 1995. During the 1991 All Africa Games in Cairo, Egypt, she missed out on the medal bracket due to what she refers to as "foul play by the Egyptians in favor of their home girl." She was also in 1995 All Africa Games contingent to Harare, Zimbabwe, after which she retired from active sports and took up coaching.
John Chore, a member of the record-breaking Gor Mahia class of 1976 married Bobby Ogolla's cousin. Dan Odhiambo, arguably Kenya's best shot-stopper married a sister to Ramogi FC's defender Tom Omondi.
Peter 'Bassanga' Otieno a member of Harambee Stars coach Marshal Mulwa's triple Senior CECAFA champs married the sister to William and Enoch Obwaka. Their other sister Anne married their teammate George Nyangi Odembo aka 'Artillery.' The latter relocated to the USA and is nowadays a preacher.
Former national welterweight boxing champion Kenneth 'Valdez' Ochieng married Judith Odhiambo, daughter of Paul Odhiambo (Gor Mahia's first coach from 1968 to 1974) and niece to Gor legend William 'Chege' Ouma.
Former Harambee Stars team manager and long-serving stadium manager at City Stadium Apollo Ndeda and Harambee Stars great winger Sammy 'Jogoo' Onyango, were related by marriage to sisters.
Before we knew who Peter Dawo was, we had our heading specialist in the name of Charles 'Charlie' Ochieng', formerly of Luo Union FC. Ochieng scored the winning goal for Harambee Stars when we beat Malawi at the 1975 Senior CECAFA tournament. His daughter Linda is the wife to Mike Okoth and mother to Liverpool and Belgium first 11 player, Divock Origi.
Former AFC Leopards great Noah Wanyama, father to national player siblings McDonald Mariga and Victor Wanyama, was recently quoted saying that he met his wife during the annual Kenya Communications Sports Organisations (Kecoso) games.
Related Topics