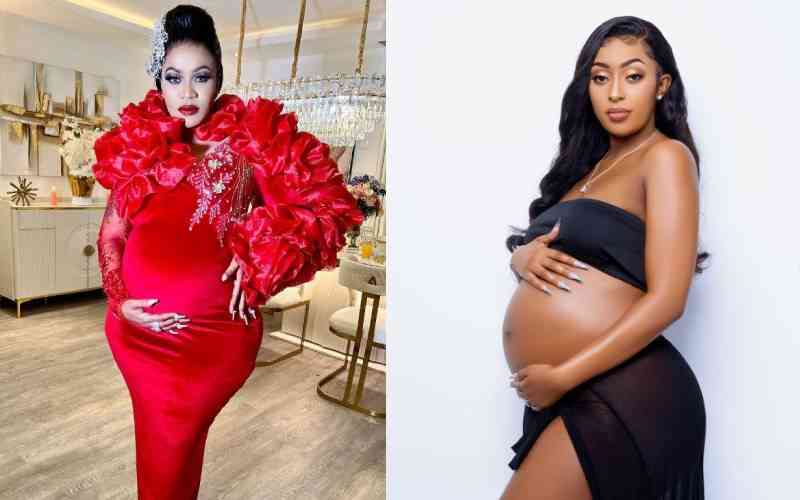 Kenyan socialites Amber Ray and Vera Sidika have been at loggerheads since Amber allegedly copied Vera's idea of a helicopter gender reveal party. The drama began when Vera and her husband, Brown Mauzo, hired a helicopter to reveal that they were expecting a baby boy. The couple set the bar high, and tongues started wagging after the flashy announcement. But barely 48 hours later, Amber and Kennedy Rapudo posted a video indicating that they too had hired a helicopter for their gender reveal party.
Netizens online quickly started calling out Amber for copying Vera, and the drama escalated from there. Vera was quick to defend herself, armed with receipts that she was the first to hold such an extravagant gender reveal party. However, Amber was having none of it and accused Vera of being broke, and living a fake lifestyle on social media.
Amber went ahead to claim that Vera Sidika had moved out of her Kitisuru home because she couldn't afford to pay rent, before moving to Mombasa. She also alleged that Vera was broke when she gave birth to her first child, and their late mutual friend paid for her hospital bill.
"You moved from Kitisuru where you lied to people that you had bought the house. Your former landlord was a family friend, and I would never tell people that you moved to Mombasa due to outstanding rent arrears, which you haven't paid to date," claimed Amber.
She continued: "You kept calling our mutual friend stressing how broke you were and you have to host a baby shower and book for a hospital. Our friend funded your baby shower, which you did at a mutual friend's house backyard because you couldn't afford to pay for a location."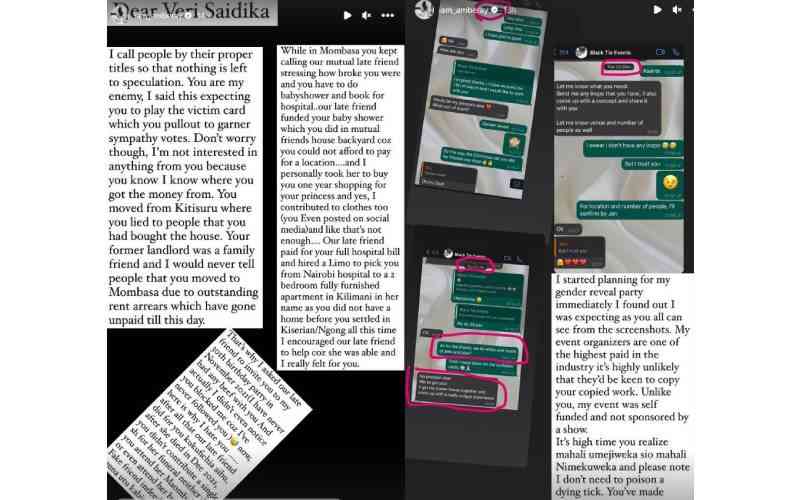 Vera Sidika responded to the claims that her baby shower and hospital bills were footed by someone else, sharing receipts and M-PESA transactions showing that she paid for it all herself. The Real Housewives of Nairobi actress further alleged that Amber was bitter, trying to make her look bad. She urged Amber to stop spreading lies and focus on her pregnancy.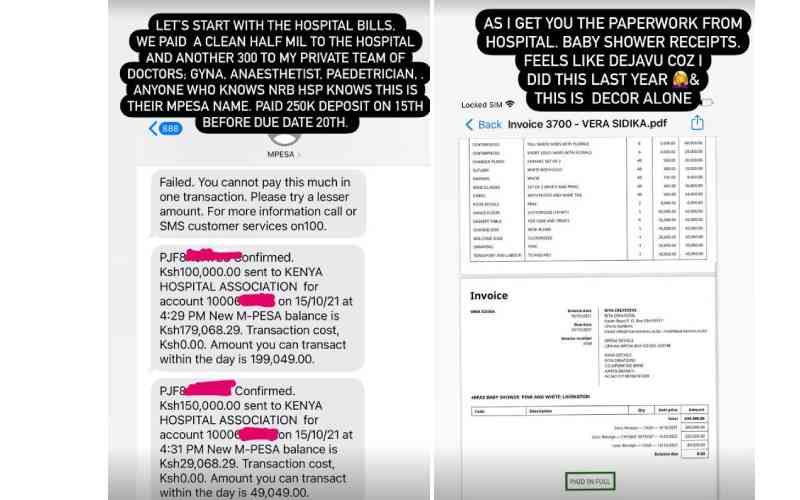 The drama between the two socialites took a personal turn, with Amber claiming that Vera's man, Brown Mauzo, was jobless. She offered Mauzo a chance to perform at her baby shower, promising to pay him well.
"You claim to inspire us, yet you can't inspire your 'guy' to get a job. Anyway, I'm planning my baby shower, and I'm willing to pay him to perform at least tuone kama talanta itakubali apate kakitu. Sis, you see that life you pretend to live; some of us live it without the need of coming to social media with fake receipts to prove a point. Let's normalize staying in our lanes?" Amber posted.
Vera Sidika responded to the claims that her man was jobless, saying that he would never perform for someone like Amber, who couldn't afford to pay him. She went on to compare herself to Amber, saying that she was an independent woman who works hard to foot her bills, unlike her counterpart.
"You and your entire village combined can't afford to pay my husband for a show. Keep dreaming. He would rather perform for ants and roaches. Were you not the one parading pics with him all over Instagram? If you couldn't afford to pay him, then what makes you think you can afford him now? Oh wait, is it because of the few coins from Mr...I get it, But still can't afford even," she said.
The drama between Amber Ray and Vera Sidika continued to escalate, with fans taking sides and throwing shade at one another. The two socialites went back and forth, each accusing the other of living a fake lifestyle and being broke. The feud is still a hot topic on social media, with fans eagerly waiting to see who would come out on top.
Related Topics