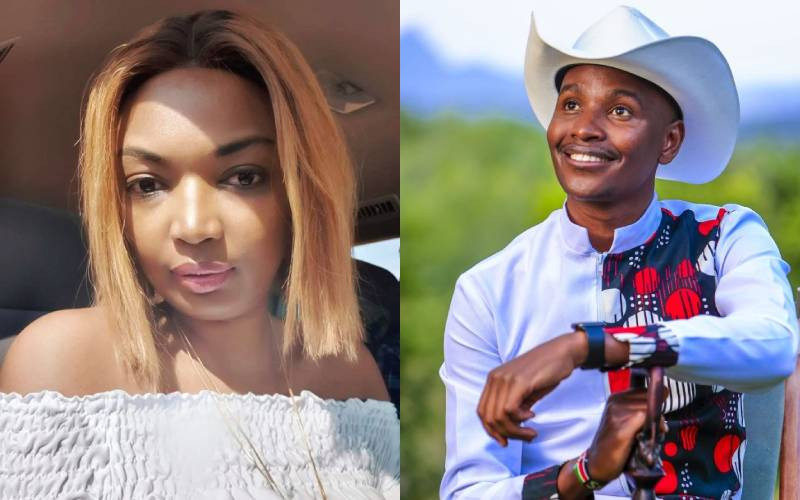 Nominated Senator Karen Nyamu has said Mugithi singer Samidoh and the father to her two children is worth fighting for.
Nyamu, who said she had time to chat while on a long flight, was responding to a fan through her Instagram stories, who asked whether she was fighting for Samidoh.
"Not really, but he's worth fighting for," said Nyamu.
While replying to a fan who asked if she was happy, Nyamu said, "Honestly, I'm unsettled. I'm yet to find a balance between my new job, family time and personal time."
A few days ago, Nyamu made headlines after going viral on social media following an indirect exchange of words with a woman identified as Bernice Saroni.
Bernice, a YouTuber living in the US with her two kids, has been hosting Samidoh during his tour.
After picking up the singer from the airport and showing him around, the voluptuous woman posted photos with Samidoh, attracting the attention of fans who tagged Nyamu in the posts.
However, a fan identified as Eunice Shaisha asked Karen to dismiss people's negative opinions as long as Samidoh catered to her.
Karen responded, "That information is very sweet and very okay. USA people come out in huge numbers to see Bernice- with 'big assets' and also enjoy the Mugiithi. Also, take photos and send them back to me."
In addition, Nyamu shared another video clip of a lady diving into a pool and captioned, "Vile mnaingianga kwa relationship za wenyewe hapa kanairo, mungu anawaona.
However, Bernice, who said she doesn't like to fight back, took to her Facebook page and posted;
"I sit back and watch them insult, that's how I was raised I am not a coward but I am wise."
She later quoted the Bible, "Jesus says, "Blessed are the makers and maintainers of peace, for they will be called children of God" (Matthew 5:9). He doesn't say, "Blessed are the people who control situations and make them go their way."
Related Topics