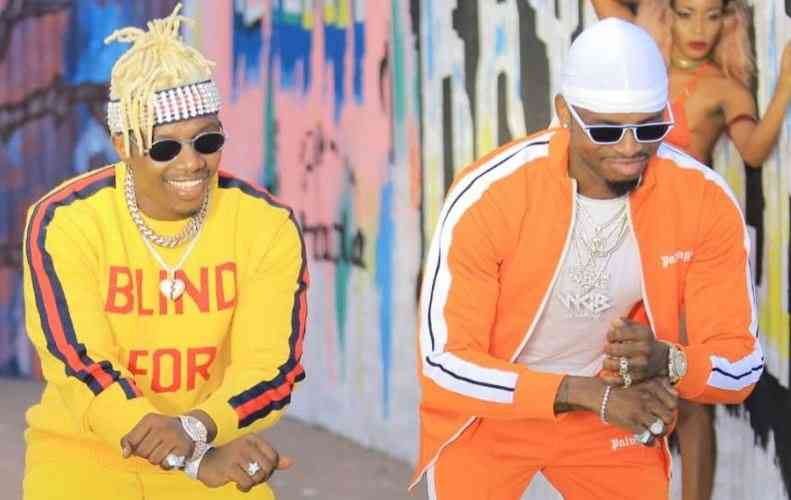 Wasafi Classic Baby (WCB) boss Diamond Platnumz has taken time out of his busy schedule to celebrate his former record label signee and friend Rayvanny's birthday.
The Bongo Flava star's gesture surprised many, considering ongoing rumours that they no longer see eye to eye due to Rayvanny's exit from the record label.
In the post shared on his Instagram page, the award-winning singer referred to Rayvanny as a cheetah, maintaining that he and Rayvanny are brothers forever.
"Chui! Young brother always," wrote Diamond.
Netizens were convinced the music duo was not on talking terms after Rayvanny quit the record label and soon after fined over Sh2.5 million for allegedly going against their agreed contract with Diamond's company and performing at Nandy's concert.
According to reports, Rayvanny had not been cleared to perform at any concert until he fully terminated his contract with the record label.
Speaking on the matter, Nandy stated that her team followed all procedures required by WCB to have Rayvanny on her show and was saddened to learn that he got in trouble afterward.
"We never talked about WCB because I approached him as an artiste and friend but I also adhered to their demands and if there was need to reach out to WCB, we could have done that. But it was very smooth. I have seen the news and I feel bad for him because I feel like I put him in trouble. I have not even been able to ask him," she said.
Many people attacked Diamond for this, accusing him of not being happy for Rayvanny and wanting to make his life miserable.
Addressing the cons of mentoring signees, the father of four explained that despite his dedication to ensuring all his signees get to the top and do well for themselves, some end up being ungrateful and trashing his efforts.
"It is now that I have realized why people like Kidayo, Davido and others decided to focus on themselves and not waste energy, fame, money and time to help the artists who signed them. This industry has no gratitude! But don't be hurt, this is our country and it is our responsibility to ensure that we continue to lift the youth from the streets so that they can liberate themselves in life."
However, while announcing his departure from Wasafi Classic Baby (WCB) to focus on his record label, Next Level Music, Ravanny gave his heartfelt gratitude to Diamond for giving him a lifetime opportunity.
"It has now been six years since we started working together, my team, my family WCB Wasafi, we have been driven by love and unity. I have learnt a lot and we have achieved a lot together. I was the first artiste to win a BET award, also the first artiste from east Africa to obtain 100,000,000 view plays on Boomplay. All these happened while we were together. My heartfelt gratitude to my family at Wasafi but most especially to my brother Diamond Platnumz, for giving me an opportunity for the world to see my talent," said Rayvanny.
Related Topics