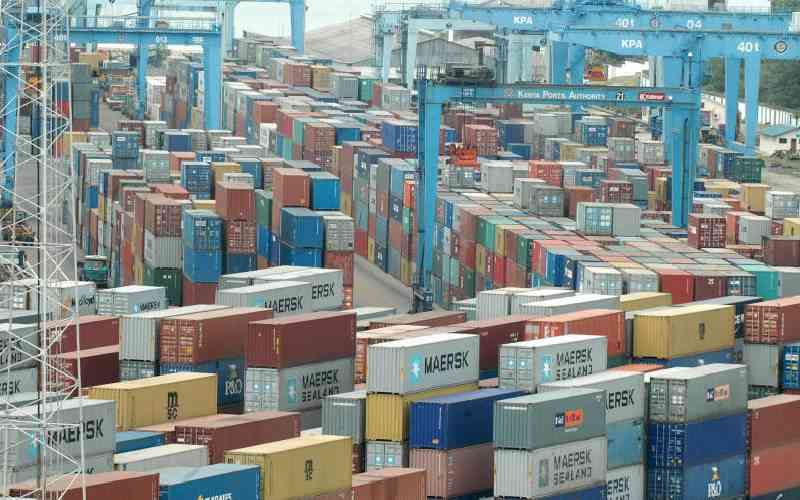 The volume of cargo handled at Mombasa Port increased by 3.3 percent between January to June this year compared to a similar period last year, new data shows.
The data released by Kenya Ports Authority (KPA) shows that the Port handled 18.06 million tonnes compared to 17.48 million tonness in a similar period in 2022 - an increment of 584,554 tonnes or 3.3 percent.
This comes amid fierce competition from the Port of Dar Es Sallam which toppled Mombasa in the World Bank's ranking on the most efficient ports.
The third edition of the global Container Port Performance Index ranked the Mombasa port at position 326 in 2022 out of the 348 ports while the Dar port took position 312.
Dar has staged stiff competition, threatening to pull most of the ships plying the East African waters into its harbour.
Speaking at a Kigali hotel during the celebrations to mark 10 years of the KPA liaison office there, KPA Managing Director William Ruto disclosed that transit traffic from January to June 2023 has also increased by 216,985 tonnes or 4.2 percent to record 5.41 million tonnes against 5.19 million tonnes handled in the same period in 2022.
"In the same period, the port witnessed increased volumes in container traffic registering 783,125 Twenty-Foot Equivalent Units (TEUs) against 722,063 TEUs handled in 2022," Ruto said.
"That is an increase of 61,062 TEUs or 8.5 percent."
He attributed the growth to efficiency at the port saying the time taken at the document processing centre for Customs clearance was reduced from 3.6 hours in 2011 to one hour in 2021.
"The cargo dwell time reduced from 133 hours in 2011 to 64 hours in 2021," said the MD.
Other than efficiency, KPA has also intensified its campaigns to woo more importers.
Last week, KPA Chairman Benjamin Tayari and Ruto visited Kigali, Rwanda, for a meeting with port users with their eyes set on business growth.
The port chiefs showcased the port expansion, modern equipment, rehabilitation of the Kisumu port and the Meter Gauge Railway from Naivasha to Malaba to woo the port users in Uganda, Rwanda, Burundi, South Sudan, and the Democratic Republic of Congo (DRC).
Rwanda's Permanent Secretary for Infrastructure Fidele Abimana pledged support to KPA. He commended KPA for supporting the implementation of the Single Customs Territory.
On transit markets, South Sudan and DRC recorded major growths of 394,548 tonnes or 72.4 percent and 368,105 tonnes or 89.8 percent respectively with Tanzania recording a growth of 42,693 tons or 38.4 percent.
In the same period, Rwanda registered a growth of 67,874 tonnes or 39.5 percent, having recorded 239, 714 tonnes in 2023 compared to 171,840 tonnes in 2022.
"We encourage you to give us more business and also continue improving your transit market share which is now at 4.4 percent compared to 3.3 percent in 2022," Ruto said.
According to KPA, the presence of a liaison office in Kigali since July 19 2013 has improved business. They are planning to open another one in DRC.
"I am glad to note that the office has proved to be useful in facilitating Rwanda's import and export business through the Port of Mombasa,"
In 2022, Mombasa port transit traffic posted a significant growth of 7.3 percent to record 10.23 million tonnes against 9.54 million tonnes recorded in 2021.
"It is impressive to note that among the transit markets, Rwanda recorded the highest growth of 132.7 percent or 245,104 tonnes after registering 429,857 tonnes in 2022 against 184,753 tonnes in 2021," said Ruto.
He stressed that there was no congestion in Mombasa after the completion of the second container terminal and the new Kipevu Oil Terminal bringing the total annual container capacity to 2.2 million TEUs.
"The Port of Mombasa which only had one container terminal at the time we opened this office, now boasts of two container terminals with seven dedicated berths and a total of 19 berths for the entire port," Ruto said.
"The total yard holding capacity is 47,000 TEUs and we are currently averaging 17,000 TEUs, meaning our port is not prone to congestion," he noted."
He noted that the new Kipevu oil facility has a bigger terminal consisting of four berths capable of handling three bigger vessels of up to 170,000 Dead Weight Tonnages (DWTs) at ago.
According to Ruto, Rwanda can use the SGR to reduce logistics costs
"Using SGR freight service from the Port of Mombasa to Nairobi and Naivasha Inland Container Depots (ICDs) and then to the old Meter Gauge Railway (MGR) to Malaba is a sure way of saving time and costs," he said.
"Due to the linkage with the SGR freight service, the port has become a cheaper alternative for shipment of goods to the hinterland."
Kisumu Port, which is an important hub for the East African Community trade, has also been rehabilitated.
"Upon the rehabilitation the port grew from handling 18,552 tonnes in 2019 to 58,890 tonnes in 2022," he explained.
Related Topics