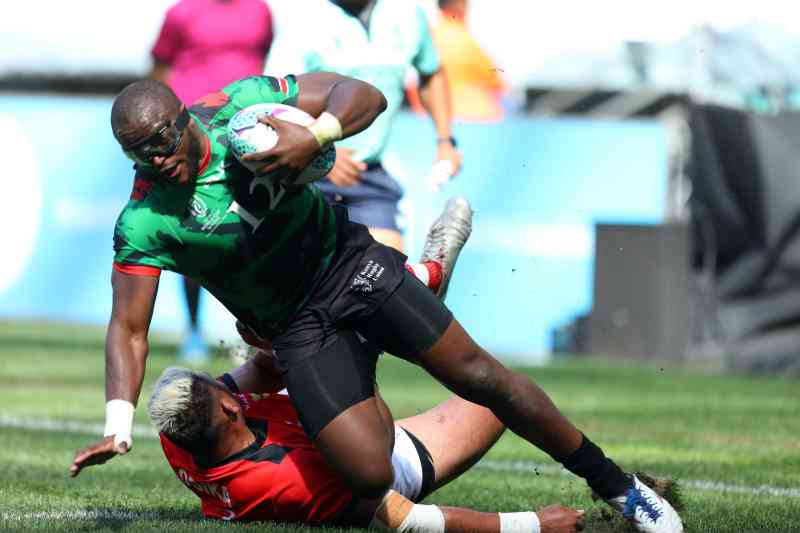 There was a lot of optimism in Kenya Sevens camp ahead of the 2022 Rugby World Cup Sevens in Cape Town, South Africa.
Many expected the national team to carry their impressive performance at the Los Angeles Sevens, two weeks ago into the global showpiece in Cape Town and either replicate their semifinals' heroics in Dubai (2009) and Moscow (2013) or surpass them.
Damian McGrath's charges finished sixth at the last leg of the World Rugby Sevens Series in the USA.
But just like the 2018 Rugby World Cup in the USA, Shujaa were a pale shadow of their former selves as they yesterday failed to progress to the next round of the competition after falling 22-7 to Argentina in the round of 16 encounter at the Cape Town Stadium.
And once again, indiscipline cost the former Singapore Sevens champions a quarterfinal ticket at the World Cup.
The Argentinian side capitalised on their numerical advantage to shatter Kenya's dreams after the duo of Johnstone Olindi and Samuel Oliech were sent to the sin-bin.
The result relegated Shujaa to the Challenge Trophy where they will now battle with Scotland in today's (2.37pm) quarterfinal clash.
Interestingly, in 2018 Oliech's mistake allowed Scotland to make a dramatic comeback to win the match 26-31 in the round of 16 of the 'unforgiving' innovative straight knockout format.
And yesterday, the Impala fullback was at it again as he was yellow-carded for a high tackle in the second half of the match just after Vincent Onyala had pulled a converted try back for Kenya. The slippery surface also made it difficult for the Kenyans to match Argentina.
But it seems Kenya's poor show was self-inflicted. It's evident Daniel Taabu, Alvin 'Buffa' Otieno and Bush Mwale's absence was heavily felt in the loss to Argentina. In the explosive nature of Taabu, he would have turned around the game, but his indiscipline together with Mwale cost them a chance to the World Cup while Otieno pulled out due to personal reasons.
Kenya had made a brilliant start to the tournament with a 19-0 victory over Tonga at the Cape Town Stadium.
Willy Ambaka and Nelson Oyoo grounded a converted try each before Vincent Onyala scored late in the second half to seal the win.
And for Ambaka, it was great to make a comeback from injury with a victory.
This is the third world cup appearance for the Narvskaya Zastava forward.
"I'm coming back from injury and I'm just happy to represent the country in the World Cup," said Ambaka.
"We executed well, got the three tries. We were also a little bit rusty. That is expected in the first game and we just hope to polish up in the next game."
Related Topics