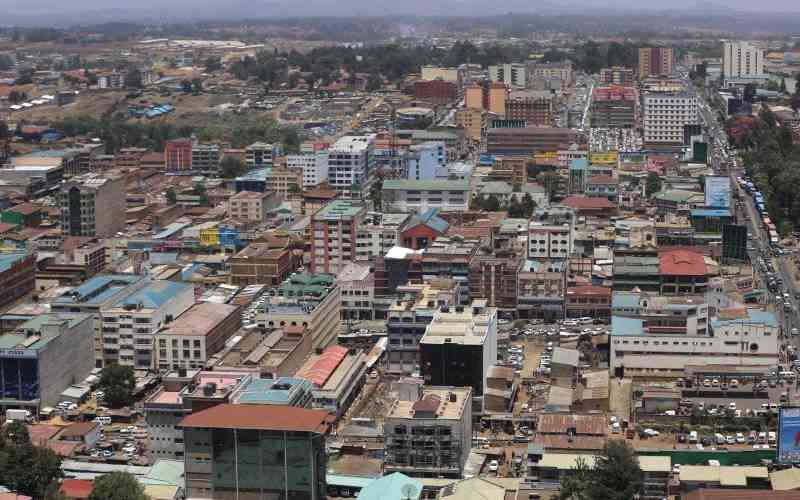 A committee has given Eldoret a clean bill of health to be upgraded from an agricultural town to a city.
The team that was formed in May last year, recommended the elevation of North Rift region's largest commercial hub town in a report that was handed to Governor Jonathan Bii on Tuesday.
The race to elevate Eldoret to a city began with a number of false starts in 2021, with the Senate rejecting a proposal put forward by Uasin Gishu County. Nakuru, Rift Valley's biggest town, was awarded a city charter in December 2021, making it the country's fourth city after Nairobi, Mombasa and Kisumu.
Through the report to be debated and approved by Uasin Gishu Assembly, the county hopes to have Eldoret awarded a city charter ahead of the 2023 Devolution Conference scheduled for August 15 to 19.
The ad hoc committee chaired by Kenya National Chamber of Commerce and Industry Uasin Gishu Chapter chairman Willy Kenei conducted a study alongside public participation meetings and found that 93 per cent of residents wanted the town elevated.
The committee reported that 5.8 per cent of residents wanted the idea shelved until several matters, such as an anticipated increase in land rates and extension of municipality boundaries to rural areas, are addressed.
"There were fears that land rates will be increased if Eldoret is elevated to a city. We had to explain that land rates are increased after adequate public participation," Mr Kenei said.
He said the elevation of Eldoret to a city would spur investment since the North Rift town was the gateway to countries such as Uganda and South Sudan.
Kenei said some residents were worried about the street families' menace in the town. "Those who gave their views to the committee raised concerns about traffic jams and lack of parking spaces within Eldoret town. We need to look into this, so that we can become one of the best cities in the region."
Mr Bii asked the county assembly to approve the report to pave the way for transmission to the Senate for action.
The governor said he was confident the county would celebrate its city status during the August conference to be graced by President William Ruto.
Bii said the board of the municipality of Eldoret applied for city status through Uasin Gishu executive, giving rise to stakeholder engagement culminating in the ad hoc committee.
The committee comprised experts from Kenya Institute of Planners, Architectural Association of Kenya, Association of Urban Centres and Cities, and the business community through KNCCI, among other groups, the governor said.
He said Eldoret was already known as the 'City of Champions' courtesy of its world-beating athletes.
Related Topics