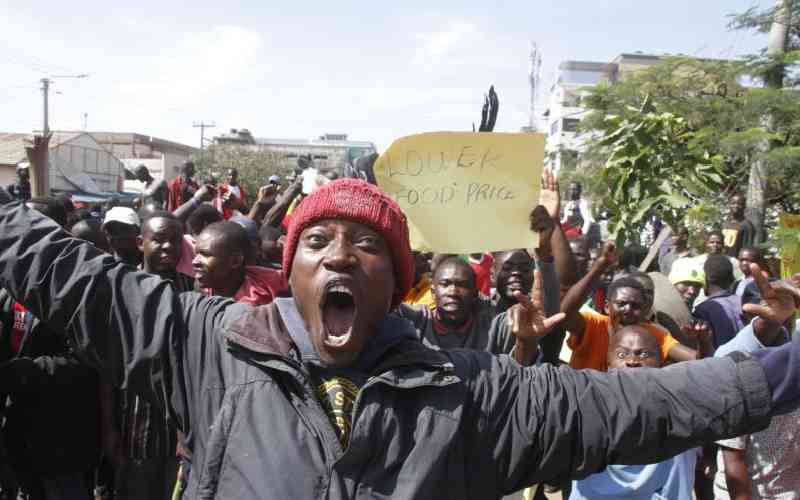 Political and religious leaders are divided over anti-government demonstrations planned for tomorrow.
Uasin Gishu Governor Jonathan Bii and Turbo MP Janet Sitienei urged Kenyans to ignore Azimio's mass action call.
But 2022 presidential aspirant Reuben Kigame announced he will join Azimio in peaceful demonstrations to protest against the high cost of living.
Those who have opposed the demos included cleric Neophyton Kang'ai of St Peter's Orthodox Church who said President William Ruto should be given time to work.
"The country is not ready for mass action owing to the current economic hardships. Let us give the President time to address the myriad of challenges facing the country," said Bishop Kang'ai.
He added: "As church leaders, we are appealing to Azimio leader Raila Odinga to rescind his decision on the planned street protests."
Governor Bii and Sitienei implored on Raila to desist from acts that could jeopardise the existing peace and harmony among communities.
"This is not the right time to call for mass action since Kenyans are faced with many challenges, including drought, insecurity and high cost of living which the government is trying to address," said Bii.
The leaders were speaking during a prize-giving ceremony where President Ruto's personal assistant Farouk Kibet donated a vehicle valued at Sh4 million to Father Peter Photios Korir of Orthodox Church at Kapkechui area in Turbo.
And speaking at his home in Eldoret, Kigame said Azimio had included people-centered reasons for their demonstrations, adding that Kenya Kwanza had allegedly perpetrated ills against Kenyans.
The Jenga Mkenya Movement leader, at the same time, called on his supporters to join the Azimio protestors tomorrow, while accusing President Ruto of bad governance. Kigame claimed he and his supporters will protest against the high cost of living, alleged looting of public resources, importation of GMOs, exploitation and over taxation.
"We will be joining the Monday protests, but only for citizen-centered reasons. We are not interested in Azimio's electoral claims because it is not Azimio or Kenya Kwanza that should be in office today," Kigame said.
He accused the government of having 'misplaced priorities' saying that instead of handling issues affecting the common citizens, it was focused on the creation of unconstitutional offices and appointments that fail the inclusivity test.
"We request our supporters across the country and in the diaspora to join fellow Kenyans in exercising their right to peaceful protest swhich is guaranteed under Article 37 of the Constitution. Our right to protest as Kenyans is also guaranteed under regional and international human rights instruments ratified by Kenya, including Article 11 of the African Charter on Human Rights and Article 21 of the International Covenant on Civil and Political Rights," he said.
He regretted that the government was already bloated through the creation of more positions when the citizens can barely afford basic needs.
"We will not accept to be overtaxed in the name of collecting revenue only for our government to spend billions in seven months on recurrent expenditure. We will not allow the government to appoint 50 CASs where only 23 are required," said Kigame.
Kigame said government officials should be held accountable and told put the public first before their own interests.
"We call upon the government of the day to swiftly address the issues that are pushing Kenyans into protests," said Kigame, who's also a gospel musician.
Related Topics