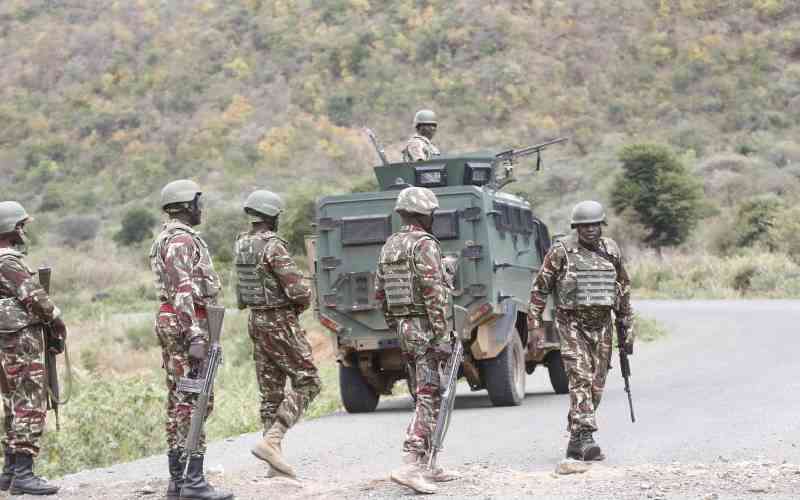 The ongoing insecurity in Northern Kenya and parts of North Rift have been termed acts of terror even as the government vowed to crush the criminals and secure the vast region.
Interior Cabinet Secretary Kithure Kindiki termed terrorism "a serious threat to national security". Appearing before the Senate National Cohesion and Human Rights Committee, Prof Kindiki said the counter-terrorism measures put up in the last five years are working with several cases detected and thwarted so far.
He said he had the full blessings of President William Ruto to deal ruthlessly with politicians allegedly supporting banditry and livestock rustling.
He said what is happening in Marsabit is a fertile recipe for genocide and what was happening in sections of North Rift Valley was terrorism, since it was no longer cultural.
"We intend to review our laws and term the activities in North Rift as terrorism. I know that I am going to fallout with many political leaders over this but I am ready for the consequences since I know that I have full support of the Commander-in-Chief," said Kindiki.
He added: "The President has told me he is ready to lose political support if that is what it means to end banditry and livestock rustling in various parts of the country. This vice will come to an end during the tenure of the current administration since it will no longer be business as usual," said Kindiki.
He told the committee chaired by Marsabit Senator Mohammed Chute that in 120 days that he has been in office he has travelled outside Nairobi to areas never before been visited by his predecessors in dealing with the menace threatening the livelihood of Kenyans.
He said the government has set aside Sh20 billion for police equipment modernisation programme to tackle various security challenges. The CS also said the notion that dry areas of Northern Kenya have no other activities other than banditry is misplaced since some high potential areas in the world have no rain for instance the gulf countries which today have some of the largest economies.
Kindiki said they are in discussion with the Ugandan government on best ways to tackle banditry along across border with criminals seeking refuge among their relatives on either side.
He said the massive security personnel deployed in the areas declared as disturbed and dangerous will not be withdrawn any time soon, warning those engaged in criminal activities to shape up or ship out.
"The government will not accept to lose uniformed officers in these volatile areas. In the past, the government has retreated but this time round we are going to stay in those areas until crimes are brought to an end. I am asking those who think we are going to move, to be ready to face the wrath of the government," said Kindiki.
He lauded the special units which have gone out of their way to ensure the country is safe from terror threats with several cases thwarted without raising much attention, terming what is happening in Northern Kenya a recipe for terrorism activities if untamed.
Kindiki said the government is determined to eliminate cattle rustling and banditry in the next few years assuring 99 per cent of Kenyans who are good people of their security.
He said politics, businesses and indoctrination were to blame for the rampant cases of cattle rustling and banditry and that every effort was being put in place to reverse the trend.
He admitted that accessibility to some areas prone to banditry is not easy with a rough a terrain with no good road network, no telephone network among other many challenges that make life difficult for residents.
"The guns must be silent, we are not going to negotiate with terrorists, I have committed to the country that I will lead a team that will end the menace in Northern Kenya and open up the region for business," he said.
Kindiki informed the committees that 14 out of 21 schools in conflict-prone areas in Baringo County have been opened and that they will not be shut again as the government intensifies security. He promised to visit the area with his Education counterpart Ezekiel Machogu.
He said the ministry will tackle insecurity in Marsabit and Isiolo with problems mostly being internal among the local communities and that in three weeks the government will take drastic measures.
"We are going to use all human resources and weapons at our disposal to ensure the country is safe. It is the responsibility of government to secure Kenyans," said Kindiki.
He said the government will mop up all illegal firearms in areas prone to banditry and cattle theft and that so far 43 guns,133 rounds of ammunition and three rocket-propelled grenades have been surrendered.
Nominated Senator Joyce Korir said infightings among leaders in volatile areas was propagating conflict and that the leaders know the sponsors and perpetrators of banditry.
Senator Chute asked the government to consider employing residents of Turkana, Marsabit, Samburu, Isiolo and West Pokot counties as security officers and deploy them to home grounds to deal with bandits.
Turkana Senator James Lomenen asked the government to establish the source of ammunition used in volatile areas and seal the loopholes.
Related Topics