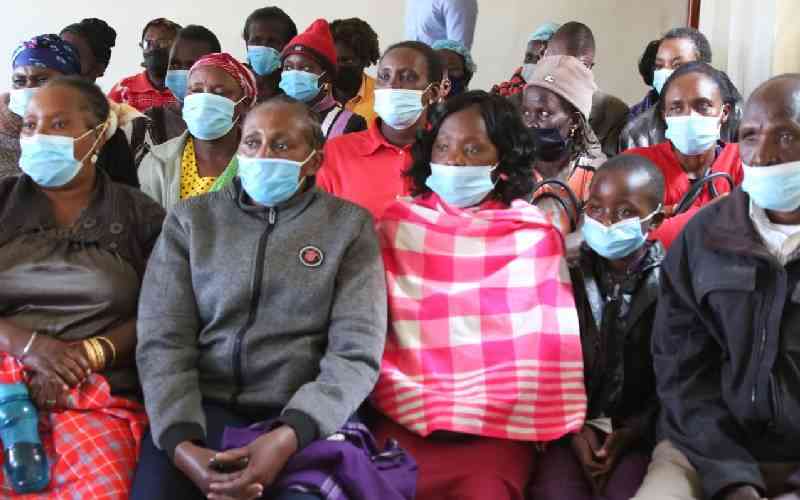 Residents of Lolldoiga who are pursuing compensation from the British army over pollution are alleging mischief.
The 1,496 people sued the British Army Training Unit in Kenya (Batuk) following a 2021 bushfire said to have started during a training session. The fire destroyed over 10,000 acres of land in and around Lolldaiga Conservancy.
In a letter to the UK High Commissioner to Kenya, Jane Marriot, their lawyer Kelvin Kubai claims that an email they have been relying on for communication got filled up yet the December 20 deadline for filing the claims is near.
"It is clear that you value your relationship with Kenyans and we appreciate that. The problem is, however, that it does not seem like your fellow countrymen who reside at Batuk in Nanyuki feel the same, which is why we are coming to you," says the letter.
"The so-called Inter-governmental Liaison Committee to whom we are supposed to submit our claims has no physical address or office in Kenya. Furthermore, they seem not to have any email address to which we can submit claims. After alerting the judge of this issue, we were finally given an email address. However, after submitting only a handful of the claims, we have started receiving messages that the email inbox is full."
Military spending
He claims this appears intentional to frustrate the filing of some of the 6,000 claims by Tuesday.
"Given the UK Government's budget for military spending, I have no doubt that you can afford to pay for a larger capacity email inbox," says Kubai.
The petitioners filed the case at the Land and Environment Court in Nanyuki, claiming the fire destroyed the rangelands and water sources, pushing wild animals into their farms.
However, the matter was in March referred to the Intergovernmental Liaison Committee, formed under the defence pact between Kenya and Britain.
Lolldaiga Hills Ltd, which owns the training grounds, the Batuk Commanding Officer and Batuk have been named the first, second and third respondents, while the Kenya Wildlife Service and Kenya Forest Service are listed as interested parties.
Related Topics