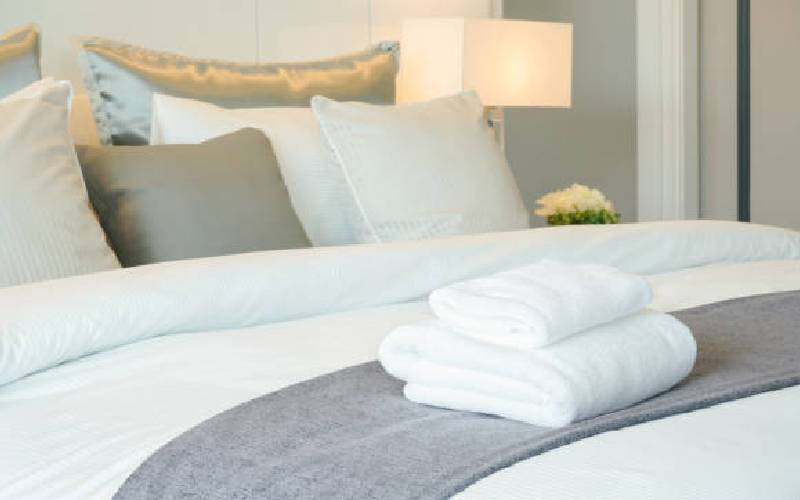 I recently booked an Airbnb in Nairobi's Kilimani for a staycation expecting to have a relaxed one-night stay.
On arrival at 6pm, I was met by a lovely host who said he was actually on his way out. At Sh3,000 a night I thought I had struck a good deal, only for him to return at 8pm and say he would be in his room, promising not to interrupt me.
This was not detailed on his listing but regardless I chose to enjoy the night. Come 9pm, he started playing the piano bringing to an end what was to be a quiet night away for me.
I immediately logged online to see if my experience was different but was met with thousands of horror stories that put my little discomfort to shame.
This begs the question: Has the Airbnb bubble burst?
Booking slowdowns
Airbnb hosts in certain areas are experiencing booking slowdowns that some people are calling an "Airbnbust", which is a term coined by Amy Nixon, an American macroeconomic analyst.
However, whether the slowdowns are actually happening still remains inconclusive. The $60 billion (Sh8.3 trillion) company posted a record $2.88 billion (Sh401.8 billion) in revenue and $1.2 billion (Sh167.4 billion) in profit in its third-quarter earnings in November 2022.
Airbnb began in 2008 when two designers who had space to share hosted three travellers looking for a place to stay. Now, it has over six million global active listings and four million plus hosts worldwide.
Yet daily, on social networks particularly Twitter, you will find users complaining bitterly over Airbnbs being too expensive or providing a laundry list of chores they demand done by guests.
The discontent runs both ways as hosts are equally criticising unruly visitors ruining their houses or being uncooperative. Hosts have experienced unthinkable damages including broken windows, glasses, and even damaged electronics.
Back in November 2022, a popular travel blogger Julian Albino was exposed for ruining the Airbnb he was staying at and refusing to pay for the services.
Property damage
According to the owner who reached out to blog sites, Albino broke plates and window panes and hid them under the couch then proceeded to check out hurriedly to avoid paying for the damages.
He then allegedly checked into a different residence and according to the owner, soiled all 16 bedsheets, towels, duvets pillows, and mattresses.
The owner even had pictures of the damages but the gay blogger seemingly unfazed rubbished the claims and wrote on his Instagram 'not my first online harassment'.
Even still, despite these online horror stories, like most social media phenomena, it seems to inaccurately reflect what's actually happening in the real world.
Airbnb occupancy rate in Nairobi has risen from 19 per cent in October last year to 40 per cent in May 2023 according to recent data by AirDNA.
Over the past two years, Vincent Maloba a fitness trainer and air ticketing agent has had business travellers book his three-bedroom apartment in Kileleshwa. He also has a two-bedroom apartment in the same area and joined the platform in 2021 in the peak Covid-19 season.
"I saw a demand in my air ticketing clients for accommodation in Nairobi and immediately rented a house and furnished it since I had the clientele," he says. He used up close to a million, specifying that this is a capital-intensive business.
There were many stranded foreigners who couldn't travel but could cough up the Sh250,000 required per month to stay at his luxurious home. He contends his clients opt for long-term stays lasting up to six months.
"I prefer an area like Kileleshwa because there is security and luxury which many foreigners prefer. A cleaner also comes three days a week," he explains, adamant that there has not been any dip in bookings since he started.
As for 'clients from hell', Maloba says he has been fortunate to not have encountered such although he has heard stories. He makes it a point to perform stringent due diligence on potential visitors to know their purpose of stay and how long they intend on staying.
Many Airbnb hosts have shared that supposedly West African nationals are notorious for holding parties and trashing their homes, making them extremely high risk. They require such guests to pay an upfront fee and sign an agreement prior to agreeing to replace anything broken or lost.
When I asked why his Airbnbs could snatch some of Airbnb's market share, Maloba gave me a laundry list of reasons.
His properties are affordable, clean (but no cleaning fees!), and run by professional, on-site hosts. Even little things, like being able to pick you up and drop you home make it more convenient than hotels.
"There is no burst. The issue is starting the business without already knowing where to get clients," he adds.
Maloba gets the majority of his clients from agents and admits bookings from the Airbnb site are few although available every month.
An abundance of long-term bookings due to loosened travel restrictions and remote-work policies spoiled newcomers who joined during the Airbnb boom. Investors who bought houses in the suburbs hoping to make a quick buck during the boom for short-term stays seem to be the ones bearing the brunt of the slowdown.
Supply and demand
As for Kristine Ongaga things haven't been all rosy. She started her Airbnb business in 2021 as well to bring in more income and pursue her passion as an interior decorator.
"Airbnb is a seasonal business just like tourism therefore there are times that are high and others low," she says.
As a result, she has had to severally lower the prices of her houses when demand is low.
"In my opinion, there is a burst in the Airbnb business resulting from the Chinese building cheaper options with cheaper furnishings," she adds, speaking out against predatory pricing by new entrants.
"This leaves the rest of us struggling to pay exorbitant rental income and barely making it at the end of the month to meet expenses, leave alone paying taxes or realize profits," she adds.
That's not all, in her experience, the supply of houses in Nairobi more than meets the demand making the Airbnb business almost too easy to enter.
The growth of Airbnbs has come amid a background of declining rental prices in uptown estates in Nairobi which has prompted some landlords to use the vacant units as short-term rentals.
Passive income
According to data from Hass Consult, the average rent for residential space decreased by 1.2 per cent in March 2023, the sharpest decline since 2018 when the prices fell by 2.5 per cent.
There are now more and more Airbnbs mushrooming in middle-class estates, but also in the upmarket areas of Karen, Lavington, and Runda.
The Airbnb business, though marred with challenges, can be a great way to earn passive income with the potential for high returns.
However, it is vital to research the area, pick a good location, do a good job cleaning and presenting the property, and prepare for any unforeseen challenges that are anchored to real estate investment.
Related Topics