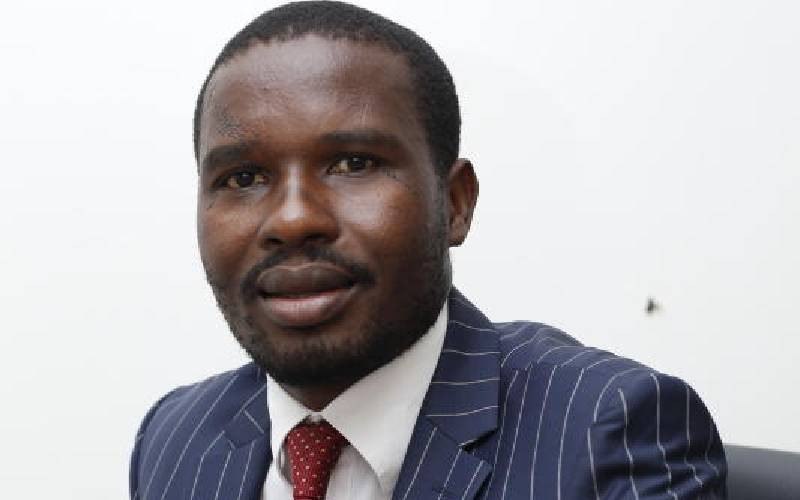 The Institution of Surveyors of Kenya (ISK) is worried about the proliferation of real estate lobbies purporting to regulate the sector.
ISK says most of the associations are fronted by land-buying companies, which buy vast parcels of land and over-fragment them for sale, making them lose economic viability.
Such companies have defrauded buyers and once an alarm is raised, they either rebrand or continue operating without fear of reprisal.
"Evidently, these very entities promoting these initiatives (of creating stakeholder associations) have been noted to fleece Kenyans in the past. We see this as an attempt to hoodwink Kenyans that the entities that have been accused of malpractice are able to tackle fraud, and they are trying to sanitise those past activities," says ISK President Abraham Samoei.
"Most of these people have no training in real estate or are able to discern fraud in the sector."
Mr Samoei urged the registrar of companies to deregister real estate associations run by non-professionals.
The Estate Agents Act Cap 523 provides for the registration of persons who, by way of business, negotiate for or otherwise act in relation to the selling, purchasing or letting of land and buildings erected thereon for the regulation and control of the professional conduct of such persons and for connected purposes.
It also establishes The Estate Agents' Registration Board, which regulates estate agencies.
The board registers and issues annual licences to estate agents and handles complaints regarding registered land agents from the public and agents.
"The board has been at the forefront in the past five years or so in fighting the proliferation of unregistered estate agents. The bulk of the professionals of ISK are in real estate and estate agents are among them," says Mr Samoei.
"We are baffled to witness associations claiming they can represent stakeholders to the exclusion of trained, registered and licensed professionals. This is despite the country investing in training institutions that have courses in real estate," he adds.
ISK is concerned these stakeholder associations are driven by buying companies.
"We have a big challenge because we have a lot of unregulated subdivisions of land for sale. This has created a situation where the public is defrauded and often those who are in the diaspora," says Samoei.
These land-buying companies' main agenda is profit and oftentimes they have a disregard for ethical practices, ISK says.
And Kenyans' appetite for land banking has seen them fall prey to some of the rogue dealers in the industry.
A promise of fast-appreciating land in far-flung areas, which lack access to amenities and no potential development, has seen many stuck with such land.
Jamleck Githaiga regrets buying two acres of land in Namanga in 2008. His goal was to dispose of the land in about two years' time once a key road project in the area started.
Normally due to the compulsory acquisition of land by the government during road construction and expansion, investors hope the value of their property will go up.
But 14 years later, Githaiga stares at his idle piece of land in the middle of nowhere.
"At the time, I could have bought just a tiny piece of land in Thika. I had that option but declined. I would have made my profits already," he says.
ISK says in many instances, Kenyans buy agricultural land in areas with no amenities and no potential for development.
"Ostensibly, the purchaser would speculate the purchase and an increase in price is expected. It is difficult to have a meaningful increase in prices if you have a lot of parcels of land subdivided without meaningful services. So people hold onto parcels for way too long without any meaningful gains," says Samoei.
He faults land-buying companies for subdividing land into small parcels, which is against the law.
"Estate Agents Act exempts property owners from registering when they are selling their land. It was intended to facilitate disposal by an owner, not in trading but for the sale of small parcels of land, not mass buying and disposal to the public," he says, proposing an amendment to regulate land-buying companies.
Samoei urges the Land Fraud Unit of the Directorate of Criminal Investigations (DCI) to expedite complaints on land fraud. He also says the registrar of companies should deregister all real estate associations run by non-professionals.
He also wants the Attorney General to wind up land-buying companies that have been involved in fraud in the past and cases on directors of the companies expedited to restore confidence in the real estate sector.
ISK also urges the Lands Cabinet Secretary to propose legislation to provide for the registration of land-buying companies to protect public interest. ISK also wants Parliament to legislate on minimum land holding, especially in agricultural land areas, to guide investors on whether the space is legally recognised as viable for the intended purpose.
Related Topics