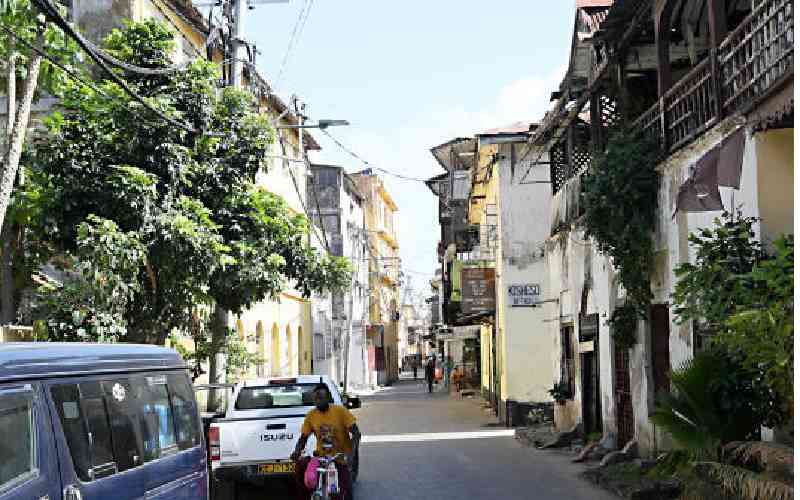 Settling along the coast, where the breeze blows gentlest and holidaymakers love to lounge, is easily every person's dream.
However, with the prestige, and the proximity to the sea, comes a cost - that dream house, and even the posh car, could be damaged due to repeated exposure to the saline ocean water.
When this salt water inevitably comes into contact with concrete, it could penetrate the house's walls, effectively shortening its design life.
"Chlorine in salt water enters the steel rebar (reinforcing bars) in case of insufficient concrete cover and corrosion of the rebar occurs, therefore reducing its strength," says David Kimemia, a civil and structural engineer.
Rebar is a strong steel bar used as a tension device in reinforced concrete as well as in reinforced masonry structures to strengthen and aid the concrete under tension, and are strong under compression but have low tensile strength.
Naturally occurring salt water, such as seawater at the coast, has a salinity of about 3.5 per cent. This means that about 3.5 per cent of the weight of seawater comes from dissolved salts, according to the US Geological Survey.
Groundwater
About 78 per cent of this is sodium chloride and 15 per cent is chloride and sulphate of magnesium, IT company iProject writes. This salt penetrates walls leading to efflorescence - (whitish crystalline deposits on walls) and leads to the decay of masonry materials.
Mineralised groundwater that does not lie far from the surface "permeates porous building materials through capillary force, or via the atmospheric pollutant sulfur dioxide, which reacts with the calcium carbonate in limestone to form gypsum", indicates the science website Science Daily.
De-icing salt and seawater spray, which accumulates on the surface of buildings, could further damage buildings within the proximity of the sea.
"If these salts are dissolved by rain, the saline liquid can enter the building material through pores and cracks," the site quotes a scientist, adding that these salts crystallise as the liquid dries out and evaporates, causing parts of the stonework to crumble away.
Weathering affects many building materials, such as limestone, concrete and sandstone, and has been seen to be the reason some historical buildings in these coastal areas finally crumble.
The crystallising salt particles generate enough force to cause such a building to break. COMSOL, which develops mathematical modelling software, also says that as the supersaturation of a salt solution increases, so does the destruction of a building.
"Temperature, through the environmental conditions of the building in question, also affects the degree of salt damage. High winds or constant heat and sunlight cause a continuous heating and liquifying process that is similar to the drying and bathing cycle of the limestone and salt bath experiment," it writes.
"Therefore, by studying a building's history as well as its environment, it is possible to obtain a better understanding of how salt damage will affect the structure." While this seawater could be extremely damaging to houses, it could be used to good effect to make the same houses more durable, albeit in the first days of such a construction's lifetime.
The International Education Studies journal indicates that concrete mixed and cured in seawater has higher compressive, tensile, flexural and bond strengths than concretes mixed and cured in freshwater between the early ages of 7 and 14 days.
"The strengths after 28 and 90 days for concrete mixes mixed and cured in fresh water increase in a gradual manner," it said. People building on the coast have to brace for, in addition to the often high temperatures and humidity, "unique challenges" that the region has to offer, says Mr Kimemia.
Additional costs
All these may need a developer to incur additional costs, but to have assurance that their structure is more solid and properly-suited to withstand the unfriendly conditions the coast gives in exchange for its scenery and whatever other amenities, such as ports.
"When one decides to build in the coastal region, thus, they should be aware of such challenges as waves, storm surges, and wind which lead to additional loads that must be factored in during construction leading to additional costs," he says.
"The corrosion attacks on rebar leads to added precaution in terms of concrete cover and also classes of concrete and special admixtures which makes the foundation of such buildings expensive."
Mr Kelvin Maina, a civil engineer, says the use of salt-resistant materials and ensuring proper drainage to avoid water logging could greatly address the problem of corrosion.
"Applying a protective coating to the building's exterior to form a barrier against salt penetration (epoxy, sealants or paints) and elevation of buildings above ground level to reduce salt water exposure are also important," he says.
ClayBrick Association, who are clay brick and paver manufacturers, say that another way through which one could withstand the torrid saline conditions that jeopardise the safety and life of buildings on the coast is through the removal of "all the flakes from the damaged bricks, brush(ing) them down and then plaster(ing) the ground floor brickwork and paint to a chosen colour, which would best suit your building".
"A well-plastered smooth finished wall with waterproofing additives would prevent the ingress of salt and would therefore not deteriorate in the same way. Only normal painting at intervals will be required. If the decision is to replace the brickwork with a new face brick finish, then it could be done but we would then suggest a low porosity brick with a smoother surface (not rustic textured which holds more salt)," says ClayBrick Association.
The aesthetics of the buildings are, however, at risk of corrosion if parts have to be replaced.
"This would lengthen the life of the brickwork although it is impossible to say how long before the same type of damage occurs again. Individual bricks can be replaced as well, but this is an untidy solution, as the new bricks will look odd (another colour and size) and it will take an enormous amount of time."
The third concern after mortar and bricks is the rusting and deterioration of the wall ties, which secure the external skin of brickwork to the main building.
Complete rusting of the wall ties will allow the external brickwork to bow out as it is unrestrained. In extreme cases, it can cause a complete collapse of the external skin of brickwork.
In corrosive environments, stainless steel wall ties are recommended during construction.
Mr Kimemia says the focus on maintenance and repairs is crucial for any structure's achievement of design life.
"Such a structure must be designed with parameters for durability and fire resistance included in the design. The structure should be detailed and implemented as designed and finally must be well maintained by doing a life cycle analysis of the building to predict when and where to do maintenance and repairs," he says.
The costs of constructing in areas fraught with this risk are, obviously, high. But some structures even touch the very water which poses high risks. So how does that happen?
"Mostly, structures that touch water are done as water retaining structures with waterproof properties added to the concrete and therefore making them efficient in resisting the ingress of water," says Mr Kimemia.
Related Topics