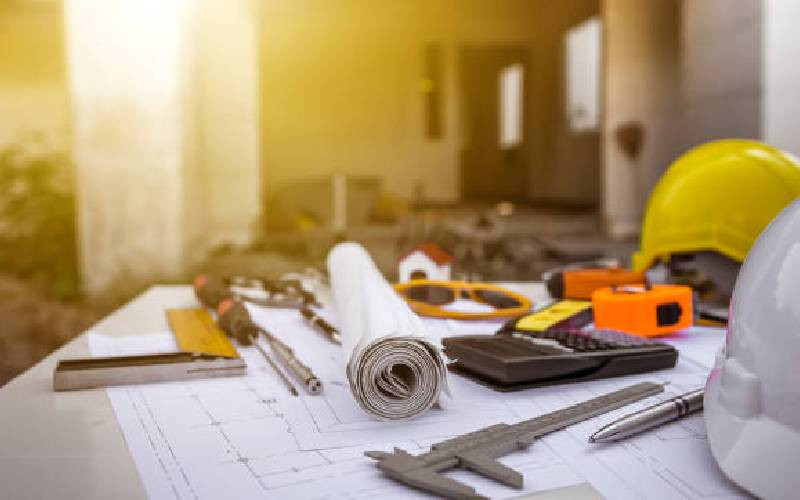 A requirement for engineers to include the bill of quantities (BOQ) in their pricing system has caused disquiet among sector players.
A bill of quantities refers to a detailed breakdown of material and labour required for a successful construction period.
Stakeholders say the inclusion stretches the role of engineers while also causing conflicts with other professions in the sector, particularly quantity surveyors.
The matter was raised during industry engagements on The Scale of Fees for Professional Engineering Services Rules, 2022.
The document, which outlines how much different levels of engineers can charge for a project, was gazetted in February last year.
Players in the sector held the first of many meetings at a Nairobi hotel to increase sensitisation on the document in a forum organised by the Engineers Board of Kenya (EBK).
During the meeting, the inclusion of the preparation of BOQ in the document appeared to be a bone of contention owing to the industry practice that this role is primarily held by quantity surveyors.
The document (Part IV (33) specifies the applicable fees for engineers when preparing BOQ by either themselves or their firms.
Alfred Aluvaala, a quantity surveyor, pointed out this overlapping role even as he described the document as good.
He said it might bring conflict in projects as two professions will be handling the same role which will be even more confusing to the client.
"In the past, we have worked (with engineers) smoothly in several projects but with this, people might start quarrelling over a project," he said. "To the client, we feel we might cause a bit of a problem and this needs to be looked at."
Gikonyo Gitonga, who wears several hats including as an economist, property manager and real estate agent and chairs the land and physical planning committee at the Kenya Private Sector Alliance(Kepsa) noted that discrepancies should be looked at.
"There could be a few misunderstandings or terminologies but let us sit and talk so that we don't throw away a good document out of the window just because of words that might offend other professions," said Mr Gitonga, who is also director of the Kenya Property Developers Association (KPDA).
Engineers Board of Kenya (EBK) Chairperson Erastus Mwongera assured the professionals in the construction sector that their concerns will be addressed.
He said considering the document will be revised every three years, there is room for changes. "The concerns raised by our colleagues from other professions are genuine. No document made by humans can be perfect, only God is. Anything we do has to be corrected," said Eng Mwongera.
The Association of Consulting Engineers of Kenya (Acek) chairperson Eng Patrick Wambulwa noted that in most cases, you will find engineers, architects and quantity surveyors working together on the same project, and a client will be able to know who charges for what.
Fees document
He noted the inclusion of engineers preparing BOQ for builders' work in the scale of fees document as a concern. "In our understanding, builders' work includes windows, floor finishers and so forth and we do not understand what engineering has to do about that," he said.
"What we ask is that we look at that inclusion because that is something that is also provided in Cap 525, which governs the practice of quantity surveyors in the fifth schedule and outlines what preparations of bills of quantity entails," he said.
He sought a meeting of professionals to relook at the document. "We do not want a small item or description to break down an otherwise great work which has been done and has otherwise taken a lot of time. We hope we shall have further engagements so that we can put clarity on that particular issue," he added.
The professions were of the opinion that all ambiguity on the document should be handled as an in-house issue so that it does not spill over, causing lobbying among themselves.
Eng Nathaniel Matalanga, a structural engineer and former Institution of Engineers of Kenya President weighed in on the discussion, saying it should be understood that just 10 per cent of the engineers' work is in the building industry.
"I have always not bothered with BOQ. The only time I bother is when I am applying for registration as the board requires I prepare bills of quantities before I get registered so I prepare," he said.
He however noted that in his daily engineering activities, he does not bother about it. "I don't have to bother because I will always have a quantity surveyor doing that work and I am very happy to let them do it," he added saying they are more versed with the requirements of the role.
"It has never been an intention of an engineer in the building sector to start doing the quantity surveyor's work."
Related Topics