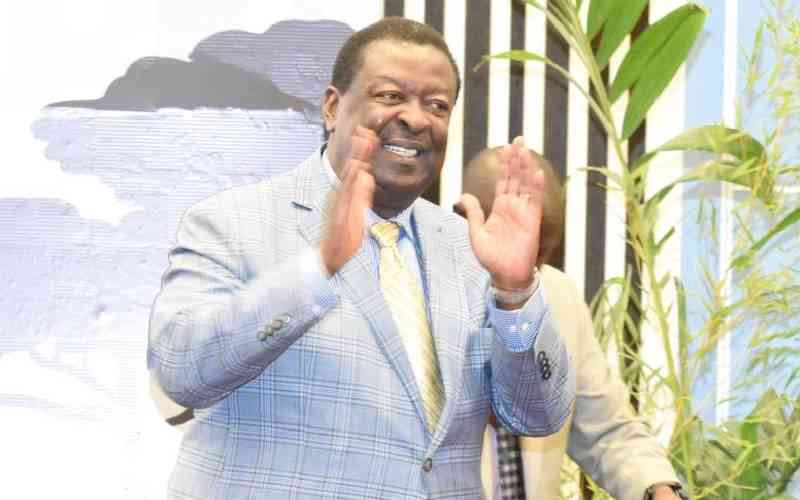 Prime Cabinet Secretary Musalia Mudavadi has urged residents of Western to rally behind President William Ruto's government.
Mudavadi said Western is better placed to benefit more from President Ruto's development agenda.
"If we do not get together and speak in one voice moving into the future then another person will take our place and move forward. Similarly, another region will move forward to our disadvantage. Therefore, we must be united and we must work together," he said.
Speaking during a funds drive at Chwele Girls' High School, Bungoma county, the Prime Cabinet Secretary emphasized that time waits for no one and every region is positioning itself and their people in government.
He urged residents to shun leaders who are hell bent on scuttling the unity drive for the region.
"I plead with you our people that history does not give anyone a discount. It is now over 60 years since we got independence and it's time, we do not allow ourselves to continue languishing in disarray and disorder thinking that history will give us a discount," said Mudavadi.
The Prime Cabinet Secretary advised residents to shore up voter numbers ahead of 2027 General Election saying their count at the ballot will determine the political future of the region post Ruto's presidency.
"Slowly and steadily, we are gaining numbers and we are solidly behind President Ruto's government. As leaders we have assured the President of our unwavering support so that we can move together as a country and change the fortunes of our people together," he said.
"Times are hard but the government is assuring Kenyans that there is hope. The government continues to burn the midnight oil to see to it that our economy gets back on course and livelihoods supported," he added.
This came as Western Kenya region Parliamentary Caucus resolved to rally behind the Prime Cabinet Secretary and National Assembly Speaker Moses Wetangula as the de facto leaders of the region.
A section of Members of Parliament from the region vowed to support Mudavadi and Wetang'ula as their representatives on the Kenya Kwanza negotiation table.
The lawmakers said the two leaders are the reason why western Kenya is being respected and steadily benefiting from President Ruto's government.
"The unity of our people as a region lies squarely in the hands of Prime Cabinet Secretary Musalia Mudavadi and Speaker Moses Wetang'ula. I want us to support every step they make for the benefit of our region and our people," said the host Sirisia MP John Waluke.
The leaders who attended the funds drive in aid of the construction of a 2,500-capacity dining hall at Chwele Girls High School on Friday, called on Mudavadi and Wetang'ula to forge political unity.
The Members of Parliament said it is time for the people to realise that the President means well for Western.
"President William Ruto has made us proud through our elder brothers Mudavadi and Wetang'ula. The President needs our support. We need to give him time and support and ultimately we will be among other many Kenyans who will benefit from this government sooner rather than later," said Vihiga Women Representative Beatrice Adagala.
"Mudavadi and Wetang'ula hold top key positions in this government and the people of western Kenya must feel this power. Their voice is what will help us realize the development progress set for our region. There is no two-way about it, we must stand firm with Mudavadi and Wetangula in President Ruto's government," said Malava MP Malulu Injendi.
"Through the Western Kenya Parliamentary caucus we will champion the interests of our people. And when I see Mudavadi and Wetang'ula walking together then our unity is complete and it is now time to champion for what is right for our people," said Westlands MP Tim Wanyonyi.
The Members of Parliament however took a swipe at former Kakamega Senator and UDA Secretary General Cleophas Malala for pushing for the dissolution of ANC and Ford-Kenya parties.
The legislators led by Kimilili MP Didmus Baraza, Adagala and Kabuchai MP Majimbo Kalasinga, lashed out at Malala saying he is out to betray the unity of purpose of the Mulembe nation.
"Malala is a toddler in politics. He cannot start lecturing our leaders Musalia and Wetang'ula on political party positions and party formations. Does he have a party of his own, now that even he is not an elected member to begin with?" Posed Baraza.
"ANC and Ford-K make us strong within Kenya Kwanza. Someone who did not win a seat should leave us alone with our parties. ANC and Ford-K are the pillars that make Kenya Kwanza strong, we are the founding parties together with UDA. Malala should stop his theatrics or we will stop him once and for all," said Kalasinga.
"We are not going to let our parties fold. These are the parties that give western Kenya a strong bargaining power on the negotiating table. Malala should respect our leaders. Mudavadi and Wetang'ula are not his peer," said Adagala.
"We are walking the journey post 2027 looking at 2023 as a region. I am Sabaot and I support the call for western Kenya unity and solidly focusing on our two leaders Mudavadi and Wetang'ula. The games Malala is trying to play, he should ask us who have been in this game for quite some time," said Mt Elgon MP Fred Kapondi.
Other leaders present were MPs Emmanuel Wangwe (Navakholo), Johnson Naicca (Mumias West), Jack Wamboka (Bumula), Innocent Mugabe (Likuyani), Fred Ikana (Shinyalu), Benard Shinali (Ikolomani), Elsie Muhanda (Kakamega Women Rep), Nabii Nabwera (Lugari), David Ochieng (Ugenya), Joseph Oyula (Butula), John Chikati (Tongaren), John Makali (Kanduyi), Samuel Moroto (Kapenguria), Oku Kaunya (Teso North) and Kakai Bissau (Kiminini).
Related Topics