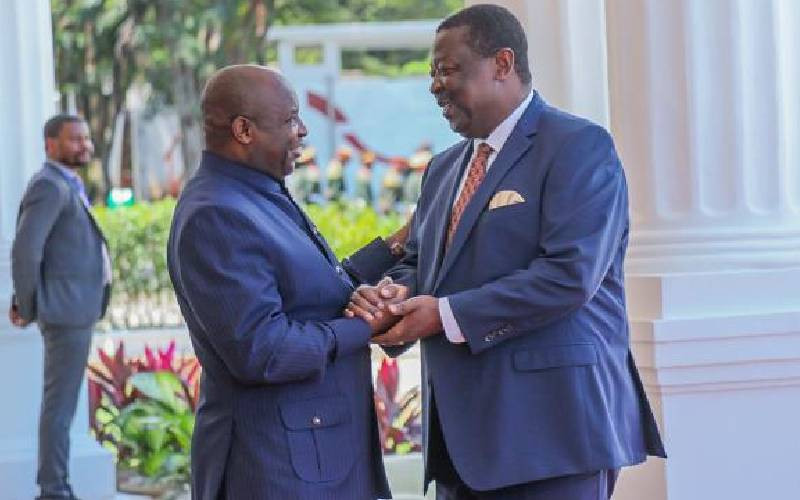 Prime Cabinet Secretary Musalia Mudavadi has emerged as a vital diplomatic tool for President William Ruto after a nine-month reign at the country's helm during which the Head of State has launched an international charm offensive.
Mudavadi's increased global forays in the preceding months have heralded ascendancy in his political odyssey and cut the image of the President's confidant who has now taken up the role of Ruto's diplomatic messenger/representative.
Since taking over the reins 243 days ago, Ruto has been on a mission to forge new global allies through bilateral agreements and trade pacts. The net effect has been an influx of high-profile visits to Kenya by global Heads of State in a show of diplomatic support.
A key cog in the diplomatic machine has been Mudavadi- a former vice president- who pundits say has grown into the role of "Kenya Kwanza administration's Ambassador-at-large".
Earlier this week, Mudavadi represented President Ruto at the 11th High-Level Summit of the Regional Oversight Mechanism of the Peace, Security, and Cooperation (PSC) Framework for the Heads of State and Government in Bujumbura, Burundi.
There, he was briefed by former President Uhuru Kenyatta- who was in attendance in his role as the facilitator for the peace talks in the DRC- on the progress so far.
Mudavadi commended member states for their efforts in restoring peace, security, and stability in the region.
"I urge everyone to contribute their political goodwill, efforts, and support to the successful realization of both the Luanda-Led Peace Process and the EAC-Led Nairobi Process. These initiatives are crucial for restoring peace and stability in Eastern DRC. It is our responsibility to support these processes, as we are the only ones capable of delivering sustainable peace in the region," said Mudavadi.
The event in Burundi was preceded by the Non-Aligned Movement (NAM) summit in Baku, Azerbaijan in March where he also represented President Ruto shortly after the Prime CS had also represented the Head of State during the inauguration of President Inacio Lula of Brazil in December 2022.
Further, Mudavadi once more played his "ambassadorial role" by attending a three-day Commonwealth Trade and Investment Summit in London, UK, on behalf of Ruto the same month, during which he called for the removal of unnecessary trade barriers between commonwealth countries.
And in his capacity as the President's "man", they both traveled to the US in December last year for the US-Africa Leaders' Summit where more than 50 African Heads of State were in attendance.
It is during this trip that they secured multiple deals with the international community, among them partnerships with World Bank on various economic projects in the country and on climate innovations and carbon removal.
Professor Macharia Munene, a political expert, terms Mudavadi a diplomatic resource that's been effective in re-branding the country's image globally.
While admitting that Ruto deploys Deputy President Rigathi Gachagua and Mudavadi interchangeably depending on the assignment, he avers that Musalia is an "amiable fellow who can measure his words and does not ruffle feathers either locally or internationally."
The DP on the other hand, he says, is known to speak his mind.
"Mudavadi is the country's third in command and in a matter of representing the President, Ruto cannot send someone junior or of lower ranking than a prime minister. He carries himself as a statesman with the country's interest as heart," states Munene.
Mudavadi, who is a former Finance Minister, has also thrust himself to the fore as a crucial advocate for Kenya's 'look west' economic policy. Since taking office, Ruto has shunned the East and embraced the US and other Western countries- and Mudavadi has been leading the charge.
"Strengthening Kenya's diplomatic relationships with foreign countries is key in building mutual trust, understanding, and collaboration through partnerships that are of mutual benefit to the citizenry of both countries," he recently tweeted.
A meeting with former UK Prime Minister Tony Blair last month and a series of others with officials from the International Monetary Fund (IMF), World Bank, and European Union (EU) on behalf of the Kenya Kwanza regime have attested to this. His avid interaction with diplomats from Canada, Italy, India, Japan, and Washington can also not go unnoticed.
He is seemingly capitalizing on his strong rapport with the West and the Britton Wood institutions that he forged during his stint as the vice president between 1993 to 1997 under the former President Daniel Moi regime. During this time, he was able to renegotiate for the continuation of economic aid from Western countries.
Back home, the Prime Cabinet Secretary has been tasked with running and spearheading a reform of the civil service. In this capacity, he has instituted government austerity measures such as with the intended closure of 300 loss-making state corporations.
Political analyst Tom Mboya avers that Mudavadi is preferred thanks to his superior technical grasp of the economy and geo-political realities.
"His character, temperament, and political experience make him a diplomatic aficionado. As the President, you want your representative to be alive to all economic issues at play and who's able to negotiate diplomatically," remarked Mboya.
Mudavadi's journey has however not been smooth sailing thanks to his entrustment with roles akin to those of the DP Gachagua and this has been a major source of friction. His decision to introduce the office of the spouse of the prime CS has also been met with criticism by Kenyansns.
Mudavadi's roles in government include helping the President and Deputy President in coordinating Ministries or State Departments, overseeing the implementation of government policies or projects or programs, chairing and co-ordinate legislative agenda across ministries or state departments, chairing Principal Secretaries Committees, supervising evaluation of government policies or programs or projects and lastly performing any other function as may be assigned by the President.
Related Topics