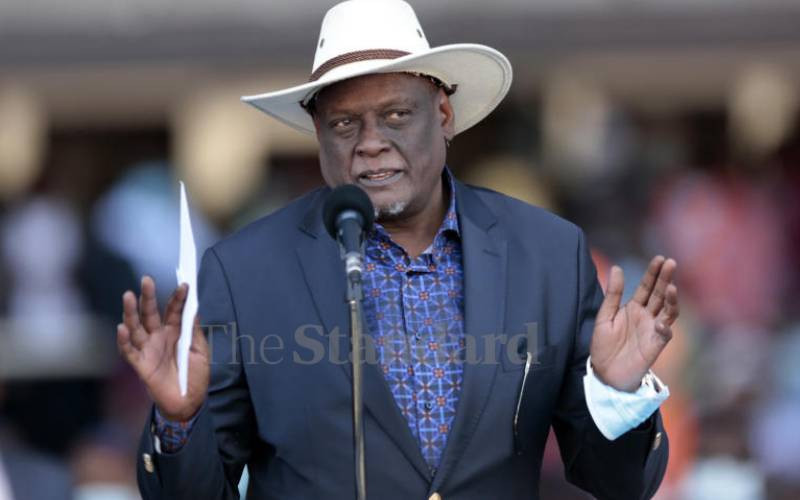 Jubilee Vice Chairperson David Murathe has said President William Ruto will serve only one term, and that is if he is lucky enough to finish it.
Murathe, a confidant of retired President Uhuru Kenyatta, ruled out Jubilee working with Ruto.
"It is a fact that they (Kenya Kwanza) were sworn in for a five-year term, but anything can happen."
"You think this Maandamano has no end game! You wait and see. We have the numbers and Kenyans. We are the people, and Azimio wants what is good for this nation, not witch-hunts and threats thrown everywhere by Kenya Kwanza," Murathe told The Standard on phone on Saturday in his first exclusive interview after last year's polls.
He described Kenya Kwanza as a political grave, claiming that it was focused on destroying the Constitution, political parties, and Opposition so that it could stay in power for selfish gains.
He said that Kenya Kwanza has failed to deliver on any of its promises to Kenyans, and it is now focused on bringing the country down to serve individual interests.
Lack credibility
Murathe dismissed Ruto's appointments, saying that a good number of those appointed have credibility issues, which could expose Kenyans to poor public service delivery.
He added that the borrowing and increasing of levies by Kenya Kwanza were messing up gains made by the previous administration.
"We cannot get into Kenya Kwanza, which does not have the interests of Kenyans at heart. These people (Kenya Kwanza) found themselves in power after rigging elections and had no plan or strategy to serve Kenyans. That's why you can see them everywhere shouting and blaming others who are not even in government," Murathe said.
"That's why they are unable to deliver and can't remove some people's names from their mouths."
Murathe defended Uhuru after the former president visited Jubilee offices last week in Nairobi after a faction allied to Ruto's camp tried to take over the office and kick out Uhuru's confidants from the party.
Eala MP Kanini Kega, allied to Ruto, and Jubilee secretary general Jeremiah Kioni, allied to Uhuru, have laid claim to the leadership of the Jubilee party.
He said that the party has its officials, and Kenya Kwanza should stop funding activities in a bid to destroy the party.
Murathe said that the Kenya Kwanza was wasting time financing chaos in Jubilee since the party has its officials and the ruling party should focus on serving Kenyans.
He added that the Kenya Kwanza administration mobilised more than 200 police officers so that they could install fake officers in the party, but the move failed after Uhuru arrived at the party headquarters. He said they would not bow down to threats and intimidation by Kenya Kwanza.
Next steps
"Even after failing to take over the party, Kenya Kwanza sent 20 police cars and hundreds of officers to push Jubilee officials out," Murathe said, adding, "Kilimani and Kileleshwa have only two police vehicles; why did they mobilise officers from across the country to grab the party?"
Murathe said that the party will address the challenges it is facing before announcing the next step. He said that Uhuru has called for a National Delegates Conference (NDC) at Bomas on May 22 to allow members to decide the way forward.
He echoed a gazette notice by Uhuru, which explained that the party will meet to review, formulate and approve Jubilee party policies, as well as receive a status report from the National Executive Committee.
He said that the Kanini Kega team and Ruto would not succeed in their dirty ploy of pushing Jubilee into Kenya Kwanza.
"The boss (Uhuru) has called for a delegates conference, and he will give direction to Jubilee members. Those (rebels) who think they are strong and that they have numbers to contest, let them contest and see what they get," Murathe said.
Murathe told Kenya Kwanza leaders not to be drunk with power since their days in government are numbered.
"They campaigned and stole elections but did not have a plan to lead the nation."
"Even if they send emissaries for us to join them, we will not," Murathe said.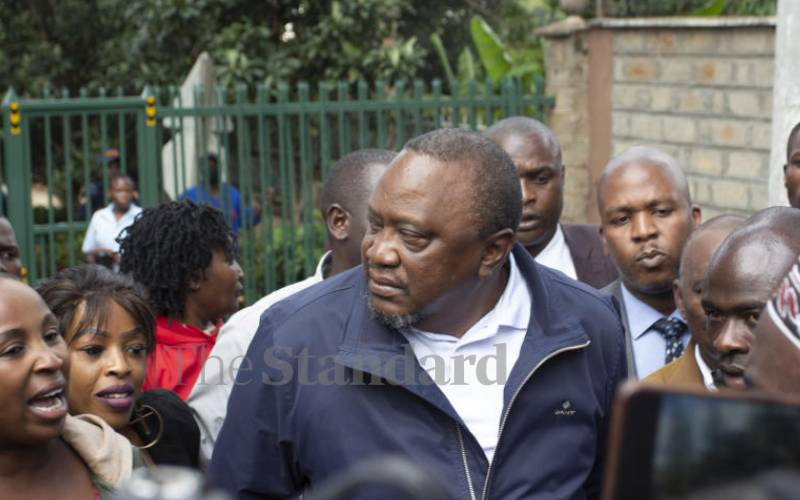 Murathe said that right now they are focused on putting the party in order, punishing rebel members, and then intensifying grassroots mobilisation.
"After the elections, Kenya Kwanza started buying small parties, and we are not interested in following up on them." "But those who are in the party and are rebelling will face consequences," Murathe said.
Murathe said that even if Kenya Kwanza continues to send emissaries, they will not join them, as they are focused on uniting Kenyans and ensuring the right democratically elected leaders are in power.
"We are already sorting out internal issues. Kenya Kwanza tried to take over the Jubilee Party, but it failed," Murathe said.
He said that after building Jubilee, he would sort out internal issues and build Azimio to transform the nation.
"Kenya Kwanza has done nothing for Kenyans, and they should be home like yesterday," Murathe said.
He said that the Kenya Kwanza government has failed to respect Kenyans and is raising taxes at will, borrowing massively and disobeying the Constitution for personal gains.
He said that Ruto's threats will not stop Jubilee from working for Kenyans, adding that Kenya is not private property.
"After elections, Kenya Kwanza came for independent candidates and small parties who were working with Azimio, which was against the Azimio agreement and the Constitution."
Related Topics