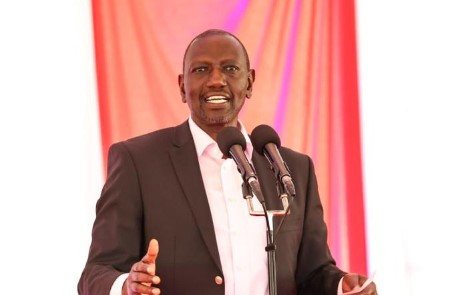 President William Ruto has hit out at the Azimio la Umoja coalition over their planned protests as the bipartisan talks take shape.
The Head of State, speaking in Kajiado County on Friday, April 28, called out the Raila Odinga-led coalition for the destruction of property and businesses in several parts of the country as a result of their previous demonstrations.
"I heard that they want to protest in the city center, let them try it. We have entertained their nonsense for so long. This time around I am saying enough is enough," Ruto warned.
"It is wrong for people to destroy property in the name of demonstrations. The Opposition thinks that us [Government] giving in to the bipartisan talks is a weakness. I want to tell them I was legally chosen by the people of Kenya and going forward I will not tolerate their nonsense," said Ruto during the commissioning of the 65-kilometer Ongata Rongai road.
The president avowed that instead of going back to the streets, the Odinga faction should channel that energy into building the country.
"The Constitution provides for us to engage in a constructive manner without violent confrontations. The interests of leaders cannot supersede those of Kenyans who put us in office. Therefore, I want to urge leaders in the Opposition to work with us in a collaborative manner."
His remarks come a week after Azimio announced that the anti-government demonstrations will resume on May 2.
Their decision to go back to the streets was influenced by the government's "failure to take the bipartisan talks seriously".
"We will resume the demos on May 2 and they will be confined to Nairobi," said Odinga's spokesperson Dennis Onyango.
On Monday this week, Azimio leaders resolved to have the talks and protests running concurrently. "Nothing stops dialogue out of Parliament, the talks will continue as we go on with the demonstrations," said Odinga.
Meanwhile, the Kenya Kwanza bipartisan team on Friday, April 28, also appealed to Azimio to call off the protests and give dialogue a chance.
"Our colleagues cannot have their cake and eat it at the same time. They have to choose between peace or chaos. We are ready to engage them if it is the only discussion we have. We cannot engage in both processes…one on the table and another in the streets," said Kenya Kwanza bipartisan team chair George Murugara.
Murugara added that they are ready to excuse Eldas MP Adan Keynan from the process to make room for compromise.
"To demonstrate our commitment to the process of a peaceful bipartisan engagement, we are ready to recuse Adan Keynan from the process."
Related Topics