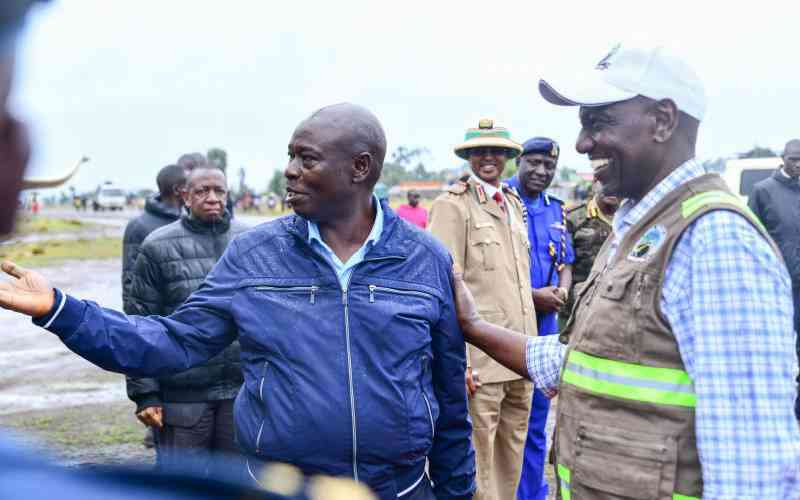 President William Ruto has rejected calls by Azimio leader Raila Odinga for talks mirroring the 2008 National Accord.
The President declared he would not be party to such an arrangement, insisting that talks should be structured bound by the law.
He spoke during a tour of Kwale, Nyandarua and Nakuru yesterday, during which he unveiled several projects.
He said the country had no time to engage in protests organised by Raila and the Azimio coalition. "We can't continue discussing leaders. It is time to make plans for Kenyans. I urge the Opposition to stop pursuing selfish interests," said Ruto.
Without mentioning names, Ruto indicated that "We can't again go back to planning about leadership and protests in Nairobi."
"Even if we protest from morning with sufurias on our heads and backs, the cost of food won't come down. It can only be brought if we work on the farms. I don't know who will teach them (Azimio)," said Ruto. He said his focus was on implementing the Memorandum of Understanding signed with citizens during economic forums held last year at the height of campaigns.
Causing chaos
"Let us walk together on development. Azimio has not heard. It is the development and not protests," said Ruto.
He added: "Let us stop disturbing our people. You (the opposition), let us meet in Parliament and discuss leadership issues there. There is no point in destroying people's businesses and causing chaos," he added.
The President mocked the opposition saying their continued engagement in protests would only worsen their political situation.
"Leave alone getting votes, these people will even lack agents in 2027," he said.
Deputy President Rigathi Gachagua claimed most Kenyans were opposed to Ruto and Raila having a political handshake. "These people Mr President are happy you spoke with Raila. They are, however, not ready for you to engage in any form of handshake. That is not my position, but that of the voters - our bosses," said Gachagua. The DP said he was not ready to shake hands (politically) with Raila. He urged Ruto to allow him and National Assembly Majority leader Kimani Ichung'wa to deal with the opposition while he (President) focuses on reviving the economy.
"They are threatening to go back to protests. The roads are still there. They are causing damage to people's property. We are sending a warning to them. Nobody's property will be destroyed while Ruto is the President," said Gachagua.
He said Mt Kenya was still rallying behind Ruto and there was no intention to back down regardless of the protests.
"Ruto has not done anything wrong. He is working hard to correct the mess we found. We are honest people. We shall support you now and even when you will be seeking a second term," said Gachagua.
Prime Cabinet Secretary Musalia Mudavadi urged the opposition to perform their duty by keeping the government in check and not derailing development plans.
"Ruto sold his manifesto to Kenyans and they agreed with it. They should not expect Ruto to stop implementing Kenya Kwanza policies and implement those of Azimio. It is not possible," said Mudavadi.
Mass action
Nyandarua Governor Kiarie Badilisha said the opposition should seek a mandate from the electorate and not force their way through mass action. Kiharu MP Ndindi Nyoro said the opposition should take a break from leadership positions, maintaining that Azimio lost the election fairly.
"They have in the past intimidated other presidents and had their way. Today, regardless of how high they will jump, or roll on the ground, there will be no handshake," said Ndindi.
Kinangop MP Zachary Kwenya urged President Ruto to remain put on his stand against bringing the opposition into government, saying he had the backing of Kenyans.
"This loaf (government) is yours to lead. Do not even attempt to share it. Focus on service delivery. Kenyans are not interested in protests. They want services," said Kwenya. In Kwale, Ruto told Raila to wait for the next election in 2027 and insisted that bipartisan talks will be held in Parliament.
The President was categorical that he was busy addressing issues affecting ordinary Kenyans like the high cost of living and he had no time to engage the opposition. He said Parliament can deal with issues raised by Azimio because "that is what they are paid to do." "The issues being raised by opposition leaders will be addressed by MPs who have the mandate to resolve such matters as we ensure the pledges we promised voters are fulfilled," said Ruto.
Raila's team is, however, demanding a national dialogue that includes those in and outside Parliament. The opposition says the issues raised require input from all Kenyans. Among the issues, Azimio leader wants addressed are the high cost of living, opening last election's servers for audit, constitutional review and an inclusive composition of the new IEBC.
Reports by Willis Oketch, Kennedy Gachuhi and James Munyeki
Related Topics