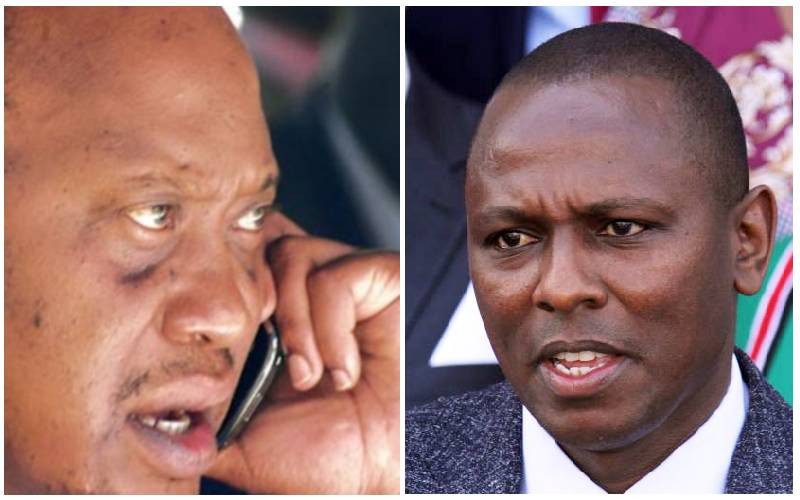 Majority Leader in the National Assembly Kimani Ichung'wah says for three years now he and former President Uhuru Kenyatta have not spoken to each other.
According to him, the genesis of their sour relationship started in late 2018, when Kenyatta was serving his second term as president.
Ichung'wah told The Standard that in October 2018 he made a contribution in the National Assembly regarding one of the lucrative businesses in Kenya, remarks that did not sit well with the then-Head of State.
Ichung'wah stated that the said-business was under scrutiny of the National Assembly at the time.
"The president then told me I had become arrogant, and that I was targeting him," Ichung'wah said.
The Kikuyu Member of Parliament (MP) further said it was around that time that he was seen to be inclining more towards the then-Deputy President William Ruto, than towards President Kenyatta's side.
"Sometime 2019, the former president called and asked why I was antagonising him. He told me that I had to choose between him or Ruto. In his own words, if I can remember vividly, he said: 'Ichung'wah, why are you fighting me'?" said the Kikuyu MP.
The legislator said he told the Head of State that he would not betray Ruto at a time the Kenyatta side was allegedly pushing for the then-DP to be isolated.
"It was then that I decided to block him (Kenyatta) on phone. That was in 2019. For more than three years now, I have never spoken with the former president. He has never tried to reach me using another line and I have never called him too," said Ichung'wah.
Asked why he comes across as bitter toward the ex-Head of State, Ichung'wah said: "We (politicians from Mount Kenya) made him president, but he turned his back on us. He thought he made us (MPs and senators) who we are politically, but it was the other way round. He was elected because of us, we campaigned for him."
The Standard couldn't independently verify Ichung'wah's claims of blocking Kenyatta on phone.
"I don't exactly know why Kenyatta was so much against me. Maybe, in his mind, he was thinking that I was out to wrest Mount Kenya kingship from him. I remember telling him that I never had any ambitions to be deputy president, senator or governor. I was, and I'm still okay being an MP," he said.
Deputy President? No, thank you
Ichung'wah said in 2018, shortly after Kenyatta and Raila Odinga entered into a unity pact popularly known as the "handshake", William Ruto, who was deputy president at the time, had begun shaping the team to help him campaign for his (Ruto's) 2022 presidential bid.
"At that time, Ruto was not sure on who he would pick as his deputy. Later that year (2018), he asked me if I could deputise him in the 2022 polls. I told him 'I'm flattered that you think I can make a good deputy president, but no, thank you. I'm satisfied being in the National Assembly'," said Ichung'wah.
Social media users have branded Ichung'wah as "boastful" and "arrogant", especially after he was picked for the position of Majority Leader in the National Assembly after the August 9, 2022 polls.
Some of the online users told him that "there were more powerful people in that seat, but are not anywhere today in the political matrix".
"My principle is, live today the best way possible. There were people before me, and there will be people after me. When the time comes for me to go, I will go. And I will leave politics quietly and retreat to my businesses. What I'm certain about, is that I will be a very happy businessman. The day I will quit politics, maybe I'll start playing golf and look after my small butcher's shop in Kikuyu."
Related Topics