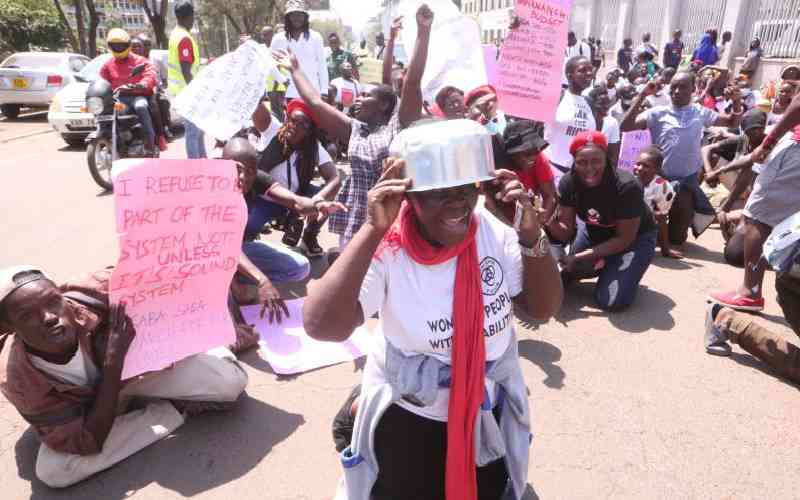 The Kenya Kwanza brigade led by Deputy President Rigathi Gachagua have claimed that former President Uhuru Kenyatta is the mastermind of the Azimio-sponsored demonstrations slated for tomorrow in Nairobi.
Speaking at Kianyaga High School in Kirinyaga, Gachagua's alma mater, National Assembly Majority Leader Kimani Ichung'wah accused Uhuru of being the financier of the resistance movement.
He urged the former president to respect other people's property and the Constitution.
"I am addressing my friend Uhuru Kenyatta. Respect properties owned by Kenyans. If at all you are involved in the demonstrations, we will invade properties owned by the Kenyattas," Ichung'wah said.
The Kikuyu MP urged Kenyans who want to go about with their businesses tomorrow to do so, assuring them of security and protection of their property.
"Hardworking Kenyans that want to open your businesses, please do so without fear for there will be enough security for you and your business, the government is going to give you security," he said.
Gachagua also assured Kenyans of their security and protection from Azimio protestors.
"I assure you Kenyans, we will give you security. We are focused on building the nation and returning everything to normalcy. We will not allow our property to be destroyed by a few individuals," the DP said.
He said Uhuru is using Azimio leader Raila Odinga as a mercenary to carry out the demonstrations while hiding behind the scenes.
And while admitting that Kenyans are facing difficult times, Senate Majority Leader Aaron Cheruiyot said the situation was occasioned by misuse of resources by the previous regime.
"Those doing demonstrations managed to loot a cool Sh15 billion in 16 minutes. If the money was in Treasury, Kenyans wouldn't be facing these difficult situations," he said.
Cheruiyot said the Kenya kwanza administration needs some time to work on the promises they made to Kenyans.
"Let us be given a chance to work for Kenyans. We made promises and we know Kenya is in a difficult situation at the moment. Respect the Constitution and do not misuse your powers," Cheruiyot said.
Naivasha MP Jayne Kihara urged Uhuru to come out clean on the demonstrations, saying his refusal to recognise President William Ruto "fixes him".
"Former president Uhuru Kenyatta should come out clean. You need to clean your name in the planned demonstrations. Your silence speaks volume," she said.
Meanwhile, religious leaders from different faiths condemned the planned demonstrations.
Speaking at the Our Lady of Consolata Cathedral Church in Nyeri, Archbishop Anthony Muheria urged Azimio leaders and government to hold talks and sort out issues affecting the country.
"We now urge the opposition leader to spearhead issue-based and solution-oriented approach to politics to avoid being seen as a champion of anarchy. We encourage the opposition leader to become a bastion of propelling viable solutions to ameliorate the immense suffering Kenyans are experiencing," he said.
He added that the mass demonstrations have previously created tension in the country.
"We experienced it once in 2007 and we do not want to experience that again. We have seen our neighbours fall into that path. Therefore, our message is just one to both of them," he said.
"The opposition have their right to express themselves but we should not sell to this country anything that sounds revolutionary, Kenyans must refuse to be incited to get back into the root of violence as it happened back in 2007 elections," he said.
Related Topics