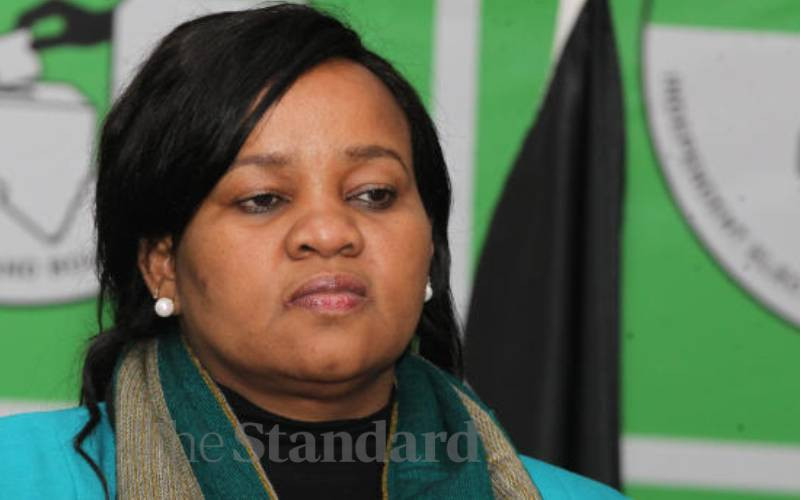 The National Assembly's Justice and Legal Affairs Committee (JLAC) has adjourned sittings to today to allow electoral commissioner Juliana Cherera to file a response even as commissioner Irene Masit snubbed summons.
Advocate Apollo Mboya, representing Cherera, had requested for 10 days adjournment on grounds that his client had not received the petitions.
Following Mr Mboya's request, committee chairperson Tharaka MP George Murugara called for a 10-minute break where members deliberated on the matter and agreed to grant him until today to ensure that he gets all the documents and appear at 8am.
"Having listened to the presentation made by Mboya and following deliberations made by the committee members we have agreed to have an adjournment until tomorrow (today) morning," said Mr Murugara.
The committee chairperson said that there were four petitions and they were properly served to all the respondents.
Murugara further clarified that the only evidence they have is the oral submissions of the four petitioners presented on Thursday and Friday last week.
He further said the committee was not allowed to discuss the conduct of the president, the speaker and judges after Mboya wanted the president summoned over his post on Twitter where he appeared to condemn the four IEBC commissioners.
The advocate argued that in normal circumstances his client could have been granted 14 days but Murugara clarified that they were not a judicial entity but they were a parliamentary committee investigating the conduct of the four IEBC Commissioners.
"My client Juliana Cherera stands prejudiced if the documents she is requesting for are not granted, I would like to thank this committee for allowing me to get the other petitions so that I can go through them and appear before this committee tomorrow morning," said Mboya.
He requested the committee to allocate more time for the matter since the few hours given to his client were not enough to make file responses but Murugara said that only the Speaker has powers to do that.
Walked out
South Mugirango MP Silvanus Osoro faulted Mboya for joining the team that walked out on the committee last week, saying it denied him a chance to follow proceedings and get necessary documents that he was seeking.
Gatanga MP Edward Mureu said that the committee was nonpartisan and intends to give the petitioners and respondents an opportunity to explain themselves and ensure justice prevails.
Meanwhile, IEBC Commissioner Masit failed to appear before the committee to file response on petitions seeking her removal from office.
Murugara said that Ms Masit's advocate Donald Kipkorir had sent a letter to the committee, stating that his client was not willing to participate in the proceedings since she considered them a violation of the Constitution.
"This committee recognises that it is within Masit's right not to appear before it since she was only being given a chance to give her response over the four petitions against her, this committee will continue with this matter to the end and make necessary recommendations," he said.
Related Topics