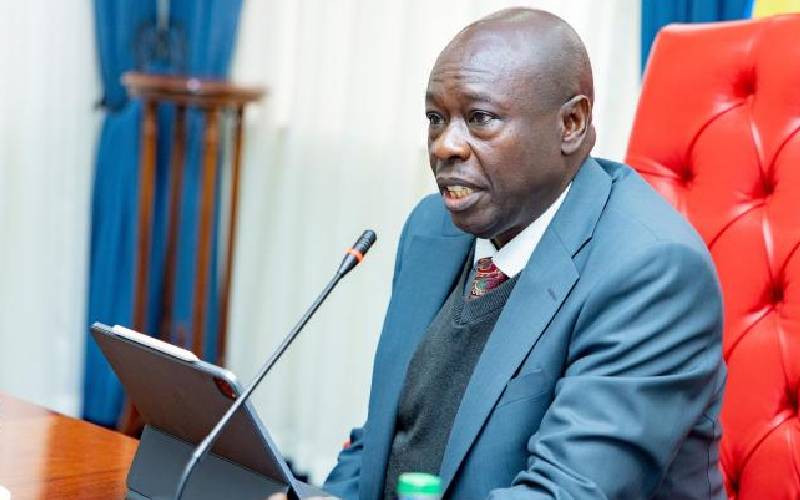 No leader in the contemporary world relishes the dark power of words like Donald Trump. The former US president got away with countless reckless speeches between 2017 and 2021.
A purveyor of racial hate, he discarded many statements as he impulsively made them. Verbal diarrhea and fiery Tweets on immigration, race, trade, security and foreign policy defined him.
Belligerent but ignorant of the weight of his office, he caused the January 6 Capitol attack. But Trumpism was purely beneath contempt. Any other US leader wouldn't be forgiven for acting ludicrously like Don, the wealthy celeb.
What we learn from Trump is being forthright or reckless with words can be same and different. The thin line therein may speak to the woes of the Kenya Kwanza administration, now fraying at the edges over recent remarks by trusted insiders.
A case of being forthright or fatally reckless with words? Deputy President Rigathi Gachagua raised the red flag when he reprimanded Trade CS Moses Kuria and economic advisor David Ndii last week over statements that chagrinned the public. This was in the wake of revised petroleum prices and the soaring cost of living.
The duo stands accused of constantly churning out off-putting messages, mostly online, and have no qualms. DP Gachagua warned them that "you do not address your employer (the public) with arrogance. Do so with humility and decorum."
Himself a master of controversial bold speak, the DP spat fire, accusing the Kenya Kwanza leg men of belittling hustlers sweating it out to survive. "Talking down on people and demoralising those who look up to them for solutions…is not good leadership."
Mr Gachagua is right. Even dictators of yesteryears speak gently and convincingly to their people. Leaders who appreciate the weight of their offices don't use foul mouths and rhetoric to mock and sell the 'us versus them' or 'know it all' tales that erode trust in facts and institutions.
Honest bold speak should lead to fruitful debates and fixes. It shouldn't breed resentment. It should worry us when leaders we employ show us the 'middle finger' and hog social media limelight by attacking personalities rather than ideas.
Public jobs come with responsibility. Like Trump, the sharp-tongued gang risks isolation and will only have themselves to blame. What do we gain from empty speak when all it does is to make us hopeless and discordant?
Why would an official pour scorn on the system they serve then issue fake apologies even if civility isn't an issue in Kenya Kwanza?
Meanwhile, there've been jitters around Riggy G's moral authority to censure anyone for their impulsive style. Senator Edwin Sifuna says Gachagua is the epitome of reckless talk. Sifuna claims 'loudmouths' are Gachagua's best students.
In my view, however, three things are clear from the DP's Damascus moment. First, the State should restructure its public communications. Two, the second-in-command now appreciates the perils of careless public messaging – political or otherwise. He reckons that leaders must speak sense and mean it. Negative energy is unwelcome. Finally, Gachagua realises there's more that can endear leaders to voters than populism.
Hard punches by the DP against former President Kenyatta and Azimio chief Raila Odinga haven't been useful to Wanjiku and the hustlers.
Take this to the bank. Accountable public speaking demands we honour the sanctity of public office. We saw Governor Johnson Sakaja and MP Babu Owino trade barbs online. This reeks of indignity and desperation for attention.
Leaders must heed Gachagua's plea. Let's make noise and remind State honchos to mean their words. For one, let them name graft cartels as they promised. Those who executed 'State capture' and wanted to overturn Kenyans' 'will' at Bomas. People who own banks and control interest rates…those who wanted to grab Galana Kulalu and Kibiku land. Let words mean something. Wanjiku will then be happy.
-The writer is a communications practitioner. Twitter(X): @markoloo
Related Topics