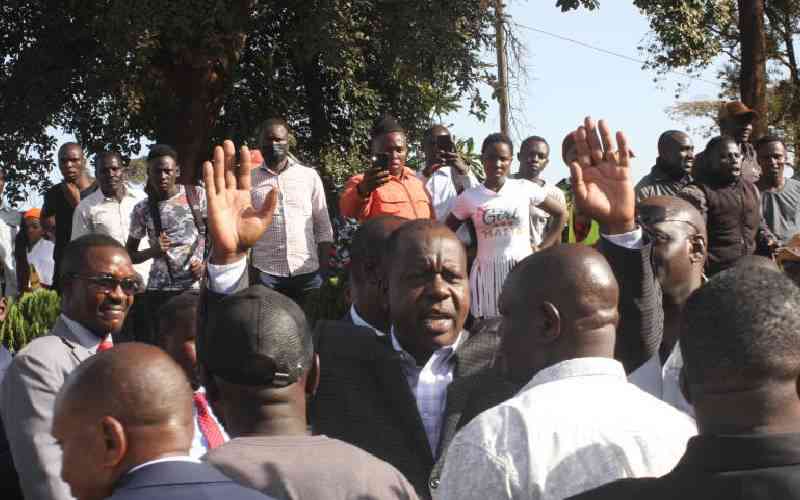 I had interaction of sorts with personalities who served as ministers of State for Internal Security in Kenya's last four presidencies.
They are Mbiyu Koinange in Jomo Kenyatta's era, GG Kariuki, Chris Murungaru and Joseph Nkaissery in the Daniel Moi, Mwai Kibaki and Uhuru Kenyatta presidencies, respectively.
I never met Koinange in person. I only saw him once as a young boy in the early 1970s when Jomo's convoy passed by my village in Nakuru County. He travelled and sat next to Jomo in the presidential limousine.
In those days, wherever the president passed, offices, shops and schools were ordered closed for everybody to line up in the streets and cheer the Head of State. Often, it would be a day wasted as people would be in the streets from early morning even if the president was passing by in late afternoon. The worst case scenario was when the crowds were not large and the dreaded provincial administration would forcibly drag out citizens from their homes to line up in the streets.
I gathered much information on Koinange when on the tenth anniversary of his death in 1991, I was assigned to do a magazine serial on his life. I spent a month in the field interviewing his relatives, peers at different stages in his life, and those who knew him in his days in the sanctum of power.
His nickname was Dr Henry Kissinger of Kenya and 'kamaliza' (the destroyer).
'Dr Kissinger' was in reference to US Secretary of State Henry Kissinger who had great influence over President Richard Nixon and his successor, President Gerald Ford. Koinange was perceived to wield the same clout in Jomo's era.
For that reason, he was blamed for all the sins during Jomo's reign, including the assassinations of politicians Pio Gama Pinto, Tom Mboya and J.M. Kariuki, hence the 'kamaliza' nickname.
But the gossip never bothered Koinange as long as Jomo was alive. Indeed, when asked to appear before the parliamentary select committee probing JM's murder, he ignored the summons and went on with his life. Impunity has a long history!
Koinange suffered a reversal of fortunes when Jomo died in August 1978. First, he was removed from the powerful Internal Security docket and moved to Natural Resources. Second, he lost a parliamentary election and was reduced to an ordinary citizen.
Next, debtors came calling and demanding a pound of his flesh. It took a heavy toll on him and he soon followed Jomo to the grave. He died a lonely, forgotten old man.
After taking over from Jomo, Moi appointed GG as his first minister of State for Internal Security.
I knew GG well because he was my MP in Laikipia West constituency. During Jomo's reign, he was a largely faceless and unknown junior assistant minister in the Lands and Settlement docket.
What many people didn't know is that he was a close ally to Moi and the influential Attorney General Charles Njonjo who were actively working on Jomo's succession.
The trio of Vice President Mwai Kibaki, Njonjo and GG would ride with the Head of State in the president's official vehicle, which led to it being referred to derisively as the 'presidential matatu'.
GG's transformation from a humble assistant minister to swaggering Internal Security minister was dramatic. Power had gone to his head in a flash. At noon, he would have police outriders escort him for lunch at his city home and to the gym in the evening. On a whim, a police chopper would fly him for lunch at his rural home in Nyahururu and back to the city!
When he spoke, it was to taunt and threaten real and imagined enemies of the State who did not follow Moi's 'Nyayo's'. So arrogant and vindictive did he and his mentor Njonjo become that they badly fell out with the level-headed Kibaki who publicly expressed disgust at their behaviour and asserted that nobody had a 'Nyayo-meter' to gauge who was or was not loyal to the Head of State.
Hardly four years into the Moi presidency, GG (and Njonjo) didn't know what hit them. The initials GG, which was his name Godfrey Gitahi, suddenly changed to 'Grace to Grass'.
The Interior Security docket was snatched from him followed by a transfer to the ministry of Lands. He became little more than a figure-head because all powers were with his hostile permanent secretary who did not have time for him.
Next, a snap General Election was held in which the 'Deep State' ensured GG lost through hook or crook. Suddenly, he was a political nobody and a 'restricted' person at his rural home in Nyahururu after a warning to keep off the capital city if he didn't want 'trouble'. Banks were also arm-twisted to suddenly 'remember' they had loaned him money and demanded it back with menace.
The Kibaki-era ushered in the swashbuckling Chris Murungaru as Internal Security minister; a doctor of veterinary medicine.
Murungaru was as arrogant and condescending as they come. He declared himself 'jemedari wa mzee' (mzee's general) and vowed to 'swaga, bwaga na siaga' (thump, wrestle and crush) those who didn't toe his line.
He had a particular disdain for free media. I felt the weight of his swagger when I published in this newspaper an article he didn't like in 2005. He illegally ordered police to hunt for me and haul me to the courts. The Standard Group and the Kenya National Commission on Human Rights challenged this illegality and many lobbies and foreign embassies intervened. Murangaru was forced to retreat, tail between his legs, when the State ordered the director of prosecutions to terminate the trumped-up charges.
Murungaru soon became such an embarrassment to Kibaki that he was removed from Internal Security to Transport docket before getting the sack. He lost his parliamentary seat and was reduced to an ordinary citizen. Today, he does what he knows best which is selling bull semen and assorted veterinary products.
During Uhuru's reign, there was one Major-General (Rtd) Nkaissery.
Coming from a military background, he failed to understand that the civilian world works differently. He came to office at a time when the opposition was demanding removal of the discredited electoral body and had vowed to stage street demonstrations every Wednesday until their demand was met.
Nkaissery dared the demonstrators to meet him in the streets and show them it was not for nothing that he had gone for military drills. Never mind that the military is not trained for that sort of thing, but has the sacred duty of protecting Kenya from external aggression.
In arrogance, Nkaissery boasted he had ordered for more tear-gas and police truncheons to 'finish' the demonstrators. Little did he know the train had left the station and it was rolling downhill. As pressure mounted, the IEBC commissioners read the writing on the wall and quit.
During the 2017 elections and the aftermath, Nkaissery's successor, Dr Matiang'i, thought he could suppress the will of the people through police brutality but it never worked. Uhuru was the wiser and initiated the famous 'handshake' with bitter rival Raila Odinga to restore a semblance of peace. Sadly, Matiang'i seems not to have learned that dialogue is more effective than teargas.
Postscript: Have you noticed Interior Security Cabinet Secretary Kindiki Kithure has taken to wearing military fatigues with his name and 'rank' inscribed on the chest, just like Murungaru? Go slow, bwana CS. We have seen it before!
Related Topics