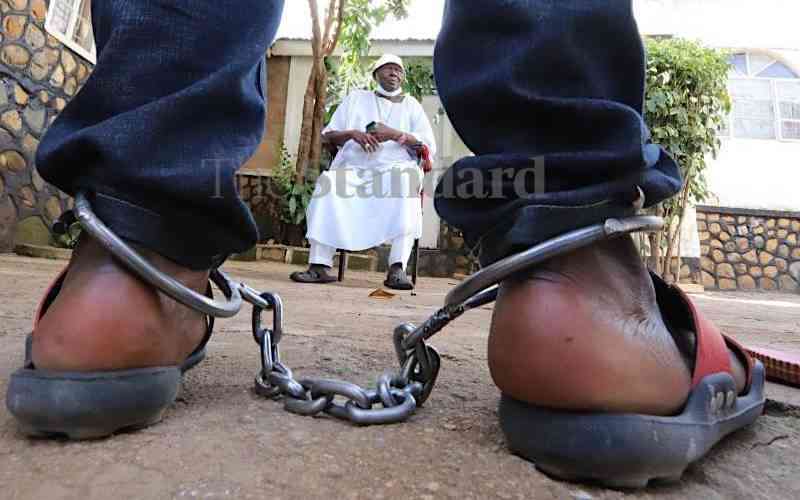 A 2020 Human Rights Watch Report (HRW) titled 'Living in chains, shackling of people with psychosocial disabilities worldwide' might have escaped the notice of many people.
Yet, recent reports of people with mental health conditions/psychosocial disabilities being detained in chains in a church in Western Kenya under inhumane conditions should prick the conscience of our nation. As communities, we must rise to the occasion and ask, why must things be this way?
According to the HRW report, across 60 countries where research was carried out, there were hundreds of thousands of people with real or perceived psychosocial disabilities/mental health conditions arbitrarily detained against their will in homes, State-run or private institutions, and traditional or religious healing centres.
The report notes that despite being commonly practiced around the world, this form of torture, called shackling, remains a largely invisible problem as it occurs behind closed doors, often shrouded in secrecy and concealed even from neighbours due to shame and stigma.
Whereas no specific Kenyan law explicitly mentions shackling or its banning, Kenya is a party to international treaties that form part of our laws and that draw attention to this practice.
The Convention on the Rights of Persons with Disabilities, which was ratified by Kenya in 2008, calls upon States Parties to take effective legislative, administrative, judicial or other measures to prevent persons with disabilities, on an equal basis with others, from being subjected to torture or cruel, inhuman or degrading treatment or punishment.
It is also a State obligation to ensure that persons with disabilities are not deprived of their liberty through any process and that there are in place effective legislation and policies to ensure instances of exploitation, violence and abuse against persons with disabilities are identified, investigated and, where appropriate, prosecuted.
Indeed, the Kenya National Commission on Human Rights, the State's Constitutional Commission with the mandate in promoting and protecting human rights, called for the arrest and prosecution of the alleged culprit, the Holy Ghost Coptic Church of Africa cleric Father John Pesa.
It is commendable that the County Government of Kisumu sued the church and although the petition to demolish the institution was dismissed.
There is, however, dire need to ensure that not only are victims of this type of torture given reparations, but that no other Kenyan is exposed to the atrocities faced by persons with mental health conditions as has been documented in this institution.
The discussions on detention of mental health patients must also happen within the broad context of communities that are supportive and thriving for people who experience mental distress in many of its forms.
Indeed, as notes the HRW report, while countries are increasingly starting to pay attention to the issue of mental health, the practice of shackling remains largely invisible.
It notes that there are currently no coordinated international or regional efforts to eradicate shackling.
Whereas some governments have put in place measures to tackle the practice of shackling people with mental health problems, their laws and policies are not always effectively implemented, and on-the-ground monitoring remains weak overall. Of the 60 countries where HRW found evidence of shackling, including in Kenya, only a handful have laws, policies or strategies in place that explicitly ban or aim to end shackling of people with mental health conditions.
This therefore is a call to action, more so to the State, to ensure that this practice not only ends, but to contextualise the conditions under which it will end. Prosecution of culprits is a good start, but importantly, social solutions must be offered.
This may range from social protection support to families of persons with mental health conditions to communities that are free of stigma, discrimination and violence towards people with real or perceived mental health conditions.
Indeed, and urgently so, the Kenyan government must ban shackling, adopt measures to reduce stigma against people with psychosocial disabilities and mental health conditions, and develop adequate, voluntary, and community-based mental health services.
Related Topics