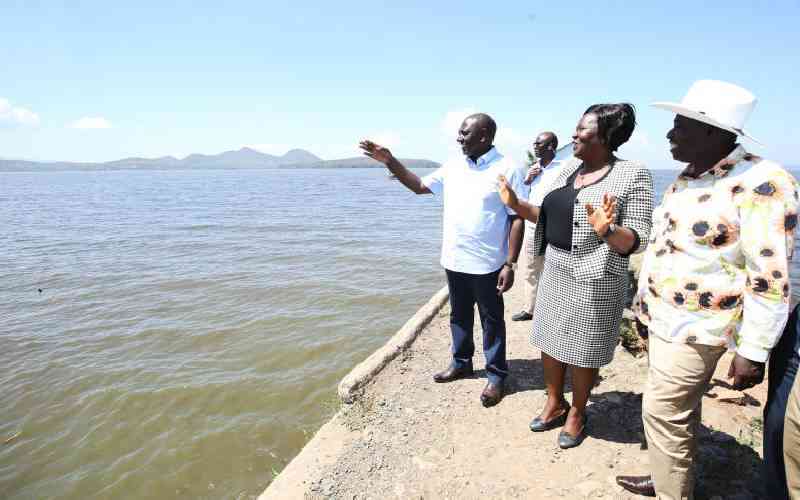 President William Ruto's recent visit to Nyanza should bear goodwill for the completion of unfinished national government projects in the region.
There are several uncompleted projects, but I want to highlight the Kimira-Oluch Smallholder Farm Improvement Project (Kosfip) in Karachuonyo and Rangwe constituencies. The project's 3,685 acres (1,474ha) are subdivided into 97 irrigation blocks.
The aim of the project was to increase food security in Homa Bay and neighbouring counties. The area is usually affected by drought and farmers have cannot rely on rain-fed agriculture. The project was initially funded by the national government and the African Development Bank before it was handed to the Lake Basin Development Authority.
Construction work started in 2007. Water flows through main canals measuring 59km and tertiary canals measuring 122km that ease the flow of water from two major rivers to the farms.
Today, water is not flowing in some completed canals due to mismanagement. There is evidence of shoddy work in some areas with some landowners yet to be compensated 10 years later. About one year ago, the National Assembly's Defence Committee, on which I sat, called for a forensic audit of the Sh7.2 billion project.
During our tour, there was massive evidence of poorly done work. This is because the quality of work is not commensurate with the amount of money spent. Some mistakes were made in the design and construction. We also realised that the project has not met its full implementation and viability. I invited the committee after farmers presented their grievances to my office.
Kosfip is among the many projects that we presented to the president in our memorandum of understanding of projects we would like the government to focus on in the region. The goodwill shown by the president should see the project fully functional through additional funding to increase food production in the region.
We asked the president in his recent visit to Homa Bay County to help complete this project. The money can be used to build the remaining canals and dykes.
The failure to complete the project within the specified timelines has led to its underutilisation. If done well, it can enhance crop production in Homa Bay and neighbouring counties. The government projected to spend Sh6 billion but the amount has increased with time. High cost of purchasing construction materials and maintenance of the project have pushedup the budget.
Some 1,200 farmers in the two sub counties are yet to benefit from the project. At least 4,000 farmers were expected to benefit directly from the project.
Ms Gogo is MP, Rangwe Constituency
Related Topics