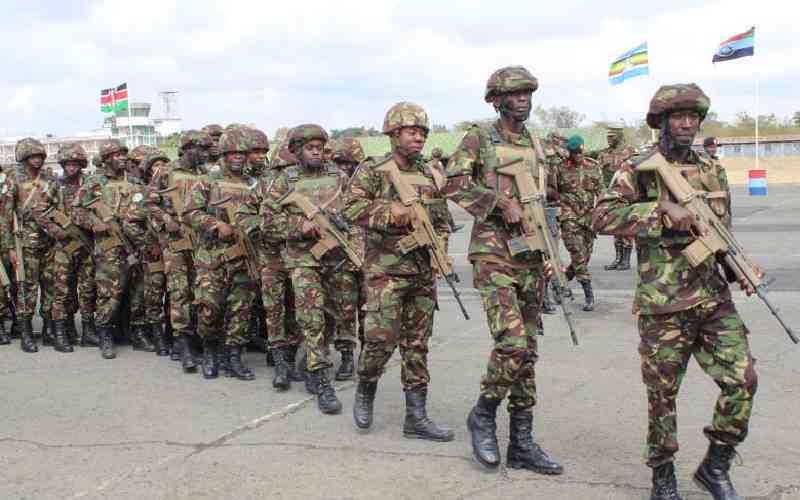 The UN Security Council authorised the deployment of a regional force, the United Nations Force Intervention Brigade, in eastern Democratic Republic of Congo in 2013 to prevent the expansion of armed groups.
The deployment was also meant to neutralise these groups, disarm them to reduce the threat they pose to state authority and civilian security, and make space for stabilisation.
That mission largely failed.
Then, as now, the rebel group March 23 or M23, was on the march and threatening the city of Goma, the capital of North Kivu region. The group is again on the offensive and has since October 20 seized large swathes of territory and has Goma, now the base of the largest UN peace mission in the world, in its sights.
And in an apparent death-or-glory decision that made little allowance for the complexity of the Eastern Congo, the East African Community last June decided to send a combat mission to DRC - the first of its kind by the bloc since Kenya, Uganda and Tanzania revived the bloc on November 30, 1999 - to "contain, defeat and eradicate negative forces" or in other ways to militarily defeat the mainly-Tutsi group or force it into smoking the peace pipe with Kinshasa.
President William Ruto earlier this month saw off hundreds of Kenyan troops departing for Goma. During the ceremony, he stressed the need to pacify the resource-rich country blistered by intractable insecurity and foreign interference, but didn't mention the consequences nor past failures of other missions by other countries or bodies.
The ambitious mission, known as the East African Community Regional Force, will have between 6,500 and 12,000 troops. The soldiers will initially come from Kenya, Uganda, Burundi, Rwanda and South Sudan. Rwanda -- whose troops alongside Uganda and Eritrea helped topple Mobutu Sese Seko's 32-year rule in 1997 and install then-rebel leader Laurent Kabila as president -- will deploy its forces along its border with DRC, while others will be based in four provinces, namely North Kivu, South Kivu, Ituri and Haut-Uele.
"I dare repeat we will not allow armed groups, criminals and terrorists to deny us the potential for a shared prosperity and real chance of growing," President Ruto said, calling the regional intervention "legitimate, urgent and necessary."
DRC, formally known as Zaire, was since 1996 a geopolitical plaything for its neighbours, with countries as far as Eritrea and South Africa meddling in its affairs. Nine countries took part in what is called the African World War between 1998 and 2003. An estimated 5.4 million people died in the DRC as a result of that conflict and its aftermath, with the International Rescue Committee saying in terms of fatalities the DRC war surpasses any other since World War II.
The mission may not have been possible had it not been for President Felix Tshisekedi's early, strategic steps. Just 13 days in office, he visit ed Kenya and met former President Uhuru Kenyatta on February 6, 2019, his first foreign trip that also took him to Rwanda, Tanzania and Uganda. About five months later, he applied for the bloc's membership, somewhat pivoting from the Southern African Development Community, or SADC, towards EAC.
Although regional leaders had in their public statements put a humanitarian spin on their push to send troops to DRC, the geopolitical factor of this costly and locally unpopular military adventure is becoming clear. The mission was mooted last June, about two months after DRC joined the East African Community, raising questions whether it has been rushed or whether a possible secret prodding by the US government played a role.
A spokesman for the US State Department told The Standard that Washington "encourages countries in the region to work together to restore peace, security, and trust while respecting each other's sovereignty and territorial integrity" - indeed tacit support for the mission.
"State support of armed groups is unacceptable and we reiterate our concern about Rwanda's support to the M23," said the spokesman who doesn't want to be named.
Washington has taken a keen interest in DRC in recent months, possibly out of worry that Russia could exploit the conflict in the eastern part of the central African nation. Kinshasa was one of the three African cities that the US Secretary of State Antony Blinken visited during his August trip to the continent.
Curiously, Blinken and Jean-Michel Sama Lukonde, the prime minister of the Democratic Republic of Congo, discussed an issue that now appears - retrospectively, at least - to shine some light on the genesis of the Kenyan-led regional force to the mineral-rich country: Securing supply chains of critical minerals necessary for the global transition to cleaner forms of energy like cobalt, lithium, manganese, nickel and graphite.
A month later, on the margins of the United Nations General Assembly High-Level Week, Blinken gave the same topic a high priority, convening Minerals Security Partnership partners and key minerals-rich countries in New York City to "discuss priorities, challenges, and opportunities in responsible mining, processing, and recycling of critical minerals"
The 18 countries that participated in the meeting included DRC, Mozambique, Namibia, Tanzania and Zambia. Coincidentally or otherwise, Washington announced the initiative in June, the same month EAC announced its decision.
"Demand for critical minerals, which are essential for clean energy and other technologies, is projected to expand significantly in the coming decades," said US Department of State Spokesman in a media note on September 22.
"Transparent, open, predictable, secure, and sustainable supply chains for critical minerals are vital to deploying these technologies at the speed and scale necessary to combat climate change effectively."
Since the Biden administration came to power, it's factored Africa into its foreign policy agendas, saying: "It is impossible to meet today's defining challenges without African contributions and leadership."
The White House will host the African Leaders Summit next month for the first time since 2014.
In his August 8, speech on the US strategy for sub-Saharan Africa, Blinken accused the Kremlin-backed Wagner Group of exploiting the instability in Africa to "pillage resources and commit abuses with impunity, as we've seen in Mali and the Central African Republic."
"Our strategy is rooted in the recognition that sub-Saharan Africa is a major geopolitical force, one that shaped our past, is shaping our present, and will shape our future," said Blinken.
The first hint of the EAC's interest in trying to help fix the insecurity in DRC, a country of more than 90 million people, came during the bloc's extra-ordinary summit on March 29, when the bloc's Heads of State admitted DRC as a full member of the East African Community. DRC officially signed the Treaty of the Accession into the EAC on April 8.
"We all look forward to working together with you for the peace, security and stability of all the people of the East African region," said then-President Uhuru Kenyatta during the virtual summit.
The urgency the planners of the mission felt was palpable.
Defence Secretary Aden Duale notified Parliament of the troops' deployment a day after President Ruto had seen them off. Burundi sent its contingent last August. The end of President Tshisekedi's first term was fast approaching, as the country's elections were due next year.
"The situation in Eastern DRC was escalating and the urgency of taking action couldn't wait for the countries to resolve their difficulties," said Hassan Khannenje, director of the Nairobi-based International Institute for Strategic Studies.
The US, too, appeared to have that sense of urgency in mind when on October 31 it called on M23 "to withdraw from its positions, disarm, and rejoin the Inter-Congolese dialogue (Nairobi process) in preparation for disarmament, demobilisation, and community reintegration offered by the Government of the DRC."
"We also reiterate that involvement in planning, directing, sponsoring or conducting attacks against UN peacekeepers constitutes a basis for sanctions designations pursuant to United Nations Security Council resolutions," said State Department Spokesman Ned Price in a statement that also called for "an immediate resumption of the Nairobi Process and of the Luanda trilateral mediation process to find a lasting resolution."
EAC offered no clarity on how its Regional Force could, without international support, rout dozens of armed militia groups operating in Eastern Congo that borders Rwanda, Uganda, Tanzania, Burundi and South Sudan. Neither did it say why tensions bubbling among four of its member states.
The biggest unanswered question is: How each country - all of them struggling economically - could finance its contingent in a costly foreign military operation?
Kenyan and regional officials are not forthcoming about the risks that the troops would certainly encounter in a volatile region, where Kinshasa's writ is largely tenuous and militia groups kill - sometimes with machetes and arrows - civilians at will and sometimes the bodies are cooked and eaten.
The future of the regional force itself, whose countries' unity is more cosmetic than rock solid, is uncertain.
Kinshasa has recently expelled Rwanda's ambassador, accusing his country of "persistent aggression against DRC and its support for the M23 terrorist movement."
The decision came about five months after DRC banned RwandaAir from its airspace. Rwanda denies DRC's allegation and accuses the Armed Forces of the Democratic Republic of the Congo, known by its French acronym FARDC, of collaborating with 'negative forces,' such as the Democratic Forces for the Liberation of Rwanda, a Hutu rebel group that Kigali says was responsible for the 1994 Rwandan genocide, and the other anti-Rwanda armed group Mai-Mai in its bid to defeat M23, a pro-Kigali militia group.
Rwanda and DRC are not the only ones with frosty relations. There are uneasy ties between Rwanda and Burundi, between Rwanda and Uganda and between Uganda and DRC.
Rwanda and Uganda have been accused of supporting M23, whose leaders still have close ties with Kigali and Kampala.
"There are significant risks in EAC going ahead with a combat mission," said Nelleke van de Walle, director of the Great Lakes Project at International Crisis Group, in a recent article.
"First, armed interventions in the region do not have a strong record of enduring success, and enlisting countries with strategic and economic interests in the region could escalate an already dangerous situation."
Walle said several of the DRC's neighbours have "repeatedly and deliberately undermined stability in its east by bolstering proxy fighters and tapping its huge natural resources."
"Some - for example, Burundi and Uganda - may well continue to push their own agendas, even when under joint force command," she warned.
Thousands of Congolese have recently flooded the streets of Kinshasa to protest the Kenyan-led force. A spokesman for the M23, or March 23, warned that his forces would fight back if they were attacked.
At the send-off ceremony, Kenya's army chief, Gen Robert Kibochi, said the mission would "support DRC in collaboration with humanitarian agencies" to deliver aid to those affected by the armed groups, including internally displaced persons.
Like Ruto, Kibochi didn't talk about the risk the country's men and women in uniform will be exposed to when they reach Goma, where they will be stationed.
Burundian soldiers were the first contingent to arrive in South Kivu, where Kinshasa wants them to tackle the menace of a Tutsi-led armed militia, RED-Tabara, that is hostile to the Hutu-led government in Bujumbura.
Late last year, Uganda and DRC launched a joint offensive against the Allied Democratic Forces, or ADF, which is fingered for carrying out suicide bombings in Uganda. So the Ugandan contingent will focus on the Islamic State-linked ADF.
The Kenyan force, whose overall number has not yet been officially disclosed, will take on armed groups in North Kivu, meaning they could possibly clash with the battle-hardened, Rwanda-backed M23.
The troops from South Sudan have been assigned the task of going after fighters of the Lord's Resistance Army (LRA), still operating in Haut-Uele province.
The mission's mandate is expected to end in six months, although the EAC could renew it after a review, which is to be conducted in every two months.
The Kenyan army's foray into Somalia, which started on October 14, 2011, scored its major success more than a year later, on September 28, 2012, when it captured the port city of Kismayo.
The regional combat force to eliminate militia groups in the eastern part of DRC will no doubt test Kenya's counterinsurgency skills to the limit.
"We want to have a stable and peaceful DRC," said Defence Cabinet Secretary Aden Duale during the send-off ceremony.
"It's in our interest, in our national security interest. It's in our economic interest. It's in the interest of everybody," he said of DRC, where dozens of Kenyan companies operate, most notably Equity Bank.
The heads of state of the six-nation bloc last June "instructed" the Regional Force to, in cooperation with the military and administrative forces of the DRC, seek to stabilise and secure the peace in DRC.
The force was also ordered to "cooperate in the implementation of the disarmament and demobilisation process.
The East African Community's mission envisions an immediate ceasefire in which M23 withdraws from the areas it has recently taken and the intensification of the political process, but the group appears unwilling to stop its offensive without winning real concessions from Kinshasa.
M23's spokesman Willy Ngoma didn't immediately respond to a request for comment, The DRC ambassador to Kenya declined to comment, saying his country's Foreign Affairs ministry would soon visit Nairobi and answer all questions about the regional force.
"There is no magic bullet, but with good political will from warring parties, a regional approach is always preferable in such situations as long as competing regional interests are not allowed to interfere with the mission," said Khannenje.
Related Topics