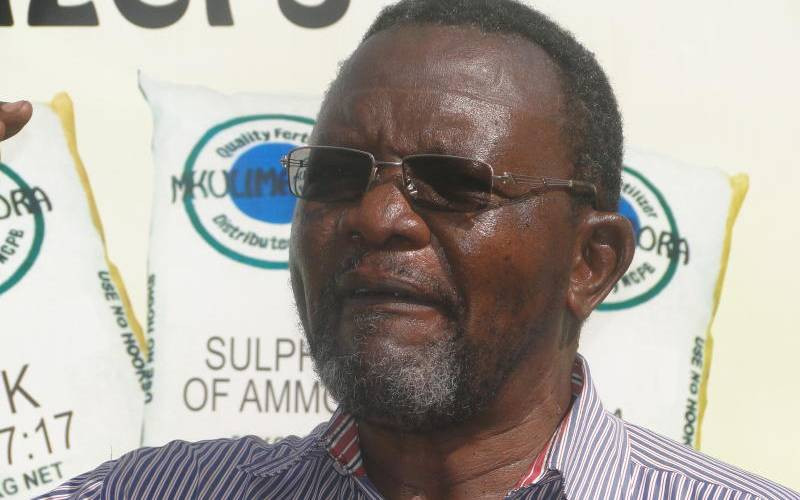 Since Alego Usonga Constituency, Siaya County, was established in 1963, no MP has served two consecutive terms, and incumbent Samuel Atandi is determined to break this jinx.
But to do so, the ODM candidate has to beat four other candidates gunning for the seat, including George Muluan of DAP-K, whom he dislodged in 2017 and is now seeking a comeback.
The other candidates are Sospeter Opondo, Alphonse Okello and Joseph Ochieng, who are all on independent tickets.
As the clock ticks toward the August 9 polls, political pundits view the contest as a possible rematch between Atandi and his predecessor George Muluan.
In 2013, Muluan caused an upset when he sent home ODM MP Edwin Yinda in a hotly-contested race. In that poll, he was the only MP elected on a Wiper ticket in the entire Nyanza region.
With the one-term cycle that has defined the constituency's politics, Muluan is keen to replicate his 2013 success by sending home Atandi.
The former MP says he built three new secondary schools during his five years in office.
"The incumbent has focused on renovation of classrooms and failed to construct new ones even as the government insists on 100 per cent transition from primary to secondary schools," said Muluan.
He says he is on a mission to complete the projects he started in 2013.
"I am in this race to win. Having served for five years, I am committed to serving and doing things beyond what the National Government-Constituency Development Fund (NG-CDF) provides for," he said.
Muluan describes Alego Usonga as among the poorest constituencies in the country because of lack of income-generating projects and poor leadership.
He cites agriculture as an area that the incumbent has neglected.
"During my term, I focused on agriculture by giving subsidised fertiliser to farmers through collaboration with the National Cereals and Produce Board (NCPB) and county government of Siaya," said Muluan.
His entry into the race increases the number of fringe parties that will be striving to outshine ODM in Siaya County, which is considered its stronghold.
He downplayed claims that DAP-K has no space in Siaya, saying voters must be given room to choose the right leaders.
"I was elected in 2013 on a Wiper ticket and because I served people well as a legislator, I believe with DAP-K I will also be able to offer even better services if given a chance," he said.
Muluan also called on voters to be vigilant, saying parties don't serve the people but leaders do.
"Elected leaders must be active and ensure they serve the people, not the party; people need food and economic empowerment and not political rhetoric and promises that add no value to them," he said.
Muluan, who hails from Karuoth, the second largest clan in the constituency, has promised to improve education standards if elected.
Six-piece voting
On the other hand, Atandi believes his development track record will propel him to retain the seat in the next three weeks against a trend that saw none of his predecessors serve for more than one term.
"I've actively delivered projects that improve and change our people's lives. I will continue to deliver," said Atandi when he commissioned a multi-million-shilling education complex at Karapul Primary School.
The project was funded by Alego Usonga NG-CDF.
Atandi is optimistic that the huge support ODM enjoys in the region will also improve his chances of earning another term. He has the backing of the entire ODM fraternity who are campaigning on a platform of six-piece voting in the region.
During a recent visit to the region by ODM leader Raila Odinga, Atandi was among the leaders endorsed by the Azimio la Umoja-One Kenya presidential candidate.
He also has the backing of Senate candidate Oburu Oginga, who says Atandi should be handed another term because of his development orientation.
In his tenure, Atandi has been lauded by residents for improving the condition of several schools as well as what they describe as fair distribution of bursaries.
To boost his bid, Atandi has intensified campaigns with the backing of Siaya Senator James Orengo and Oburu, who are Raila's key allies.
His opponents, however, say he has not performed well and have vowed to send him home after his first term.
Better housing
They say they will implement development projects, giving priority to education and security. They accuse Atandi of failing to address the two areas in the five years he has been in office.
Ochieng promises to focus on better housing, and healthcare and provide a link between the national and county government of Siaya when elected.
Benard Oluoch, a resident of Alego-Usonga said both Atandi and Muluan have tried to initiate development projects in the constituency.
Alego Usonga is one of the six constituencies in Siaya County and has been served by eight MPs since its formation.
It is the county's largest constituency with a total of 122,002 registered voters and six wards; namely, Usonga, Siaya Township, South East Alego, West Alego, North Alego and Central Alego.
Luke Rarieya served as the first MP elected on a Kanu ticket in 1963. He lost to Peter Okudo in the 1969 General Election.
Okudo also of Kanu lost to Oloo Aringo in 1974. The same fate befell Otieno Mak'Onyango, Samuel Weya, Edwin Yinda and Muluan.
Related Topics