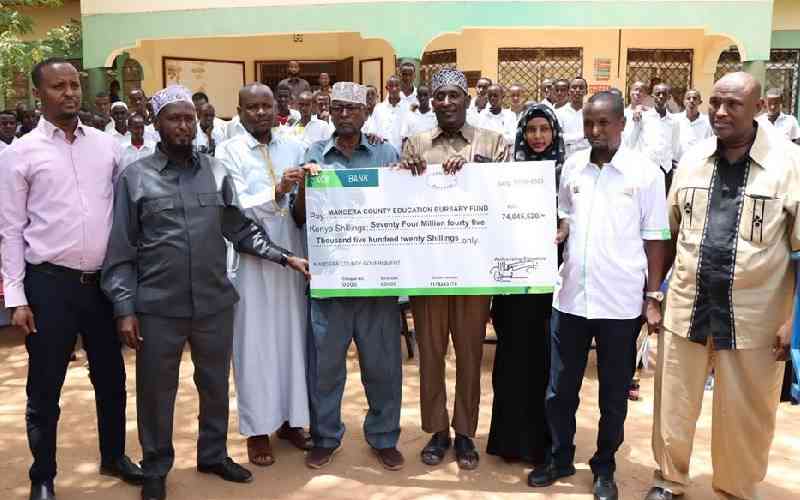 Mandera County has disbursed Sh350 million meant for bursaries.
Education CEC Bashir Ibrahim Alio said the amount will benefit needy learners in some 61 schools across the county.
According to Alio, so far some Sh9,150,000 has already been disbursed to cater for the last two academic terms.
He said the funds part of the program that was launched in January aimed at cushioning parents against the prolonged drought.
In January this year, Governor Mohamed Kalif unveiled a Sh350 million plan that would see the students across the county get up to 60 per cent of their total fees.
He said the plan to introduce the subsidized scholarship programme was occasioned by the current ravaging droughts that have left many residents off the balance.
Alio said part of the money will be channeled to subsidised fee for some students studying in Turkish universities and Mandera technical training institute
"Apart from 23,404 needy learners in secondary schools, we have also cleared fee for 11 girls studying in Turkey," said Alio
He said as the beneficiaries near completion of their overseas studies early next year, the county is putting mechanisms in place to undertake a similar scholarship programme for another 30 students in different universities in Turkey.
The education boss in the county applauds tremendous rise of enrollment at Mandera technical training institute as the number of students increased to 815 within two terms
"I want to reiterate that Mandera Technical Training Institute as one of the flagship project of the governor has been supported by the same fund which has seen tremendous improvement in the enrolment of students from a paltry 239 to close to 815 all resident students," he said.
He said the county plans to disburse another Sh460 million for bursary next month to serve in the next financial year as that would benefit the county students in secondary, tertiary, Colleges and Universities.
"I hereby direct Mandera County Bursary Board to release with immediate effect the Third Term Fees to the respective bank accounts of the 61 public secondary schools,'' he said.
Related Topics