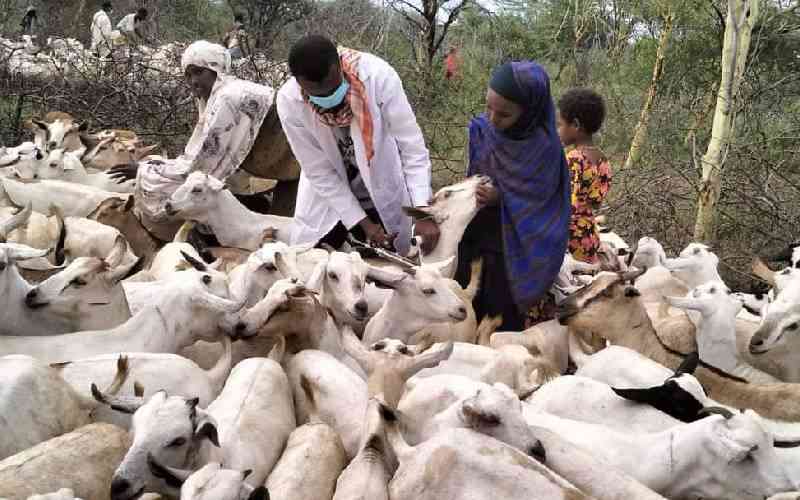 Mandera County has today launched the annual mass livestock vaccination drive that aims to curb endemic diseases.
Deputy Governor Ali Maalim said the exercise is part of an ongoing annual mass livestock vaccination and treatment campaign in the county.
He said his administration recognises the role the livestock play in the economy hence promoting livestock population.
According to him, the vaccination drive will be conducted in all the 15 wards within the county.
"Our County Government recognizes the critical role that livestock plays in our economy, and we are committed to promoting healthy and thriving livestock population," Said Mr Maalim
He said for the county to achieve the goal, it has procured essential veterinary drugs and vaccines to mitigate the effects of endemic diseases such as CCPP, SGP, LSD, and RVF.
The county will deploy veterinary officers to administer the vaccines, deworm, and treat the target animals against infections.
"This campaign will target over 300,000 goats, 51,000 sheep, 21,000 camels, 18,000 cattle, and 2,000 donkeys in various villages within 15 wards of the 9 sub-counties," he said.
Maalim said all livestock owners have been urged to participate in the campaign and take advantage of the free vaccination.
"The main goal of the intervention is to reduce the incidence of diseases, prevent unnecessary animal deaths, and promote healthy livestock populations," Maalim said.
The vaccination exercise that begins in Mandera East today is expected to run for the next three weeks.
Related Topics