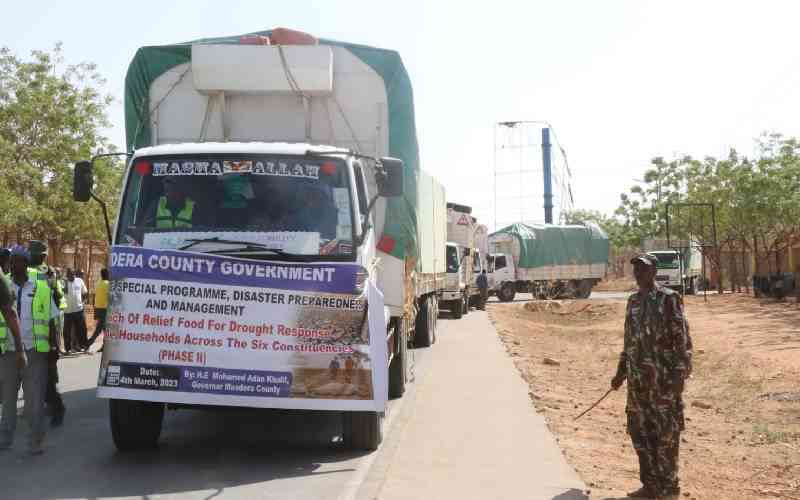 Over five hundred thousand people in Mandera are facing are in dire need of humanitarian aid as acute food insecurity bites.
Governor Mohamed Kalif said a February 2023 short rains assessment report reveals that the population in need of food has increased to approximately 550,000.
"The prolonged failure of rains for five consecutive seasons has resulted in inflated prices of foodstuff, rendering the community unable to afford basic necessities with half a million people on the verge of starvation," Said Kalif
Kalif spoke today during the second phase of relief food distribution aimed at reaching to over 60,000 households.
He said the food to be distributed across the 30 wards will prioritise the vulnerable households, people with disabilities (PWDs) and IDPs.
According to the governor, the intervention also includes support for special needs groups, special schools, and registered orphanage centres, as was done in Phase 1 of the distribution in early November 2022.
"In order to ensure that relief food distribution is effective and reaches those who need it most, we have conducted an assessment of the needs and vulnerabilities of different populations, and decided to use targeted mechanisms that prioritise the most vulnerable groups, such as children, pregnant and lactating women, elderly people, and people with disabilities," he said.
He said the department of the Special Program has procured 750 tons of foodstuff and 180,000 liters of cooking oil, which is equivalent to 10,000 cartons.
"Every household will receive 12.5 kg of rice and 3 liters of cooking oil. The distribution has commenced and is expected to continue for one week to all targeted settlements," he added.
While faulting the national government for turning back on the needs of the people in the North, governor Kalif said water trucking has been scaled up in water-stress areas to mitigate the situation.
He appealed to the state and well-wishers to intervene and save the people from mass starvation that is likely to worsen in case the long rains fail.
"I call upon state and non-state actors to continue supporting us and scaling up interventions to alleviate human suffering and prevent loss of lives," he said
Residents along the borderline have crossed over with their livestock in search of water and pasture
His sentiments were echoed by MCA Abdullahi Ibrahim who said over 15,000 people from Waranqara ward have crossed to Somalia and Ethiopia in search of precious commodities for their livestock.
"Out of 15,000 households, some of the parents who moved to Somalia and Ethiopia have shifted from Waranqara with their children rendering them out of class," he said.
Lack of access to safe and affordable water is among the major constraints to improving the livelihoods of pastoral communities in Mandera county.
Related Topics