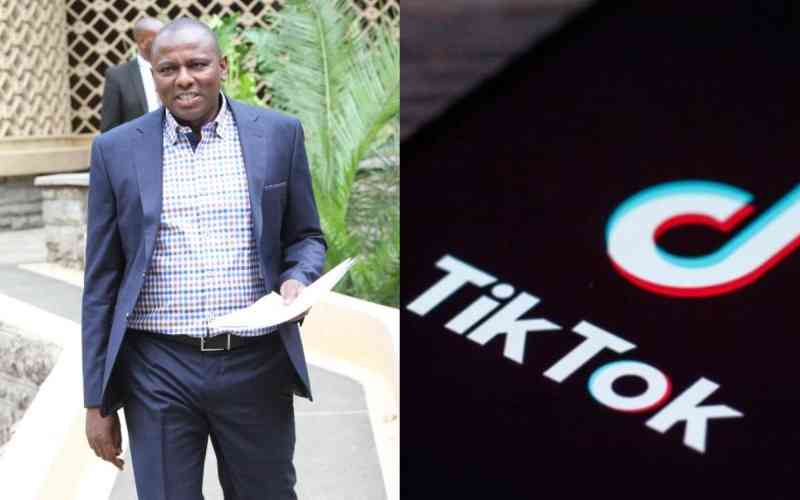 National Assembly Majority Leader Kimani Ichung'wah has expressed his disapproval of the TikTok ban petition presented to parliament that seeks to end the use of the application in the country.
According to Ichung'wah, many Kenyans use the app, including himself, and there is nothing sinister about it.
"Honorable Speaker, TikTok as you read that petition Mr speaker I noticed that Honourable Njeri Maina was actually on TikTok and honourable speaker, many of us including myself are on TikTok unashamedly and my deputy with me here also says she is on TikTok and there is nothing criminal, nothing evil being on TikTok honourable speaker.
"I am also on Snapchat honourable speaker and all these apps, it's my teenage daughters that have downloaded them on my phone [sic] and showed me how to use them," he began by saying.
Acknowledging that there might be an element of abuse of the app, the legislator pleaded that the relevant authorities come up with ways to regulate its use instead of completely doing away with the app stating that its outright ban will kill careers.
"Therefore honourable speaker as much as I feel what Mr Ndolo says, there could be an element of abuse on all these apps. But honourable speaker we cannot as a house preside over the outright banning of any app. We cannot fight with technology. Honorable speaker probably what Mr. Ndolo could have done is to petition the house and that is what maybe the relevant committee should do is to look at ways on how to regulate the use of these apps.
"How to restrict the age group that will be able to use these apps, how the Communications Authority of Kenya and ICT authorities will be able to regulate the content that is being uploaded for viewership, for age groups that are not supposed to see certain content. But honourable speaker outright banning will also kill careers," he argued.
Ichung'wah's argument comes following Bridget Connect Consultancy CEO Bob Ndolo's petition seeking to ban the use of the app in the country.
According to Mr Ndolo, TikTok has promoted violence, explicit sexual content, hate speech, vulgar language, and offensive behaviour among Kenyans.
"The petition decries that while it has gained popularity among the youths in Kenya, the content that is being shared on the platform is inappropriate thus promoting violence, explicit sexual content, hate speech, vulgar language, and offensive behaviour which is a serious threat to the cultural and religious views of Kenya," read the speaker.
"The petitioner is also concerned that if the platform is not prohibited in Kenya, the Apps addictive nature will lead to a decline in academic performances and ascend in mental health issues such as depression, anxiety and sleep deprivation among the youth."
Following the petition, the speaker directed the National Assembly's Public Petitions Committee to deliberate on the petition and report its conclusions.
"Having established that the matter raised in the petition is well within the Authority of these House, and further that matters raised in the petition are not pending before any court of law, Constitutional or legal body, I hereby commit the Public Petitions Committee for considerations pursuant to Standing Order 208 A," said Wetangula.
Related Topics