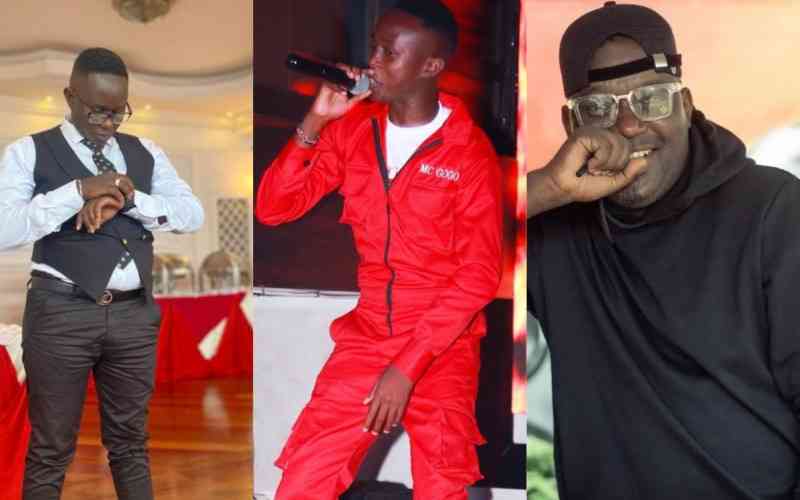 Whether it's the trendiest hip-hop beats, versatile Naija mixes, or rhythmic reggae rhythms, MCs and hype men are reshaping and redefining the entertainment industry.
The role of an MC goes beyond mere introductions; they act as conductors of the nightclub symphony, orchestrating the crowd's energy and igniting the dance floor with an unstoppable surge of excitement.
These charismatic individuals have perfected the art of commanding the microphone, skillfully blending music, and captivating the audience with their irresistible enthusiasm.
In the realm of MCs and hype men, there are certain names that have become synonymous with exceptional entertainment.
These individuals have honed their skills, captivating audiences with their unique styles and commanding stage presence.
MC GOGO
Franklin Mark Gogo, known as MC Gogo, is a rising sensation in the emcee craft. Despite being in the industry for just five years, this hype man, voice actor, and commercial model rivals the best with his outstanding vocal talent.
Starting off in 2018, MC Gogo initially won over his church members before mastering larger crusade events. With a powerful stage presence and unwavering confidence, he stands above other emcees.
The 25-year-old burst into the scene when some of his emceeing clips went viral on TikTok.
Since, his social media accounts have grown rapidly, attracting big brands.
Wondering how he synchronizes his energy with the crowd? This fashionable emcee uses his Bachelor's degree in Counselling and Sociology to study and adapt to the upbeat environment.
You can acquire the services of this talented hype man for a fee ranging from Sh30,000 to Sh100,000, making emceeing his source of livelihood, despite holding a degree from a Kenyan university.
View this post on Instagram
A post shared by Mc Gogo (@mc.gogo_)
TOGZIK
Abraham Kinuthia, popularly known as Mzee MC Togzik, has become a topic of conversation due to his captivating banter. This endearing and charismatic MC has all the hype a crowd could ever desire.
His dynamic nature has made him a shining star in his craft. After being given a stage at one of the country's leading TV stations four years ago, it took the power of TikTok for this charismatic emcee to solidify his name as a prominent figure.
He started his career by doing small gigs at Multimedia University before graduating to club events and national performances. Outgoing, amiable, and naturally connecting with the audience, he knows precisely how and when to involve them through dance and musical lyrics.
The emcee effortlessly blends music and humor, creating an irresistible combination that keeps the audience enthralled from start to finish. Having worked with most clubs in the city, this charming creative has now joined the president's daughter foundation, where he leads on entertainment matters.
His tagline, 'Sherehe bila togzik wacha ikae' (Let the party never stop without Togzik), truly lives up to its hype as his performances leave an unforgettable experience.
View this post on Instagram
A post shared by Mc Togzik (@mzee_togzik)
MC JOSE
MC Jose, real name is Joseph Migwi, is considered one of the finest hype men in Kenya. Any event he hypes is a must-attend.
His ability to communicate clearly with the crowd makes him an exceptional hype man. MC Jose possesses clear enunciation, an appropriate pace, and the capacity to excite the audience with his captivating words.
With a skilled command of the microphone, he creates anticipation and maintains the club's enthusiasm. Catch him performing at most of the prominent clubs in the city and relish the experience.
This talented hype man has collaborated with top DJs across East Africa, including Mr. T, DJ Shinski, DJ Brownskin, and DJ Gibbz, to name a few. His performances are vibrant and full of life as he has mastered the art of promoting audience participation through call-and-response chants, involving the audience in various activities throughout the event.
View this post on Instagram
A post shared by Joseph migwi (sento) (@mc.jose254)
Then there are those in the realm of reggae.
Reggae music has always held a special place in the hearts of party-goers, and MCs have played a crucial role in enhancing the reggae concert experience.
Veteran names like Mc Full Stop and Ronnie Boy have set the stage ablaze for years. However, fresh faces have emerged, adding their unique flavour to the reggae scene:
ZENDIAMBO
MC Cure Zendiambo consistently tops the list of reggae enthusiasts with his unparalleled passion for the music.
He brings a fresh perspective to the reggae scene, infusing every concert with infectious energy and lyrical prowess. Having worked with leading brands and personalities like Mbusi and Lion, the CEO of Mbogi Nare has become a prominent figure in the reggae universe. His commanding stage presence and charisma have allowed him to lead some of the biggest reggae club gigs.
This musical sheriff is known for pioneering popular hype banters like Aluta Kibrit, Uaga very Bad, and introducing unique dance styles like Miondoko and Mu'cera.
His over a decade in the game has certainly contributed to his success. If you're looking for Kenya's reggae hype man who can move the crowd and create a vibrant atmosphere, Mc Cure Zendiambo is the guy.
This revered MC and father of one has booked gigs beyond Kenyan shores, performing in Qatar, Dubai, and the USA most frequently.
JAH WATCHMAN
Mention Jah Watchman, and the crowd erupts with excitement.
A veteran with over 15 years of experience, MC Jahwatchy has deeply rooted his passion for reggae music and created an immersive experience, intertwining soul-stirring melodies with his charismatic stage presence, transporting the crowd to a world of pure reggae bliss.
Known to many, MC Jahwatchy possesses strong lyrical skills, delivering meaningful and impactful messages that resonate with his audience.
This recording artiste and radio presenter has worked with Kenya's leading reggae labels like Supremacy Sounds and Moh Spice, making a name for himself across the globe. He is renowned for his clever wordplay and powerful verses whenever he hypes an event.
Related Topics