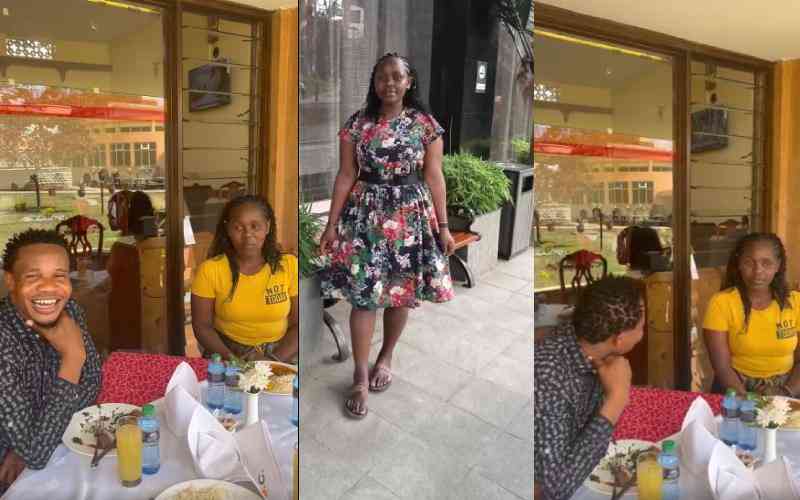 Mumias East MP Peter Salasya on Tuesday had lunch with Lydia Ronad, a woman who had publicly asked him to marry her.
Sharing a video of how their lunch date went, the first-time MP described Lydia as a courageous girl who has what it takes to make it big.
"We just had lunch and I congratulated her for her courage. She is a blessed girl and I will support her in fulfilling her dreams.
"Her courage and charisma will take her places," he wrote.
A fortnight ago, Lydia, while holding a placard along the busy Tom Mboya Street, described herself as Salasya's missing rib, promising not to disappoint the mheshimiwa.
This came after the MP divulged to Standard Entertainment that he was looking for a prayerful woman to complement him.
Asked whether he had met any 'potentials' during his short stay in Nairobi, Salasya was bullish that he was exposed enough and would not fall for the charm of Nairobi lasses.
"I am an exposed man. I managed to convince many people to vote for me so I believe I am intelligent. I am strong.
"I am looking for a young prayerful woman. She should be focused and supportive. Presentable too...if you are able to speak to people in the village, you are the one," he said.
Salasya also said he learnt a number of lessons during the recently concluded election, key among them being consistency.
Having been dismissed by many as a 'mad man', the former university student leader surprised many by getting 12,140 votes against ANC's David Wamatsi who garnered 9,043 votes.
"Determination and consistency are key if you want things to work out for you. Winning the election was like a dream. I never thought I stood a chance because I was just hanging onto hope.
"What people do not know is that I am very prayerful. And I am serious when it comes to serious things," said Salasya.
Related Topics