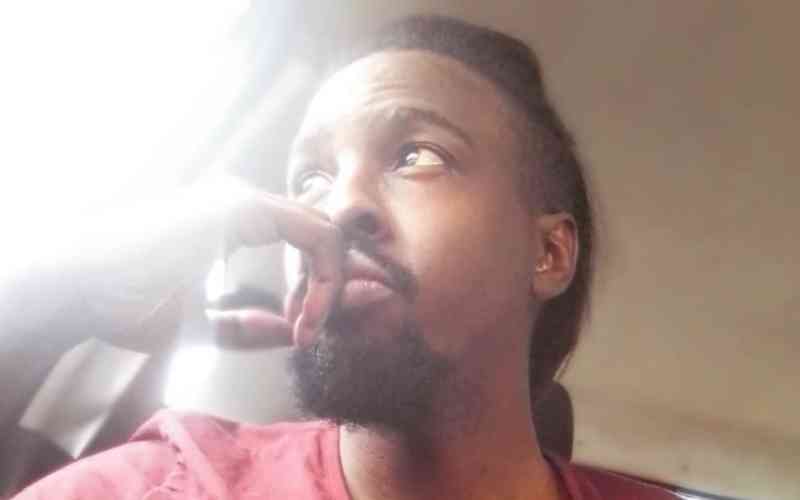 David Ogola was one of the stars of Tusker Project Fame season 2 but life took a turn for the worst following the demise of his mother, author Margaret Ogola.
In an interview with Standard Entertainment, David Major, as he is popularly referred to, opened up on his battle with addiction and life after rehab.
Did it occur to you that you were plunging into addiction?
I grew up around adults who often indulged in alcohol, so I was no stranger to it. I was also introduced to some substance when I was in high school and due to the thrill I got when I sampled it, I got hooked. I did not know this was the beginning of an addiction, but more like a phase of growing up.
Disturbing images of you languishing on the streets went viral on social media. How did you feel about it?
The photos going viral saved my life by drawing attention to me. I was at the point of giving up, I felt neglected. Someone recognised me, she wanted to know the genesis of my problems. She was kind and gave me a listening ear. We had a good talk - I blamed everything on Covid-19, but deep down I just needed a drink. She asked enough to know where to begin and said she did not have it in her to leave me in my sorry state. I was wet, cold and filthy; I had been rained on the night before, having slept on a bench not far from my drinking den. She promised to return with help, and sure enough, she was back with a handful of people who knew me.
That was a sorrowful time...
I was suffering from severe depression, and I was waiting for the worst to occur. I wanted to know about the afterlife, everything looked bleak. I could not go back to my upcountry home where my dad was because he was retired. He was also battling an illness and could only manage to take care of my brother, who was also in a bad situation. Somehow, I allowed the depression to take over me. I barely had social support, and my connections who were also jobless had their own families to take care of.
How did you end up at the rehab centre?
When I was rescued from the streets, I could barely talk. The well-wishers asked me to nod yes if I understood what they were saying or shake my head to signal no. I could tell they were wishing me well. At that moment, something in me awakened and moved my spirit deeply enough to know this was a miracle, it was no ordinary encounter. Deep down, I knew I had to choose between life or death. I looked up through my tear-filled eyes and nodded yes. In no time, I found myself in a rehabilitation centre.
Did your mother's death influence your drinking?
My mum, Margaret Ogola, was not only a doctor but a renowned novelist, having authored The River and The Source. She was a hero to me and many others. She battled cancer at a time I was trapped in my drinking habits. She fought the disease so hard, there were phases she seemed quite alright, but the monster disease did not spare her. I battled with the idea of the existence of a God that would allow such a horrific disease to destroy someone whom I loved so much. Her death destroyed me, and my drinking almost spiralled out of control.
How has your journey towards sobriety been?
Every day, I am determined to live a life free from alcohol. I had been sober for almost a year before I experienced a serious slip, right after I lost my dad. I am now approaching another year sober, and I choose to take a day at a time.
There have been claims that you fell out with Alvan (formerly from TPF) after he helped raise funds from well-wishers.
I am glad someone has asked me this officially because those were rumours. Alvan and I never fell out and if you reach out to him, he will be happy to confirm it. He simply helped me move forward, a step at a time until I was able to stand on my own. I will always be grateful to him.
You are back to music...
Music has always been at the very core of who I am, a God-given gift. My mother recognised my musical talent and helped me nourish it. I am glad that I have found a group of like-minded artistes and together we formed a band with a great management team. We have various shows lined up for the festive season, and that is something I look forward to - interacting with my fans once again. It has also kept me stronger in my walk towards sobriety.
How is that going for you?
Well, it has its trying moments and needs a lot of patience. I lost my voice for a while, and it was a very scary experience. Speech is something we take for granted until we lose it. I could not talk or sing for a while, so it feels good to be able to perform since I especially like live music.
Any projects lined up?
I plan to have live performances and work on EPs and singles that outline my experiences in life. I also plan to cover songs by artistes that I admire as a way of honouring them both in the studio and live on available platforms. I am also fascinated by emceeing, and I want to study it more.
Related Topics