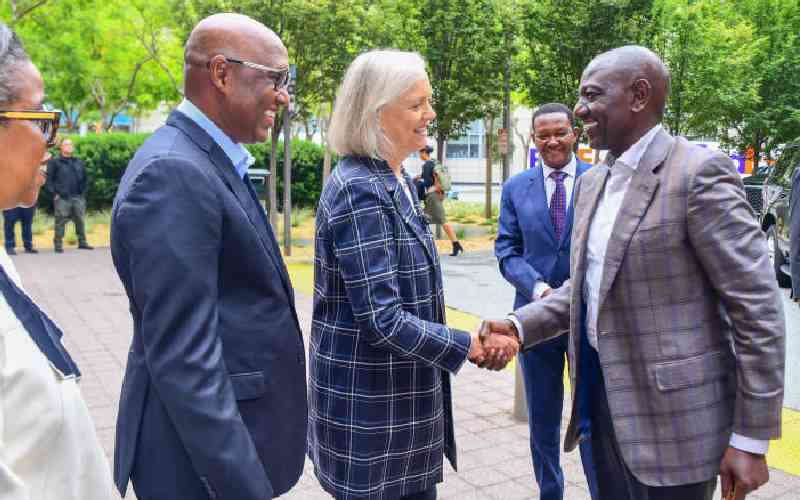 Since her posting in August 2022, US Ambassador Meg Whitman has steadily unpacked a suitcase full of superlatives to endorse Kenya as a premier global investment destination and a shining example of democratic vitality in Africa. She has described Kenya as "the most stable democracy in Africa," and much to the chagrin of opposition leader Raila Odinga, summed up the 2022 General Election as the "freest, fairest and most credible election in Kenyan history." In short order, she has become one of the country's most vocal cheerleaders.
Her business-first style sets her apart from the previous 17 US Ambassadors who, to put it mildly, were far less glowing in their description of Kenya's democratic credentials. KTN NEWS's Mwangi Maina, who covers the diplomacy beat and is a keen observer of Kenya's foreign affairs, says President Joe Biden's choice of Whitman for the Nairobi post was a masterstroke.
"Meg is a great marketer. Her economic and trade diplomacy focus has seen her sell Kenya to US investors as if Nairobi were her birthplace. She might turn out to be the best person America has ever deployed to Kenya in decades," he said.
It is undeniable that Whitman has finely honed instincts in the art of rapid persuasion. As a former President and CEO of Hewlett Packard and eBay, this is entirely a function of her biography. In the parlance of Silicon Valley, the hypercompetitive scene in which she cut her professional teeth, it is called an elevator pitch, a concise and persuasive summary of an idea that can be delivered in the time it takes to ride an elevator, typically around 30 seconds to two minutes. The aim is to pique a listener's interest and leave them wanting more. Elevator pitches are indispensable weaponry in the hands of entrepreneurs looking for investors.
Whitman's approach was on full display during the just-concluded three-city US-Kenya Business Roadshow this past week. A masterclass in techplomacy, which is defined as the use of superior technological assets to achieve diplomatic ends, the whirlwind tour took the Kenyan delegation to Chicago, then touched down in California's Silicon Valley, and ended in Los Angeles.
The ambassador starred throughout the visit, overshadowing Kenya's Foreign Affairs CS Alfred Mutua at selling Kenya to the US perhaps owing to her rich background as a corporate executive on home soil.
"Kenya is the gateway to the East Africa market of almost 500 million consumers. Kenya is the regional logistic and financial hub. And Kenya, with its Silicon Savannah and super smart engineers, is the region's ICT hub," said Whitman to a room full of potential investors in San Fransisco.
Sam Gichuru, the founder and CEO of Kidato Inc., who was part of the Kenyan delegation, said the US Ambassador was in fine form.
"Meg pitched Kenya the way startups pitch to investors," he said.
"Listening to top global executives discuss the opportunities in Kenya, with supporting data, it is evident that as Kenyans, we are blind and deaf to the gold mine that is our home. I'm even surprised; I just realised I don't know my own country well enough," he added.
President William Ruto, as expected, also made the most of the opportunity:
"I am persuaded that similarly, the most consequential breakthrough in technological innovation will take place on the East African Savannah when global tech leadership, together with foreign direct
investment, converge upon Africa's youthful human capital, natural resources, and green energy potential," he said.
Earlier in the day, the President had visited Levi's headquarters in the city (San Francisco). The iconic American clothing brand is best known for its denim jeans, some of which sell well in Kenya. Later, the president also made a visit to Googleplex, the corporate headquarters of Google, and the Apple offices, where he had a sit-down with CEO Tim Cook. Whitman, in signature style, praised President Ruto for seizing the moment.
"The President did a remarkable job and cemented the bonds between Kenya and the United States," she said.
There are already signs that the roadshow has paid off. During the Chicago portion of the trip, Equity Bank inked a two-year agreement with multinational farm equipment provider John Deere. The partnership aims to facilitate Kenyan farmers' access to affordable financing options for the acquisition of tractors through specialised programmes.
"Small-scale farmers, builders, and landscape providers in Kenya will benefit from technology which will equip them with the capability to scale and grow their yields and businesses for larger markets," said James Mwangi, Equity's CEO, in a statement.
The US is currently Kenya's largest export market, and both countries are keen to find room for growth. The two countries are currently pursuing a trade deal that could serve as a model for the rest of Africa. The deal, named the Strategic Trade and Investment Partnership (STIP), if finalised, would mark a historic milestone as the inaugural substantial trade collaboration between the US and an African nation.
Wanjiru Gikonyo, a governance and accountability expert, says it is clear America's current posture is leaning towards focusing on economic ties with Kenya:
"My sense of Meg Whitman, particularly after listening to her during the Devolution Conference, is that America's stance is very heavy on economic cooperation, which is not bad because Kenya needs economic cooperation. But the devil is in the detail. It really depends on how we negotiate it," she says.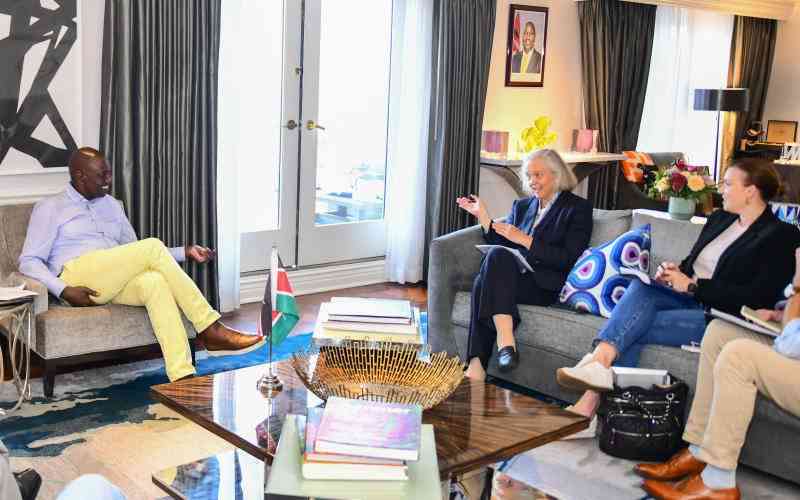 Ms Gikonyo, however, believes that there should be a healthy balance between economic and social interests:
"The concern about Meg Whitman's tone at the Devolution Conference is she downplayed corruption and governance. She didn't pay attention to Devolution at all. She was busy talking about counties as business hubs," she explained. "The US is whitewashing a lot of governance concerns," she added.
Irung'u Houghton, the Executive Director of Amnesty International Kenya, echoed Wanjiru's sentiments. His view is that the US must recognise that Kenya's economic stability rests on the bedrock of strong institutions
"It is important for all friends of Kenya to keep in perspective that Kenya draws its international legitimacy, political and economic stability from its constitutional order, an active citizenry, and civil society, a free press, independent judiciary, and several oversight agencies. Financial investment and trade offers must be accompanied by support for human rights, anti-corruption, electoral reform and democratic governance."
The US's current trade-focused approach might seem ahistorical, but it is a sign of a new geopolitical order asserting itself. The rise and rise of China as an economic and military power has shifted the diplomatic landscape. This has birthed a phenomenon experts are calling "middle powers," such as Kenya, who are happy to reap the economic benefits of not picking sides.
"For Kenya and others, it's not a question of picking sides. It's a question of picking everyone," said Michael Power, a Cape-Town-based investment analyst, speaking to the Financial Times.
"We should no longer talk of the non-aligned movement but of the multi-aligned movement," he added.
Given this context, it's clear why America sentWhitman, a billionaire tech executive, to Nairobi to play its best hand: techplomacy. The outcome of this bold strategy and its ultimate value to both nations remains a matter of time and scrutiny.
Related Topics