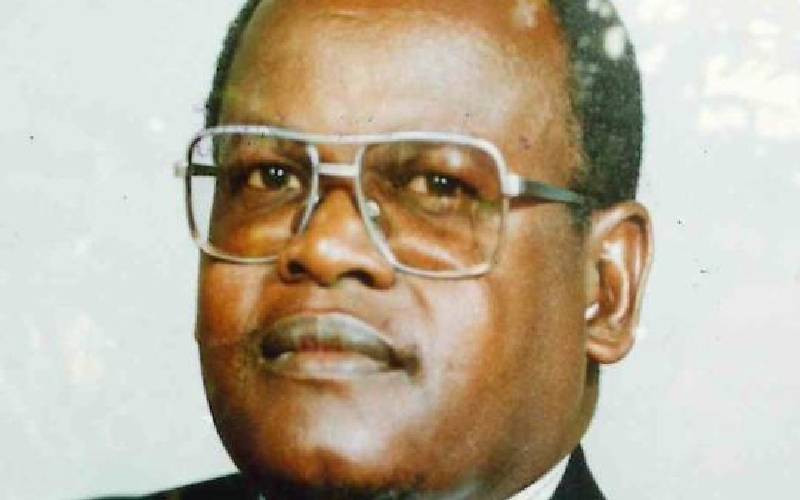 Shortly after midday on Sunday, September 14, 2003, University of Nairobi lecturer Dr Chrispin Odhiambo Mbai sat in the living room of his house to read the day's newspapers. Suddenly, two strangers burst in.
They waved greetings to him at the door. Then one of them shouted: "We have been sent to kill you". Impulsively, the law professor rose up in a war cry, grabbed a stool next to him and hurled it at them. But too late as one of the killers already had his finger on the trigger and fired. The professor was rushed to hospital where he succumbed to his wounds.
A few days later, four suspects were arrested and recorded statements with the police. Three of them were convicted of murder and sentenced to hang. The sentence was later commuted to life imprisonment.
The Sunday Standard obtained a statement recorded by one of the suspects. Below are excerpts:
Police: Do you have any information you would like to volunteer?
Suspect: On Tuesday, September 9, Suspect Two came and asked me where mandazi are sold in Kawangware. I asked him for cigarettes. He gave me Sh20 to buy some. When I came back, he asked me to walk with him as there was something he wanted to tell me. There was a boss, he said, who had a job at hand, and he thought it was a job I could do.
Police: Which boss was he talking about?
Suspect: He didn't tell me who it was and I didn't ask him which job it was. I only asked him if whoever had sent him wanted the job done on the same day or the following day. He told me it had to be during the week but not later than Sunday. The next day we met at a kiosk where we usually had tea. Before we could talk, a friend of his joined us and they walked out. I waited for him but he didn't come back. We met the following day and I asked him about the job he had talked about. He told me the 'boss' would be coming on Saturday to assign the job.
Police: Had he told you who the boss was?
Suspect: No. He told me it is the boss who would introduce himself to me. The next day we walked to Kawangware shopping centre. We found a car with tinted windows parked next to the vegetable stalls.
Police: What was registration number of the vehicle?
Suspect: I don't know. I didn't check. But I remember its driver was in a leather jacket. The other person was in a shirt and a cap. I told him my name. He also introduced himself and told me he was one who had sent out for me. He told me there was a person the 'boss' wanted eliminated because he was bothering him (the 'boss'). He assured me I would get paid Sh50,000 for the job I was to do. I didn't argue as so far I didn't know what the job was. Next, the 'boss' pulled out a pistol from the passenger's compartment of the vehicle and gave it to me. He asked me whether I knew how to use it. I said I didn't, but the man I had come with said he knew how to use it and he gave it to him.
The 'boss' said the job would be done on Sunday and the person I had come with would know the exact time. He promised that after the job was done he would meet with the person I had come with and give him the money. He said even if we wanted 500,000/= he would give us so long as the job had been done.
Police: Where there people who saw you get into the car?
Suspect: The people who sell vegetables hadn't arrived. Only the woman who sells mandazi had opened.
Police: What is her name?
Suspect: I don't know her name, but I know her by appearance.
Police: Did she see the vehicle you are talking about?
Suspect: She should have.
Police: You say there were two people in the car. How were they dressed?
Suspect: The driver was in a leather jacket. The other one was in a white-blue stripped shirt. I couldn't see the trouser.
We agreed to meet the following day. We met at about two o'clock and the 'boss' dropped us near where he wanted the 'job' done.
The person who I had come with led me to the gate of the home of the person the 'boss' wanted 'finished'. We got to the first gate which wasn't locked so we got in undetected. We got to the grill door of the house which wasn't locked. The person I was with turned the wooden door and we found it wasn't locked either so we got in.
We found a middle-aged bespectacled man reading a newspaper. The person I was with greeted him saying: "Habari Mzee?"
"Mzuri", the man replied and asked: "Can I help you?"
The man I was with replied: "Mzee, we have been sent to kill you." He immediately pulled out a pistol and pointed it at the bespectacled man. The man appeared shocked but alert. He immediately reached for a stool next to him and threw it at us. We ducked but the man swiftly charged at us. The person I had come with was equally swift and I heard three gun-shots in quick succession.
Police: Where did the gun-shots hit?
Suspect: I don't know where they hit. I was shocked because it was the first time I heard gun-shots at a close range.
Police: What happened next?
Suspect: The bespectacled man must have been seriously injured because he fell on the seat bleeding. We hurriedly left the house and headed to the main road. Apparently, the man I was with had made arrangements with a matatu which we found parked besides the road and a tout beckoning us to hurry up.
Police: How did your colleague know there was a matatu waiting for you people?
Suspect: I don't know what arrangements he had made.
Police: Where there other people inside the matatu?
Suspect: Only four people. It looked to me like my friend had made prior arrangement with the matatu driver and his tout because they weren't looking for other passengers and it occurred to me they were specifically waiting for us.
Police: Did you know the matatu driver?
Suspect: I realised he was a familiar face but couldn't recall his name.
Police: Did he speak to the person you were with or to you?
Suspect: Him and the person I was with seemed to know one another well. More so, he seemed to know where we had come from and what had happened. At one point, I herad him demand to be given his 'cut' immediately.
Police: What did he mean by his 'cut'?
Suspect: He meant to say that since the 'job' had been done and him done his bit as agreed, he should be paid for his role in facilitating the 'job'.
Police: What did you understand in him talking about 'facilitating'?
Suspect: I guess he meant his role in providing us with a 'get-away' transport. It would have been risky if we went looking for just any vehicle to take us away from the scene.
Police: Who was to pay for the job?
Suspect: The mheshimiwa (name withheld) he had talked about.
Police: Is it the same mheshimiwa you met with him and who gave you the pistol used in the shooting?
Suspect: Yes he is.
Postscript: Twenty years now, Dr Chrispin Odhiambo Mbai's assassination is still a mystery. Who sent the two killers and why has he never been uncovered? The convicts are still languishing in prison but their master is scot free and maybe contemplating another murder having got away with that of the university don!
The good news, however, is that the Constitution which the late professor so much wanted - and was motive for his killing - finally came to fruition in 2010, seven years after he was dead and buried. The best tribute to be paid to him is full implementation of the Constitution, especially devolution (which he was passionate about), as was his wish. May his soul rest in eternal peace.
Related Topics