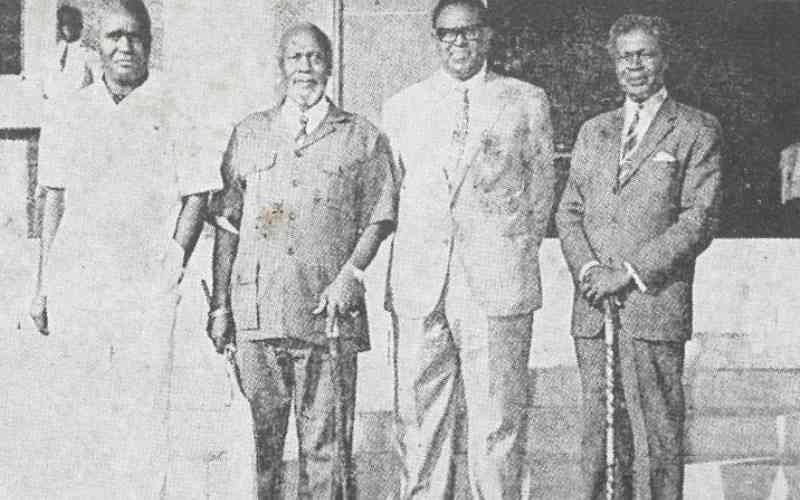 When Kenya's Prime Minister (PM) Jomo Kenyatta hit the streets of Mogadishu in Somalia to the wild cheering by crowds lining the route on July 26, 1962, he mistakenly believed that he had finally broken the ice with his frosty neighbour.
Kenyatta had jetted into Somalia to have a candid talk with his counterpart, Omar Abdirashid Ali Shermake in the hope that the bickering over the future of Somali-speaking people in Kenya after independence would be resolved.
The Somali premier poured accolades on Kenyatta, hailing him as a man who sacrificed his liberty and endured great hardship to defend the dignity of Africa.
While the mayor was giving the visiting dignitary the Freedom of the City of Mogadishu, he lionised Kenyatta claiming that this event had been performed since Mogadishu was founded 1,000 years ago.
Kenyatta was being prepared for humiliation even as his hosts went through the motions of signing a string of agreements and identified potential areas of mutual cooperation between the States.
At the end of his short visit, it was time to go and an array of dignitaries and a large crowd assembled at Mogadishu airport to see off Kenyatta.
After the perfunctory farewell speeches were over, Kenyatta was waiting for the parade out to the aeroplane. "Then without any warning, at all, the Somali PM, sheaves of foolscap papers in his hand, climbed upon a nearby rostrum and delivered an impassioned address.
This committed Somalia to the concept of the five-pointed star to the policy of redeeming areas from bondage including some districts of Kenya and to the declared purpose of uniting all Somalis under one flag," Kenyatta writes in his book, Suffering without Bitterness.
Instead of boarding his plane, Kenyatta demanded to be given an opportunity to rebut what his counterpart had just said.
He told the people of Somalia that not an inch of Kenya would be surrendered to any alien cause.
Kenyatta writes that he was wildly cheered when he declared that any Somali national in Kenya wishing to return to Somalia was free to do so. From then, things soured when Kenyatta learnt that the Somali National Assembly had agreed to help Somalis in Northern Frontier District (Northern Kenya) who wished to secede.
This escalated the hostilities that would climax with an open secession bid by parts of Northern Kenya, leading to warfare between Kenya and secessionists.
Many atrocities were committed during the Shifta War and later the Wagalla massacre in 1984.
It has taken decades for life to normalise along the porous border of the two countries, which is finally being opened.
But the scars remain on the land where unexploded ordnance occasionally blows off lives and limbs, further opening the long-forgotten wounds.
Related Topics