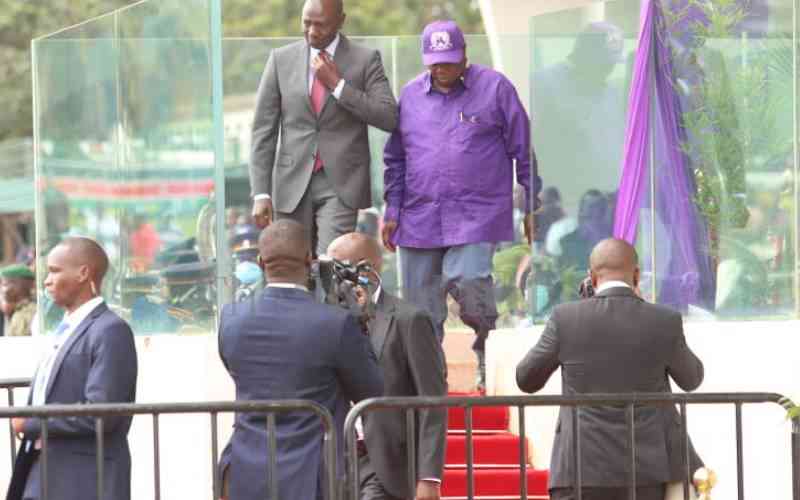 Kenyan workers will have to do without a pay hike this year after the government opted to give businesses a breather.
This has left employees to their own devices despite the high cost of living that has been exacerbated by an increase in statutory contributions.
The employees had hoped not just for a minimum wage increase but a general increase that would cover all workers.
The Central Organisation of Trade Unions (Cotu) Secretary General Francis Atwoli had in his Labour Day Speech asked President William Ruto to consider giving Kenyan workers a general wage increase.
Atwoli had noted that the challenges being witnessed globally had hit workers hard and they would need to do with some cushioning.
Businesses operating locally had presented a different argument to the wage increment debate noting that it would add to the challenges firms are facing and hinder them from creating more employment opportunities.
President William Ruto said his administration was alive to the challenges that the Kenyan worker has to contend with and it was against this that it was developing a wage policy.
He said the country would adopt a remuneration policy that would be responsive to the cost of living. His new plans would also ensure that the minimum wages will also be guided by sustainability and productivity.
The new plan will also address disparities between public and private sector wages. In his Labour Day speech, President noted that one of the items earmarked for reform "to enhance worker welfare and labour interests in general, is the Wages and Remuneration Policy, which is before the Cabinet".
"We will expedite its adoption in order to reconfigure the national wage determination framework and ensure that it is responsive to the sustainability, productivity and cost of living in prescribing the national minimum wage. It will also rationalise the public and private sector wage differentials," said President Ruto.
Among the factors that the Head of State may have considered in not giving workers a raise include last year's 12 per cent increase. Key organs in advising the government on labour issues – the National Labour Board and the General Wage Council – are not in place after the previous boards lapsed and are yet to be reconstituted.
Aside from Atwoli who had pitched for the workers, Nairobi Governor Johnson Sakaja highlighted the difficult conditions that security guards and digital ride-hailing taxi drivers go through but with meagre returns.
"The public sector is quick to comply (with new directives on labour) but in the private sector, there is a problem. One of these sectors is the private security industry… many of these private security companies charge their clients Sh30,000 to Sh50,000 per guard but they pay the guards Sh6,000 per month, which in this economy is something that is not right," said Sakaja.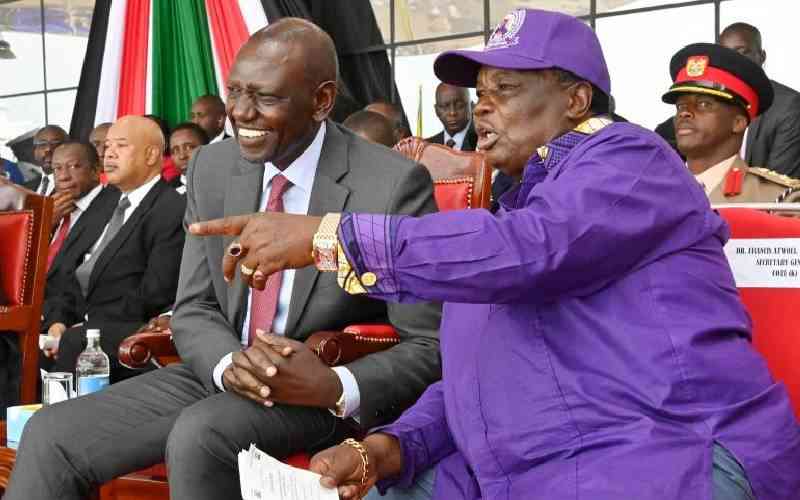 The governor also said there is a need to regulate digital taxi companies, which he noted have been charged rock bottom rates due to competition and in turn hurting the drivers who have to work long hours to make money.
"Other workers, another group that is hurting is the drivers of the digital ride-hailing companies. Because of competition, these companies have raced to the bottom… and drivers have to drive for 22 hours a day to make money," he said.
Challenging environment
During Monday's celebrations held at Uhuru Gardens, the private sector noted that it has experienced a challenging environment that has resulted in a slowdown in the number of jobs that the businesses operating locally are creating.
The economy, for instance, created 333,502 jobs in the fourth quarter of 2022 compared to 444,046 jobs created in the third quarter of last year.
Federation of Kenya Employers (FKE) Executive Director Jacqueline Mugo noted this has been due to a mix of factors that include drought that the country experienced over the last three years as well as global factors such as the Russia-Ukraine war.
"Households are struggling to put food on the table and enterprises are struggling to remain in operations," she said.
"Kenya continues to witness a shrink in the formal wage employment opportunities… many businesses especially MSMEs cannot afford the cost associated with operating in the formal sector and this has led to increased unemployed Kenyans as employers struggle to manage their costs."
Mugo had on behalf of the business community made a request for the retention of the minimum wage at the current levels.
She had argued that businesses need to have more time to implement last year's 12 per cent hike as well as cope with the difficulties they have been experiencing.
She also noted that the government should make the policy and taxation predictable, to avoid throwing businesses into shocks frequently through abrupt changes that have in the past hurt employment creation. Atwoli had appealed for not just an increase in the minimum wage but a general wage increase, noting that this would incentivise Kenyan workers and enable them to effectively play a role in turning around the economy.
Related Topics