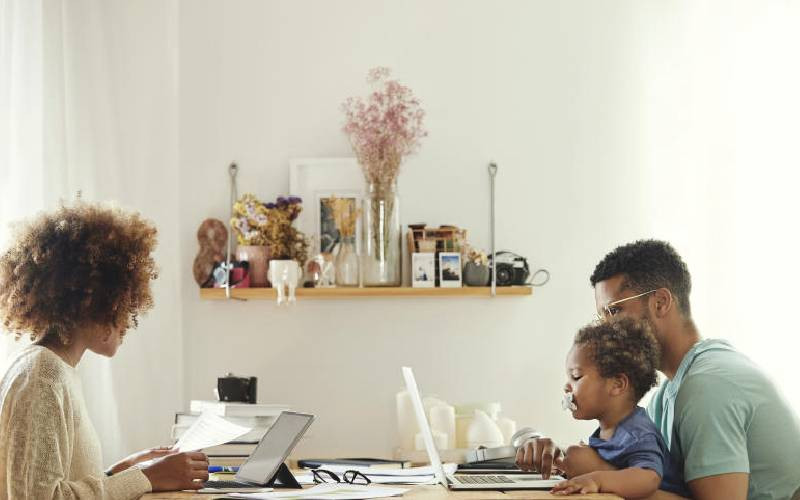 A study by human resources technology provider Quantum Workplace shows that most Kenyan employees would prefer to work from home.
The study could force organisations to rethink how they manage their workplaces post-Covid-19.
Before the pandemic, many organisations viewed their office as control and command centres.
"The objective of the study was to understand the impact of the Covid-19 pandemic on work and workplace in Kenya and how it may influence how we work post-Covid. The study findings show that Covid-19 has changed the perception of work and workplace," said Alf Nathoo, the lead researcher.
"There is a definite preference for a hybrid work model, especially for the millennial age category who make up 80 per cent of the workforce in Kenya."
While most respondents in the study had not worked from home before the pandemic, the study shows that four out of five respondents would prefer to work from home post-Covid-19.
Three out of five respondents in the millennial age group of 20-39 years would be willing to change their job to work from home.
Interestingly, three out of five respondents in the same age group also said that they missed working from their workplace during the pandemic, and in particular, they missed the social elements of the workplace.
From the study, most employees seek positions that are partly remote or exclusively in which they can have a solid work-life balance as long as they are performing and getting their work done.
According to the study, respondents working from home during the pandemic reported several positive experiences, with the notable ones being, time-saving when commuting to work, more work-life balance and more job satisfaction.
Three out of five respondents also stated that they neither had any issues collaborating with their colleagues nor felt that their manager had trust issues with them working from home.
Supervisory responsibilities
Over half of the respondents with management and supervisory responsibilities also reported they had no issue managing their teams remotely.
However, 30 per cent of respondents did state that they had difficulties managing their teams remotely.
In response to the government directives to work remotely during the pandemic, the study findings show that over half of the respondents continued to work from their workplace, and two out of five respondents worked remotely from home.
The study findings did not show significant respondent concerns about working at the workplace during the Covid pandemic.
The only notable finding was that half of the respondents working at their workplace during the pandemic reported feeling unsafe when commuting to work despite 22 per cent of them using their cars to work.
"The study findings may have implications for organisations, both in terms of work policies and management of their workplace post-Covid-19," said Alf Natho.
"Organisations need to rethink the traditional work policies and how they manage their workplaces if they want to attract, engage and retain the productive, satisfied and high performing workforce to gain competitive advantage for their business success."
Zoom meetings
He noted that the study suggests that organisations consider a hybrid model of work style with attention to providing up-to-date technology, controlling the number of Zoom meetings, training staff on how to be more effective working from home, including how to set up a proper workspace and managing distractions at home.
The lead researcher said in some organisations, it may not be possible to work remotely given the nature of the work as reported in the study, noting that attention should be paid to workplace design and management to create a positive staff experience at the workplace.
He said that would go a long way in making the staff want to come to work at the workplace and not because they have to.
"Specific attention be paid to providing different workspaces for different work activities, from the head down individual workspace and teamwork space to learning and social interaction space rather than the traditional fixed desk workspace," he said.
Related Topics