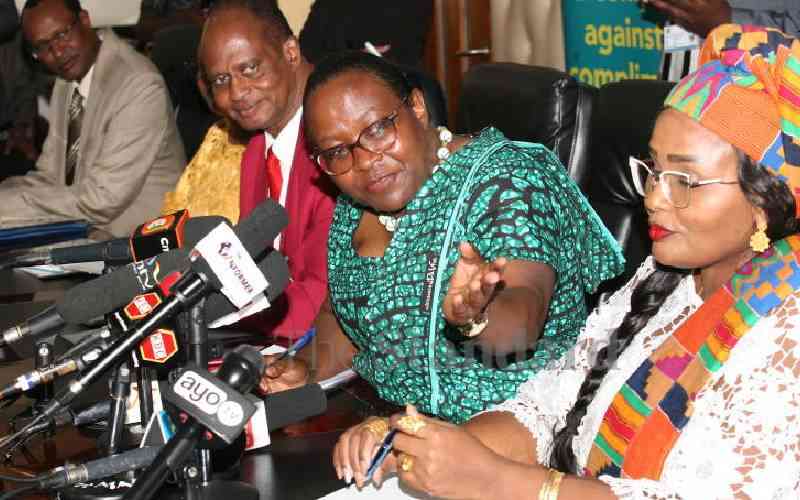 In its heydays, the Independent Policing Oversight Authority (Ipoa) was among the few institutions that inspired public confidence.
Ipoa, led by Macharia Njeru, had made a name for itself in the manner and style in which it carried out its mandate.
The Njeru team was not afraid to confront even high-ranking government officials.
Ipoa openly praised parliament for rejecting President Uhuru Kenyatta's nominee for Secretary to the Cabinet, Monica Juma, during Njeru's tenure as chairman.
Njeru said at the time that Juma was difficult to work with and disrespectful to Ipoa.
He said despite her position, Dr. Juma had once written a rude letter to the authority. After Njeru left office in 2018, President Uhuru appointed Anne Makori to lead Ipoa.
She brought to Ipoa 21 years of experience in top management leadership in both private and public institutions.
Recently, public trust in Ipoa has dwindled to the point where President William Ruto has had to step in.
Makori on Sunday said Ipoa would continue discharging its mandate impartially. She said the agency is keen on results and service delivery.
"We may not be so much in the media but we are working hard," she said on the phone.
The current Ipoa board has come under fire from all quarters, including Inspector General of Police Japhet Koome.
Koome, who has had his fair share of squabbles with Ipoa, has previously directed his officers to disregard the oversight body's warnings about the use of firearms.
Following his appointment as IG, Koome spoke at the Administration Police Training College, telling police officers to use their firearms despite an Ipoa warning.
The police chief, however, did not mention Ipoa by name, even though it was clear that he was referring to the organisation as a "busybody".
"You don't have a weapon for decoration or a pen to write with. We don't want to hear that you were harmed or killed by a criminal while carrying your gun. "Use it as the law requires, and we will be there for you every step of the way," Koome said at an event honouring officers who have died in the line of duty.
According to National Police Service statistics, 57 police officers died on the job in the previous 12 months.
Ipoa chair Makori urged officers not to obey illegal orders because the police oversight authority will hold them personally accountable.
"Overall, the authority wishes to remind police officers that where criminal culpability has been established, that is after investigations, individuals have been called to account, not the service," the Ipoa stated in part.
According to Makori, Ipoa has received more than 20,000 complaints about police misconduct.
About 500 of these complaints have been investigated, and recommendations have been made to the Director of Public Prosecutions to charge the officers involved.
The current IPOA board's relationship with the National Police Service's leadership has been strained.
The situation is so bad that the IG is said to have raised these concerns with President William Ruto during a meeting at State House in Nairobi last year. In an effort to break the impasse, President Ruto met with Ipoa board members at State House on October 31 last year.
According to a photo released by the State House press team, Director of Public Prosecutions Noordin Hajji was also present at the meeting. This was only two months after Ruto was sworn in.
The disappearance of two Indian nationals from his election campaign team in Nairobi was still fresh in his mind at the time. Following the meeting, Ruto directed Ipoa to develop a plan to put an end to extrajudicial killings.
In a statement issued following the meeting, the president stated that Ipoa was best placed to develop a plan that would be handed over to the Ministry of Interior and National Administration.
"You are uniquely qualified to assist us in defining a mechanism to put an end to this practice," Ruto said. At the time, there was also a dispute between Ipoa and the National Police over who would investigate the July incident in which DCI officers were accused of being involved in the kidnapping of two Indian nationals and a taxi driver in Nairobi.
The then-acting Inspector General of Police Noor Gabow directed the National Police Internal Affairs unit to investigate the matter after it emerged that police officers were involved.
This decision did not go down well with some of Ipoa commissioners.
Related Topics