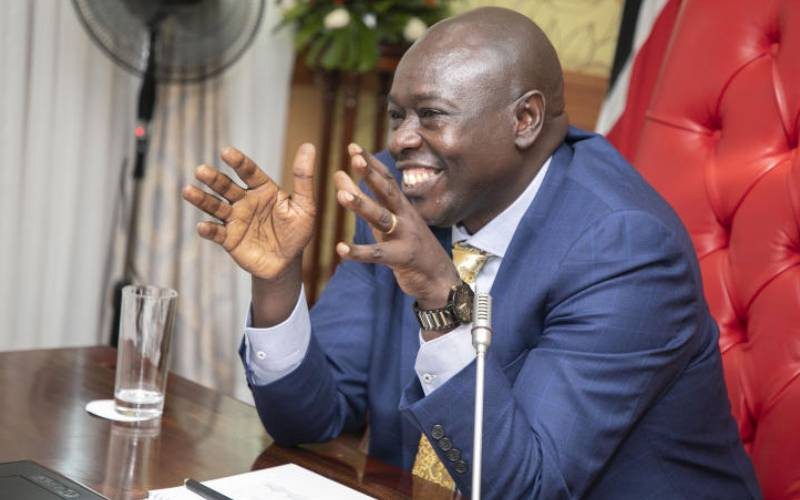 Deputy President Rigathi Gachagua has pleaded with partners to extend more support towards the fight against drought in the country.
Speaking on Thursday when he joined members of the Lions Clubs International to celebrate the 45th Lions Day with the United Nations (UN) in Gigiri, Nairobi, DP Gachagua said the government is keen on strengthening ties with partners to find long-term solutions to challenges facing the country.
"We call for more partnership and commitment to long-term solutions. Some of our long-term investments include drilling of more boreholes, intensifying water harvesting through mega-dams across the country," said the Gacha
Sh650 million has been raised, so far, by the National Steering Committee on Drought Response.
Safaricom Chief Executive Officer Peter Ndegwa, who is also chairman of the committee said they are targeting to raise Sh1 billion by end of February.
''This money will be used for various initiatives including food distribution, cash transfer and rehabilitating boreholes,'' said Ndegwa.
National Drought Management Authority (NDMA) Chief Executive Officer Col (Rtd) Hared Hassan said that some wards in nine counties have been affected.
''There are pockets of wards in nine counties that are affected, contributing to a population of 846,000 Kenyans who are food insecure,'' said Hassan.
Ndegwa said so far, there are about 4.3 million who are still food insecure. He said almost 940,000 children suffering from acute malnutrition and some 130,000 mothers are facing acute malnutrition.
Another 2.5 million livestock have died during the ongoing drought valued at over Sh100 billion, said Hassan.
Speaking Thursday, Gachagua said the government, with support from the United Nations and other foreign partners, has rolled out mitigation programmes to avert more losses to the drought.
The National Steering Committee on Drought Response has already distributed relief supplies to 14,300 food-insecure households in affected areas in Kilifi, Kitui, Samburu, Marsabit and Meru.
While acknowledging the Sh47.8 billion the country had received so far from the United Nations agencies and other national and international non-state actors, Gachagua called for more financial support.
"We need at least Sh57.36 billion for short-term and midterm programmes, which will be gradually implemented until October 2023. In an effort to make food more affordable, we have also subsidised production by availing farm inputs at cheaper rates," DP said.
Ndegwa said going forward, the committee will partner with the Kenya Defence Forces (KDF) to support in rehabilitation and repair of boreholes.
''We are targeting 192 boreholes, to begin with, 30 counties to benefit 1.7 million Kenyans and will do many more in the months to come,'' he said.
Ndegwa said the distribution of food worth about Sh200 million will start this month.
He said February to March are the most important months and the committee will double their efforts to reach many more who are affected.
The CEO called upon Kenyans to continue giving towards the drought situation using MPESA Paybill No.880990 and which is available on all mobile networks free of charge.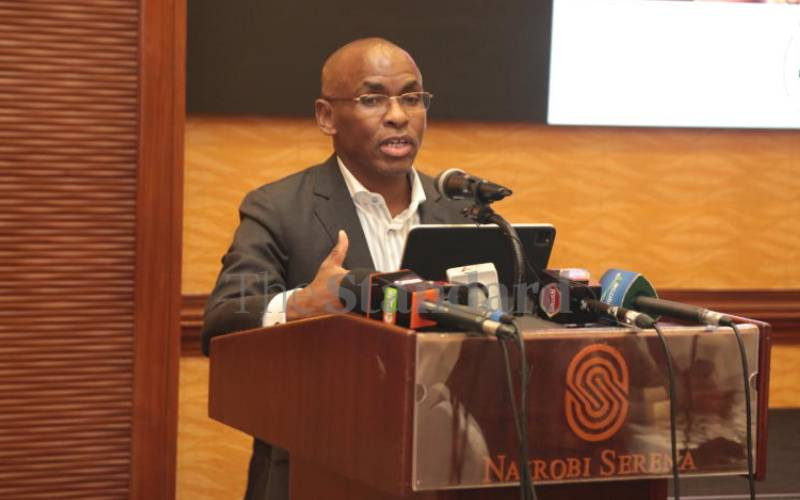 ''We also have millions of Kenyans with Bonga Points using Safaricom App and we appeal to them to contribute them to the appeal fund. It takes Sh2,500 per month to provide food for the affected family and if you give that or less, it will be very good,'' said Ndegwa.
Media Owners Association chairman Stephen Gitagama said the media will play the role of highlighting the plight of Kenyans across the country.
He said the media will also play a role in holding to account the committee and anyone involved in distributing food and money.
Gitagama also asked Kenyans to plant trees and take care of them, saying if we take care of the environment, issues of hunger and drought will be a thing of the past.
Gachagua, on the other hand, challenged the Lions Club to support the government's plan to plant 15 billion trees by 2032 under the Jaza Miti Initiative launched last November by President William Ruto.
The initiative targets increasing the nation's forest cover to 30 per cent. He also praised the Clubs for standing to be counted during the Covid-19 pandemic saying they made positive contributions to efforts to save lives.
"When the Covid-19 pandemic ravaged the world, the 48,000 Lions Clubs across the globe and more than 1.4 million volunteers made a great impact on humanity as lock-downs and clouds of uncertainty rocked the world. They saved many lives," he said.
Further, the DP pushed the developed countries to honour their commitment to mobilizing $100 billion per year for climate change mitigation programmes in developing nations as entailed in the Paris Agreement.
"Developed countries need to honour the Paris Agreement for the emerging economies like Kenya to implement their side of the bargain as we seek to collectively lower the average temperature rise, deeper than 1.5 Degrees Celsius target in our climate action," the DP said.
So far, 5.3 million Kenyans are facing starvation in 31 counties as the rains continue to falter.
Between November 2022 and January 2023, the country lost 1,180 wild animals to drought- key among them 262 elephants.
The DP said the government spent over Sh360 million over the period of three months for water and feeds to sustain the wildlife.
Related Topics